Wolfgang Stiller
Matchstick men
"The meaning and content of a work grows while I'm in the process of doing the physical work. One could read those burned matches as worn-out or burned-out human beings. The installation can appear like a battlefield or just like some playground where someone played around with matches and dropped them. All the heads I've used so far are from Chinese people. This sometimes leads to the assumption that this is a criticism of the Chinese government. One can read it that way, but I think this metaphor could be used for any western system as well. The matchboxes could be simply seen as formal elements within the installation, as coffins, or simply as matchboxes. I actually like to keep it open since I don't like art that leaves no space for one's own imagination."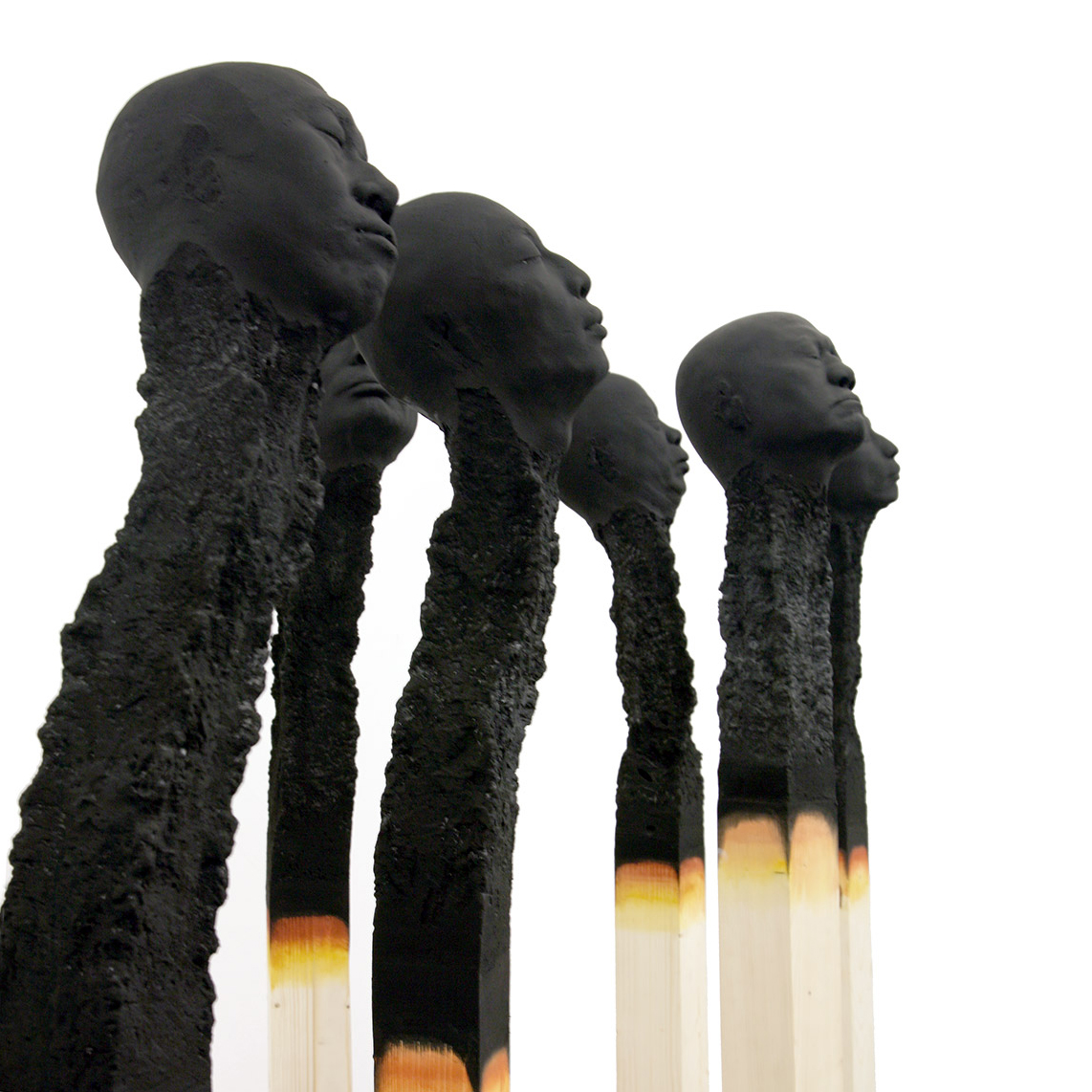 Wolfgang Stiller is a German artist who has exhibited extensively both nationally and internationally, with more than 30 one-man shows around the world. Born in 1961 in Wiesbaden, Germany, Stiller has worked in the US and been a guest professor for New York University in Shanghai, China. His works are in museums and public collections in Germany and the Netherlands.
Matchstick men has two aspects. It is certainly a commentary on society – the way we treat ourselves and other human beings. It denounces bad treatment like big companies exploit employees. The other aspect of the work is more playful. Streichholzkopf (Matchsticks in german) refers much strongly to the human head in a literal way (Kopf = head). Matchstick men started from the various head molds and bamboo wood sitting in the artist's studio which were leftover from a movie production in china while he was residing in Beijing. Experimenting with the two elements resulted in an eclectic crowd of literal matchstick men.
The artist hopes that people get both aspects – the enjoyable as well as the more serious meaning behind it.