DANIEL MERRIAM
The Imaginative World of Daniel Merriam: A Master of Romantic Surrealism
Daniel Merriam is a visionary artist who has dedicated his life to exploring the imaginative and fantastical world of surrealism. Born in 1963 in York, Maine, Merriam grew up in the vast, quiet spaces of rural Naples, surrounded by a family of creative and artistic individuals. It was in this nurturing environment that Merriam discovered his love for art, teaching himself to paint at a very young age and using his art as a form of reflective play throughout his childhood.
Merriam's illustrations are a testament to his imaginative spirit, blending the fantastical with the real to create a unique visual experience. He has received numerous awards for his work, including several first-place Broderson Awards, which are given annually to the best in the Maine advertising industry, and the first-place New England Scholastics Press Association Award for editorial cartooning.
In 2012, Merriam founded the Bubble Street Gallery, a space dedicated to the theme of his work and the exploration of contemporary surrealism. The gallery showcases Merriam's own prolific output as well as the works of other artists and craftspeople who share his vision. The gallery is a visual feast, showcasing the skillful and imaginative works of great imaginations like Hieronymus Bosch, Jules Verne, and Maxfield Parrish.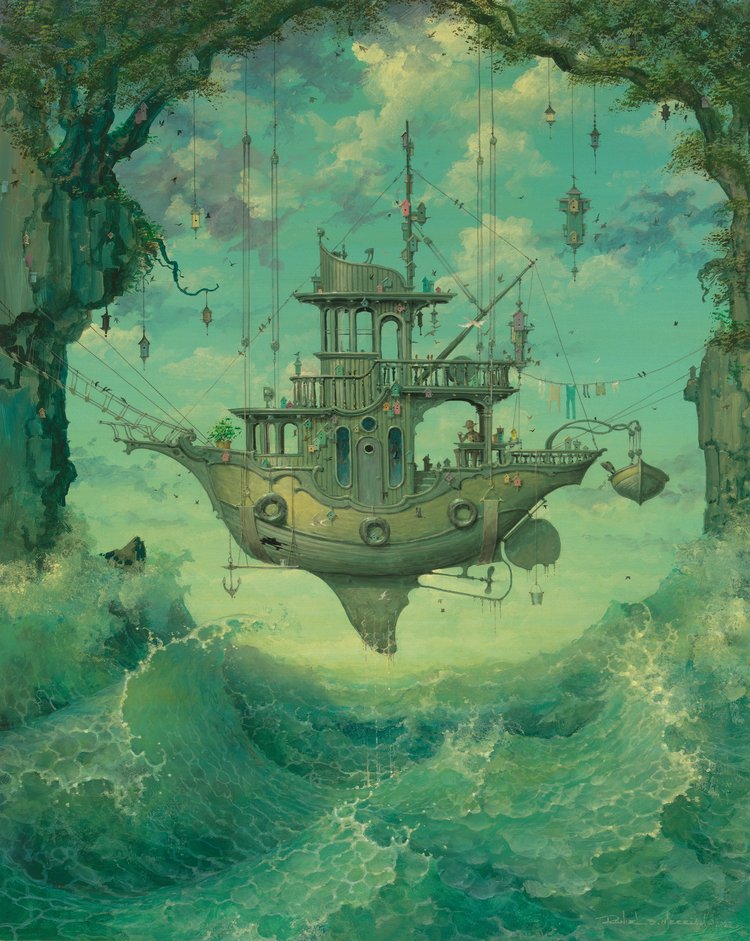 Merriam's life's work has been documented in four impressive volumes: "The Impetus of Dreams," "The Eye of a Dreamer," "Taking Reality By Surprise," and "Built on Dreams Alone." These catalogs reisonnés are part of the permanent archives of the Los Angeles County Museum of Art, the National Museum of American Illustration, the Peninsular Museum of Art, and the Parrish House Museum, and are a testament to the lasting impact of Merriam's art.
Certainly, Daniel Merriam is a true master of the romantic and surreal, blending reality with imagination to create a visual experience that is both captivating and timeless. Through his paintings, illustrations, and the Bubble Street Gallery, he has left a lasting legacy that will inspire and captivate generations to come.