GUILLERMO GARCIA LORCA
Paintings that depict the cruelty of life, its purity, and its physical temptations
By:
Irina Iacob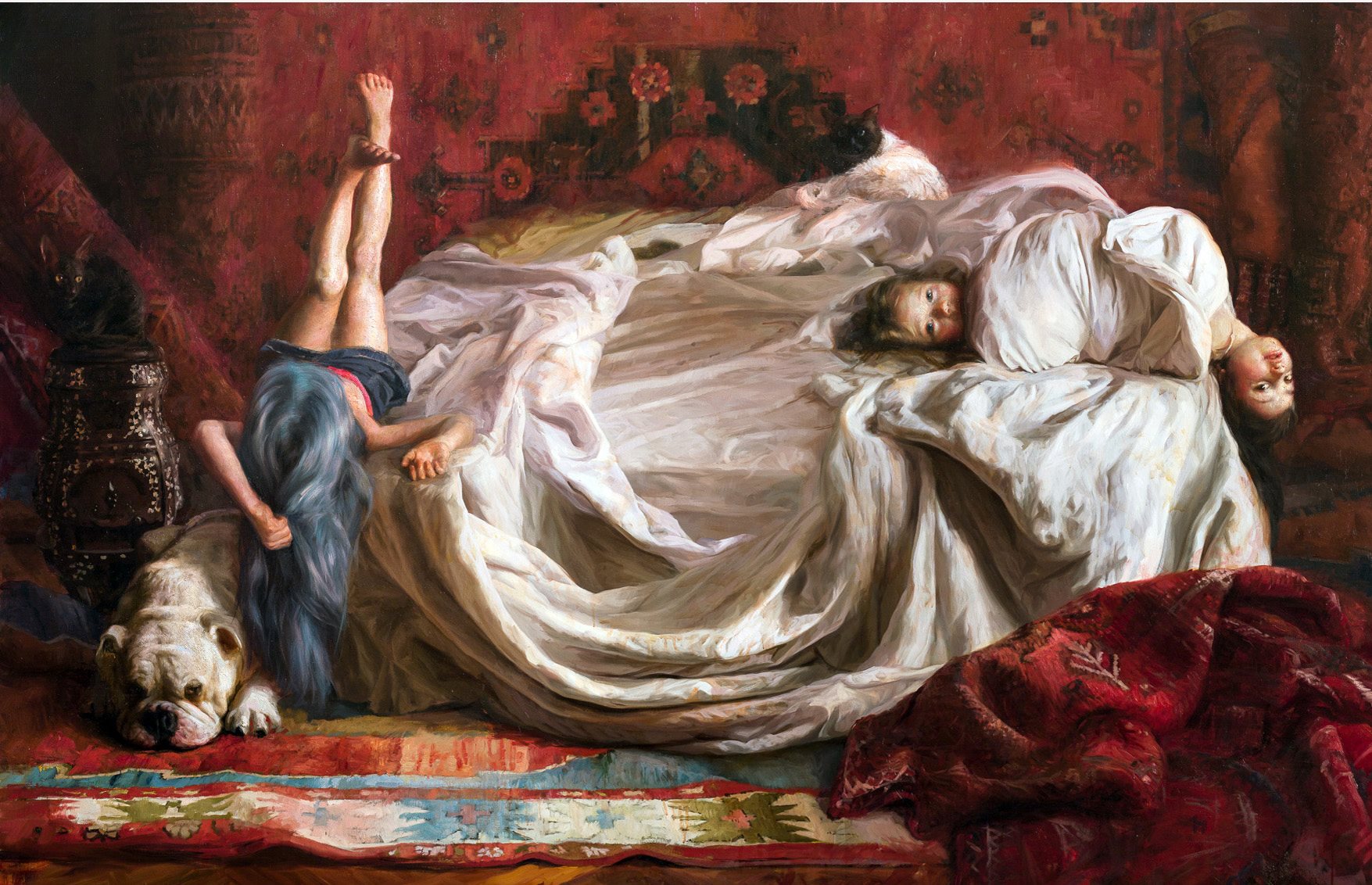 Have you ever wondered how a land full of color looks like? Wait, is it inappropriate to ask you this and to start like this my article because there are specific rules for writing and one cannot break them? Am I caught your attention? Well, there is nothing but clear observation in what Guillermo Lorca Garcia creates. He takes us into his pastel. For him, the reality is a pastel.
He interrogates us about how we see reality. Are we observing everything?. Admiring his artworks is like having a dialogue or a debate with him regarding observation and psychological analysis. Guillermo Lorca Garcia is a young Chilean painter, born in 1984, in Santiago de Chile. Guillermo studied at The Pontifical Catholic University of Chile, but he chose a very own personal path. He abandoned the university and started attending Art Spot from Miami and the Contemporary Art Fair Ch. ACO from Santiago, Chile.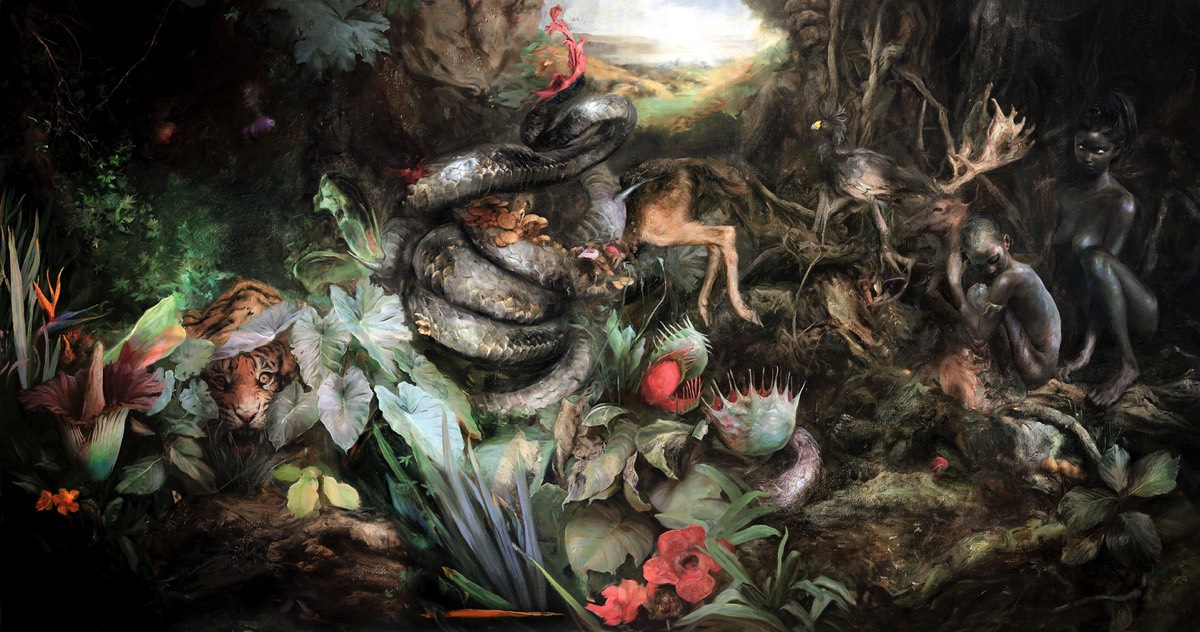 The black dragon, acrylic on canvas, 150 x 300 cm., 2018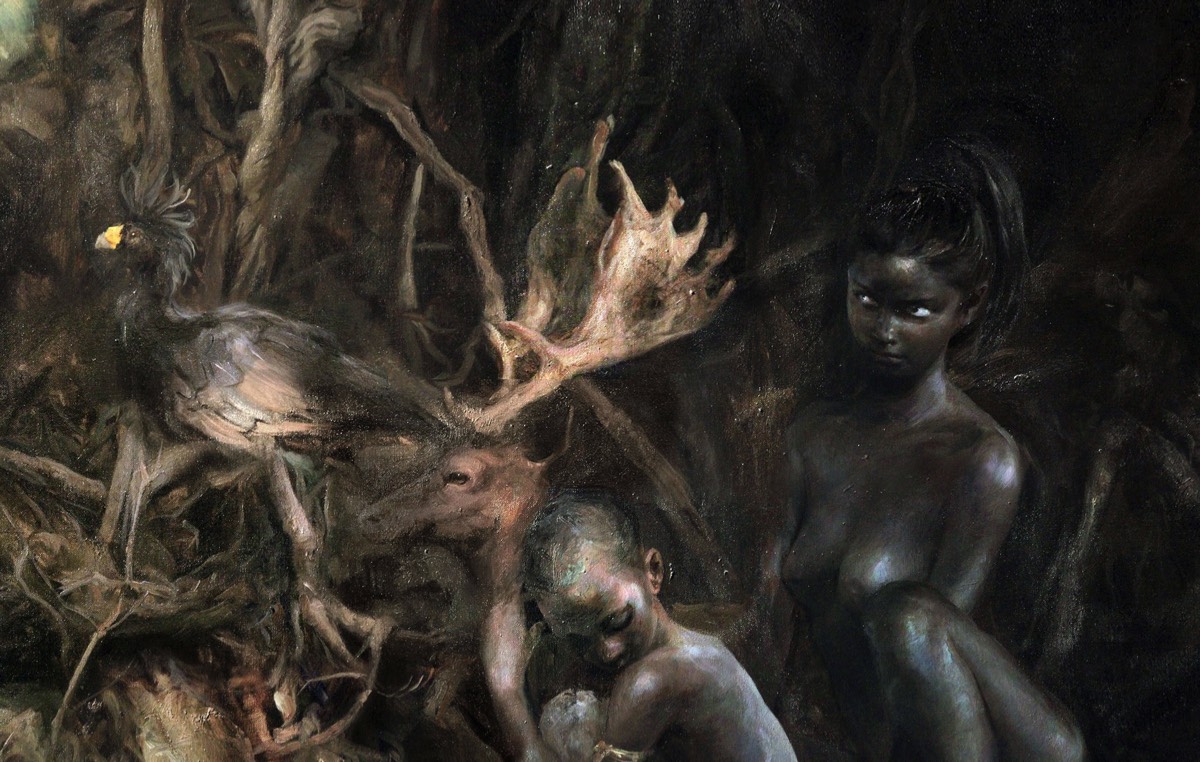 The black dragon, acrylic on canvas, 150 x 300 cm., 2018, details
Lorca's figurative art, his magic realism comes from the ones who have always inspired him. Garcia's fine art recalls a baroque style due to his fascination for Caravaggio, for instance. But also for Velazquez and Rembrandt. Various dreamlike details can be seen in his solo exhibitions. His first one took place in 2007, then he continued with the second one in 2010. In 2012, he had an exhibition in Mexico; and in 2014, he had another one titled ''Eternal Life''.
He is also known for his mural paintings exhibited in different Mexico subway stations. And that's not all: Lorca's talent was appreciated by movie directors. In fact, he appeared in a movie called ''Summer of the Flying Fish'', where he plays himself.
Guillermo's paintings play with mixed elements, such as sensuality, innocence, childhood. His pastel imaginary gathers lots of animals, little girls, decorative elements, colors, and birds. In order to have a holistic image of his work, we have to talk about all the animals he draws. Black cats, black cows, sheep, tigers, white dogs and dogs with black and brown fur, lions, deer, monkeys with pink fur; all these are mixed up with swans with purple throats, geese with huge, impressive wings and purple beaks, pelicans, chickens, cocks. He attached to this colored imaginary little girls with purple, pink and green hair. The viewer sees Lorca's reality and his preference for feathers, fur, pillows, and white sheets.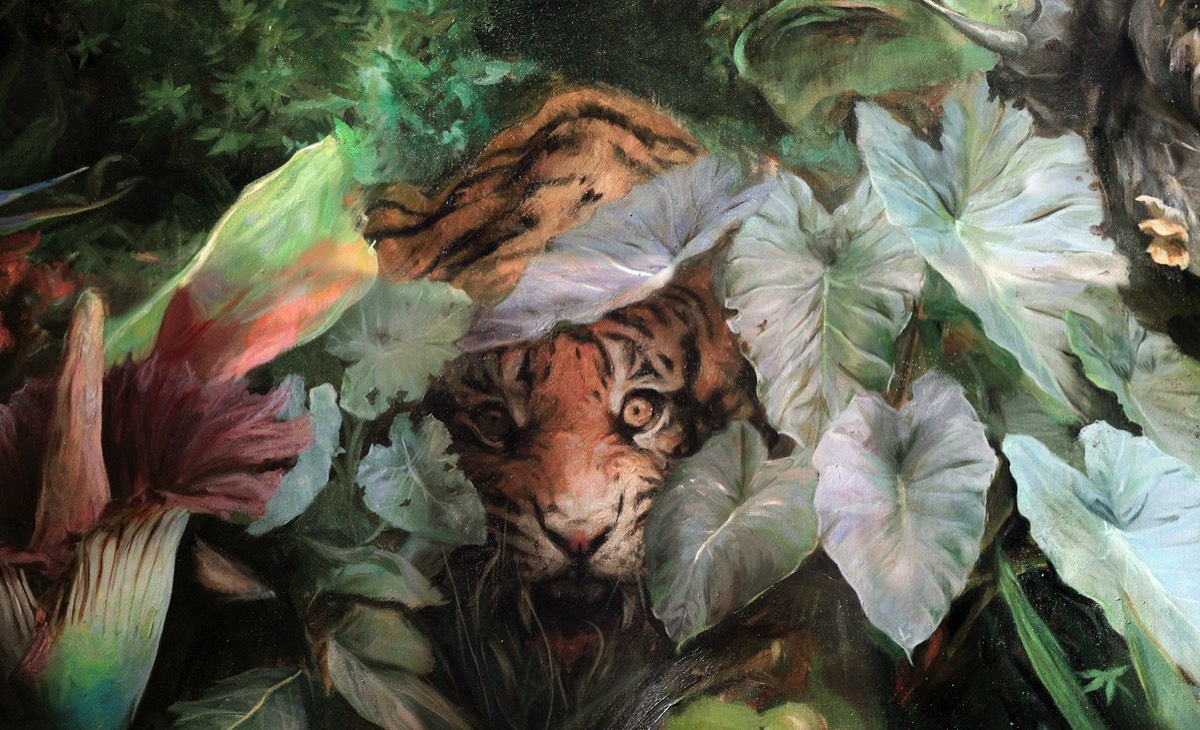 The black dragon, acrylic on canvas, 150 x 300 cm., 2018, details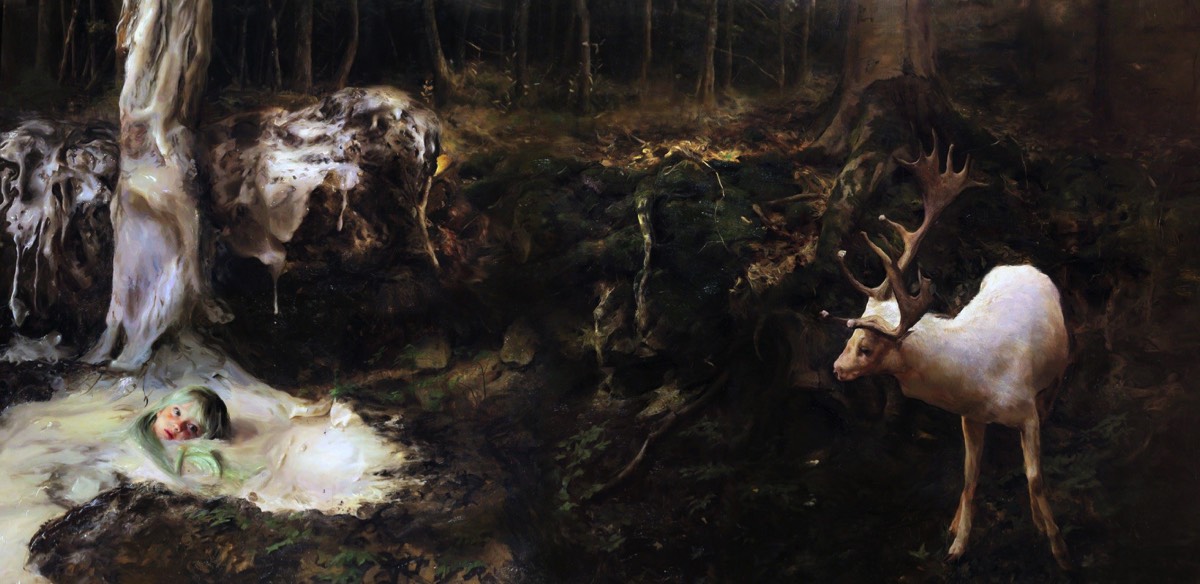 Acteon, oil on canvas, 130 x 270 cm., 2017
This young Chilean artist combines all this with round body shapes, green eyes, skin details, and naked bodies. He makes vivid beautiful little girls who seem to look straight into your eyes. He obsessively puts in the same frame girls laying in beds, animals, and birds in trees, and loves tricking the viewer's eyes with multiple up-side-down body positions. He mixes color with flash and decorative elements with fruits and plants. He designs reality by giving life to wooden furniture. And he pays attention to details - his decorative elements, such as vases with floral motives, are combined with tables; he repetitively puts apples and pumpkins on tables.
His young feminine subjects can be divided into two categories - little girls with colored hair, white skin tone and green eyes and young girls with black skin tone showing off their small round breasts. Above all this, the artist creates trees and a specific aggressiveness shown by monkeys and dogs who show off their fangs. So, aggressiveness is combined with purity. All those white sheets and all those little girls laying down in beds speak about innocence.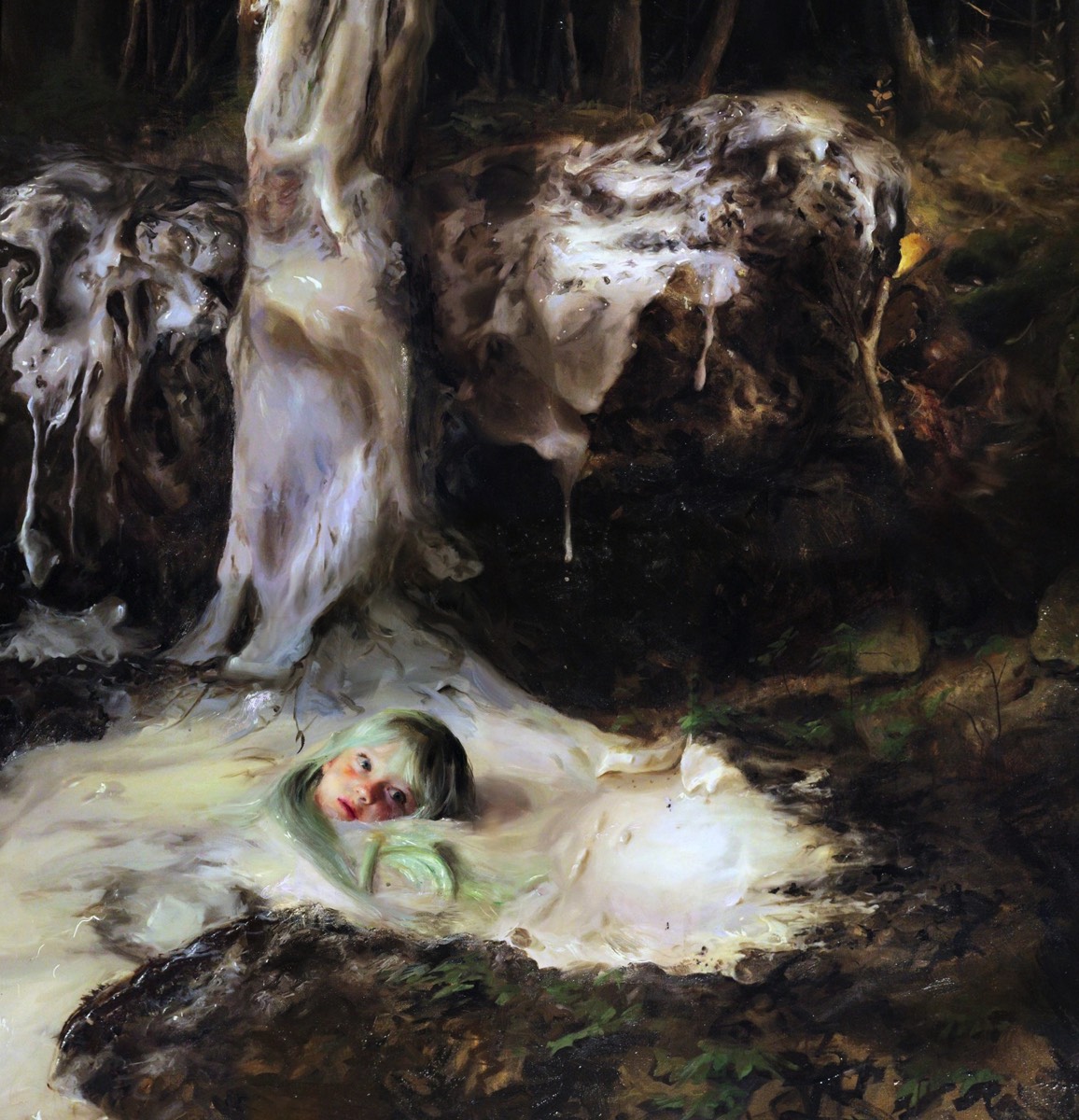 Acteon, oil on canvas, 130 x 270 cm., 2017, details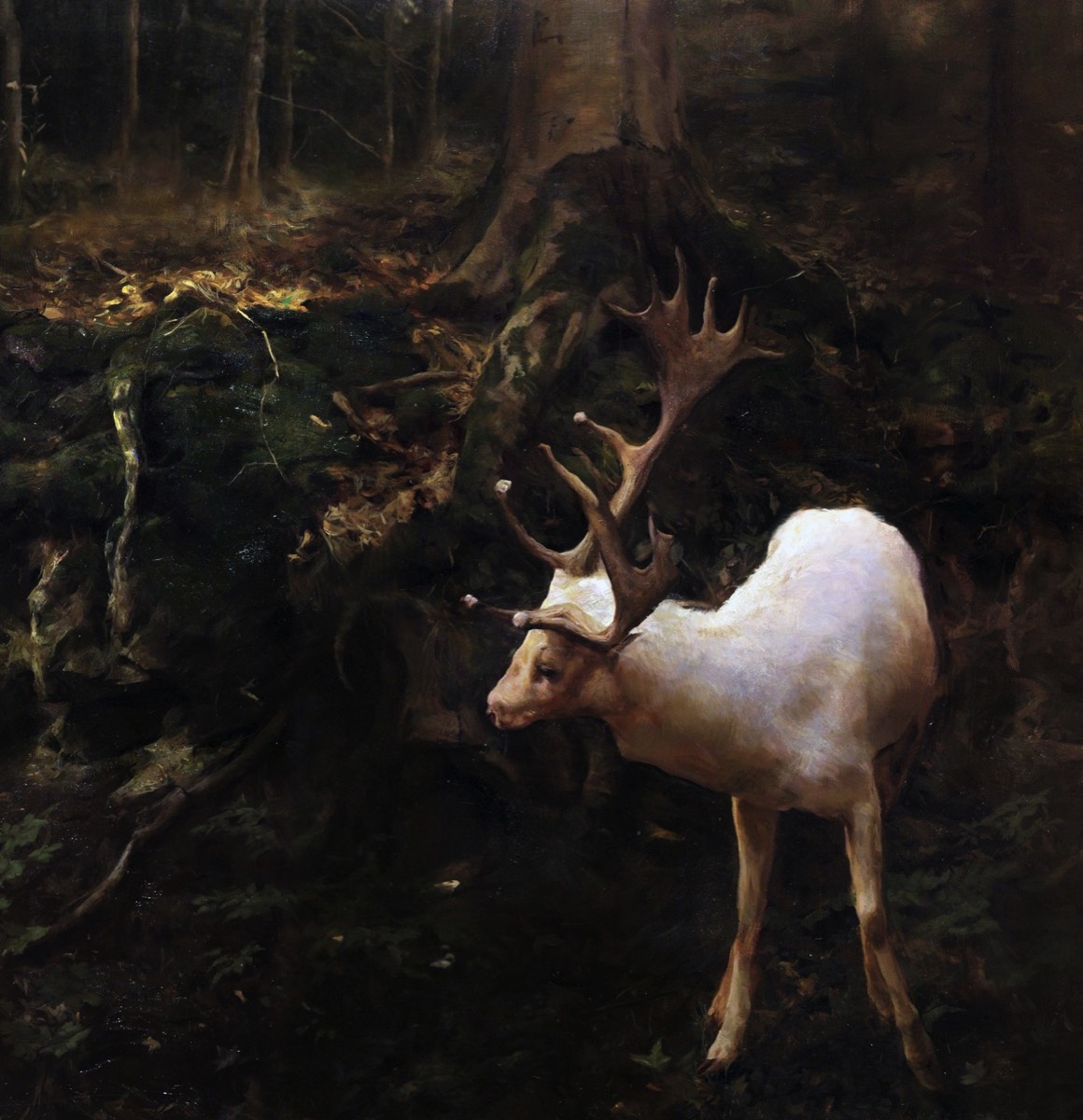 Acteon, oil on canvas, 130 x 270 cm., 2017, details
Guillermo emphasizes colored atmospheres and invites us to enter in his ''bedtime story'' world. His universe makes us take into consideration concepts like subconscious, unconscious, reality and the way things are perceived, psychic phenomena. He shows us instincts, primitive feelings, and sensations. He wants us to see the link between humans, animals, and natural elements. He displays reality by making it look like a fairy tale. His style is so contrasting because he paints a sort of erotic detail; he invokes a specific symbolism and creates purity, innocence, and childhood. So, what does he? He enlarges erotic details with all that shinning white, physical elements and aggressiveness.
In order to understand his process, we must specify that he imitates nature. That's what he does. He takes nature to the extreme and reproduces reality the way he perceives it, insisting on details. And there's a concept for that – hyperrealism mixed up with realism. This young artist observes reality and the relationship between humans and the environment and attaches them to a psychological analysis. He talks about the link between human reality, animal reality, and plant reality. By doing so, he depicts three major characteristics: the cruelty of life, its purity, and its physical temptations.
Four stages of composition can be seen in Lorca's artworks: flying elements (birds), static elements (furniture), sharp elements (fangs) and round elements (breasts). Garcia describes life as it is. It's all here: good and evil; sinful, dark insinuations and childhood in its all bright innocence. He actually paints a balance – life is balance. He shows to the world that life is nothing but a balance that sustains itself precisely because of its duality. There's a culture of good and evil. Humans are dual beings and they have good and bad inside them; so they've got dark and bright paths within. Life itself is a road with two major ways containing all those aspects named before.
The blood he paints leads to the Act of Creation. And to highlight this here's what the painter himself declares in an interview: ''Siempre me gustaba echarme las manos, estar siendo cosas manuales'', which means ''I have always enjoyed putting my hands (referring to colors), and to do physical stuff''. This affirmation can easily lead to the Act of Creation because a painter is a creator himself. In the end, we have to add the main character: Death. Deathlike a permanent threat, who always whispers and breathes in all that's vivid. All that beauty, all that's living is threatened by a black cold.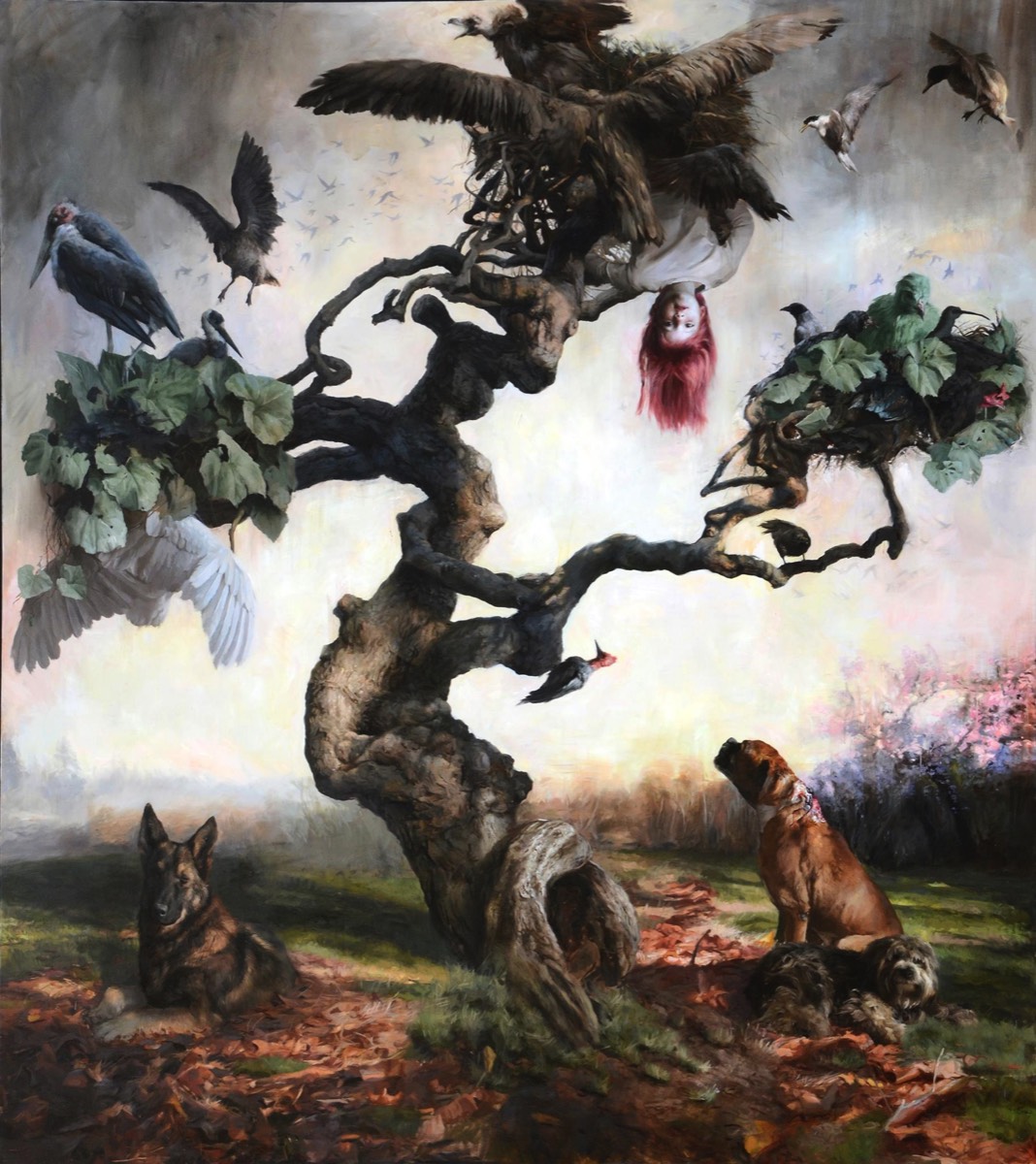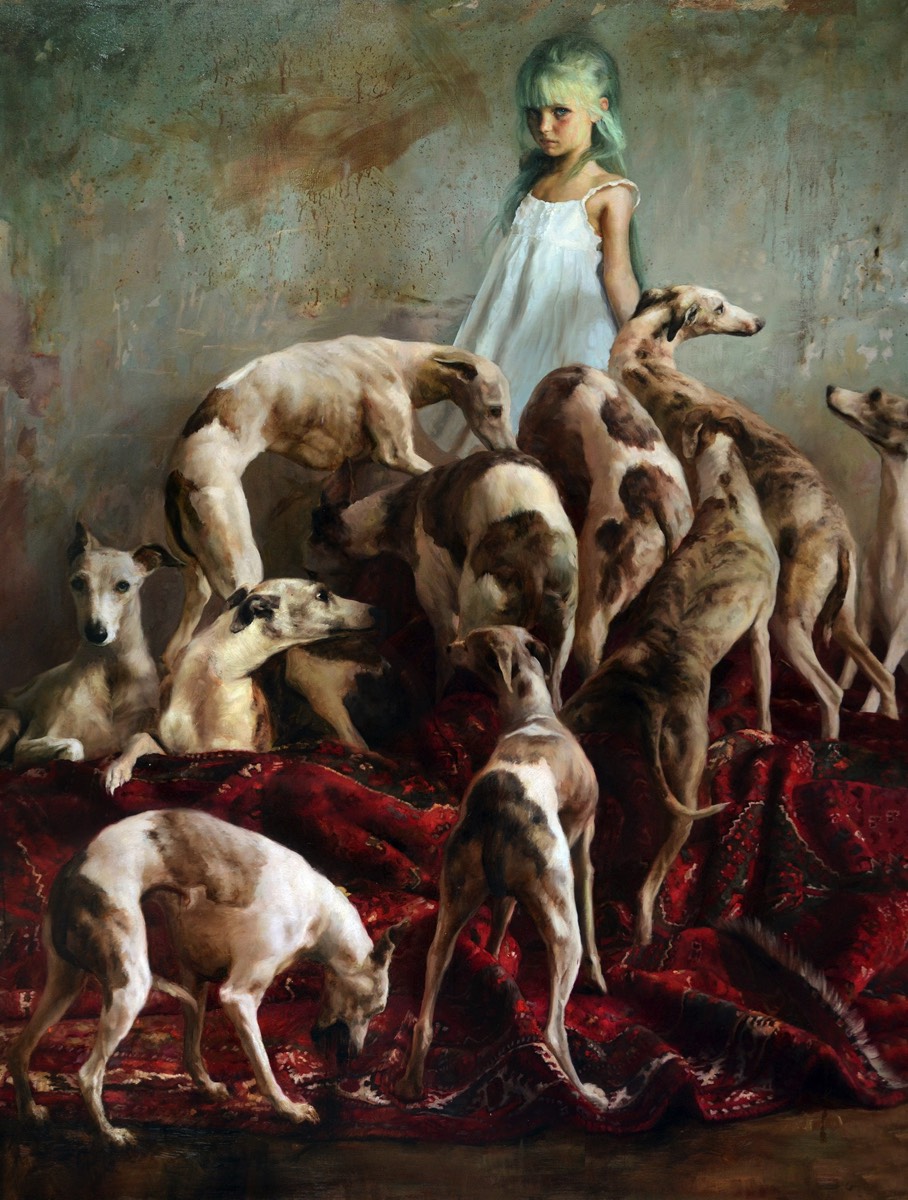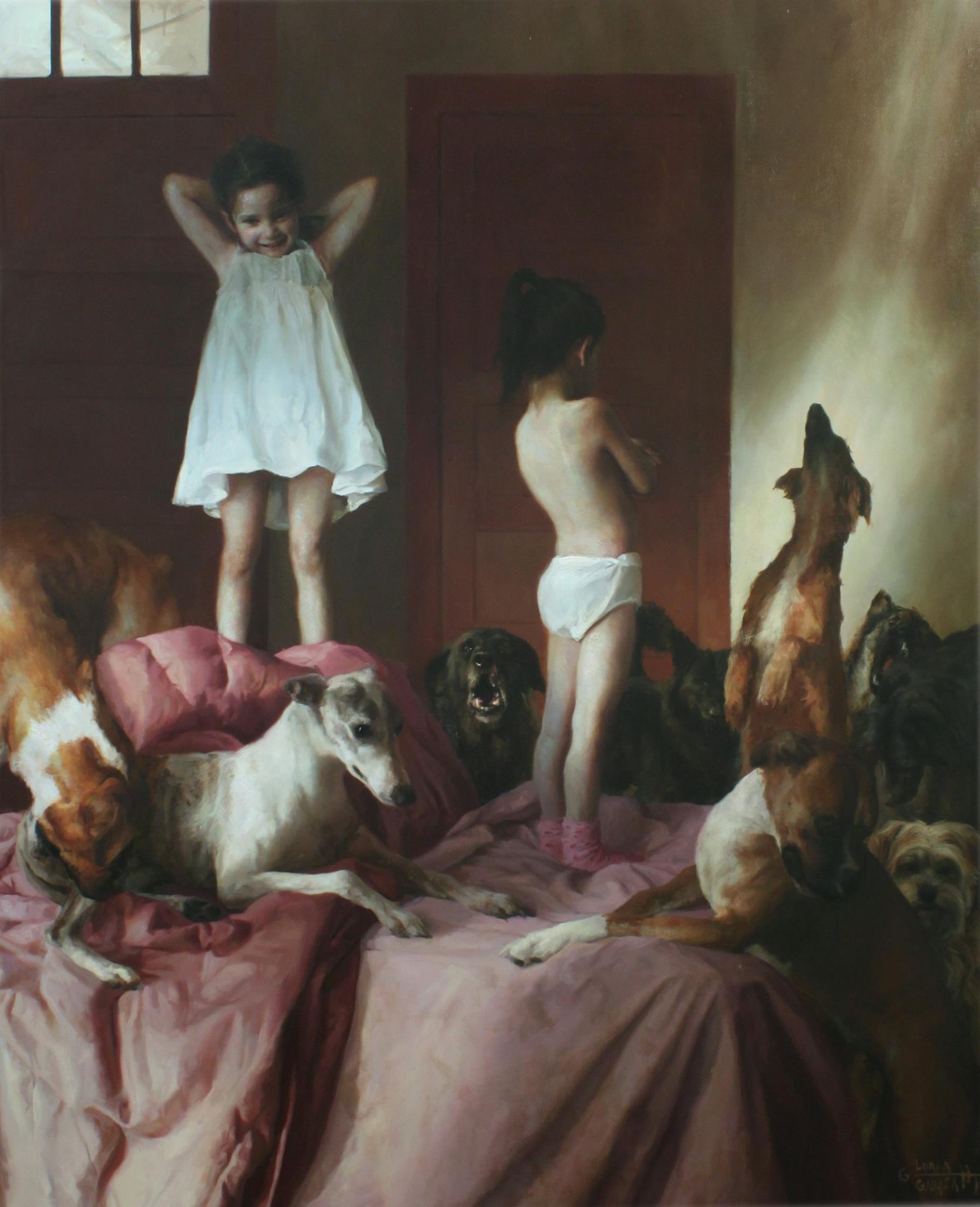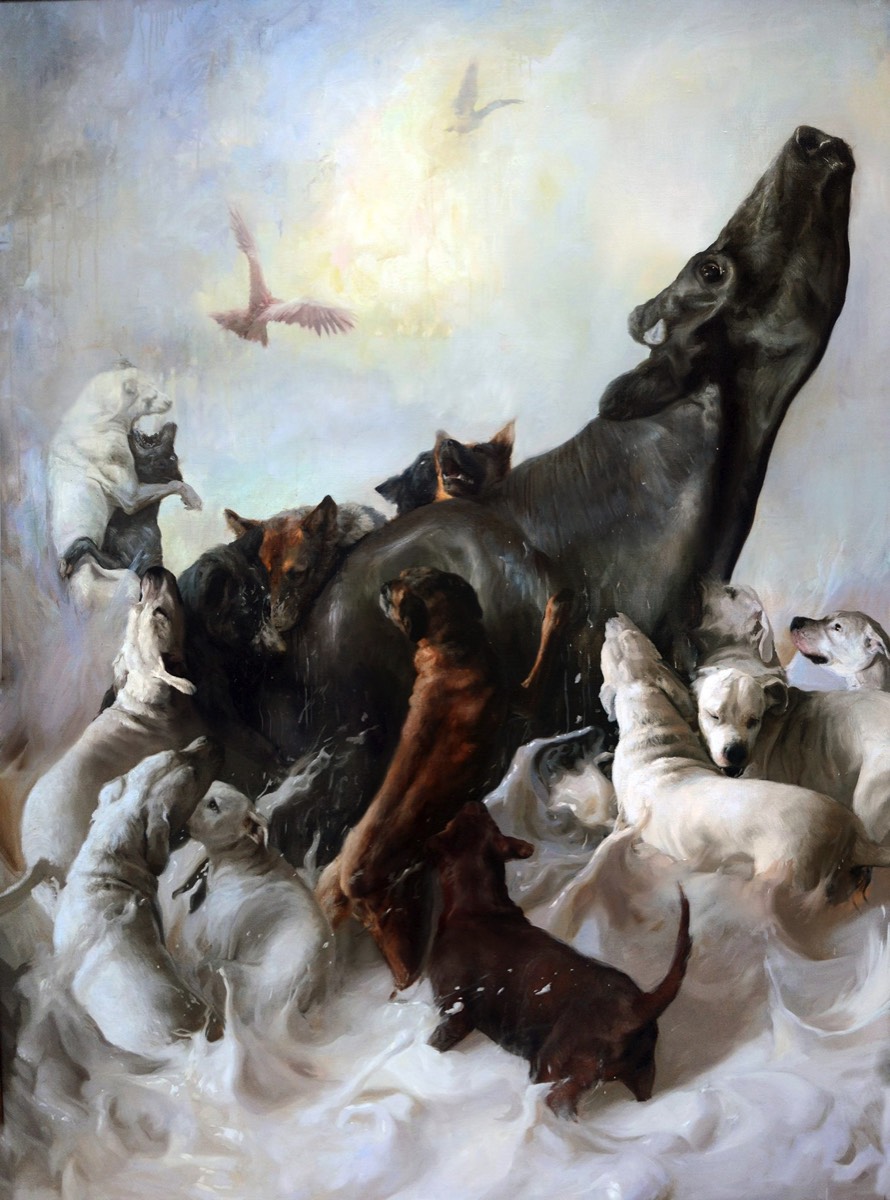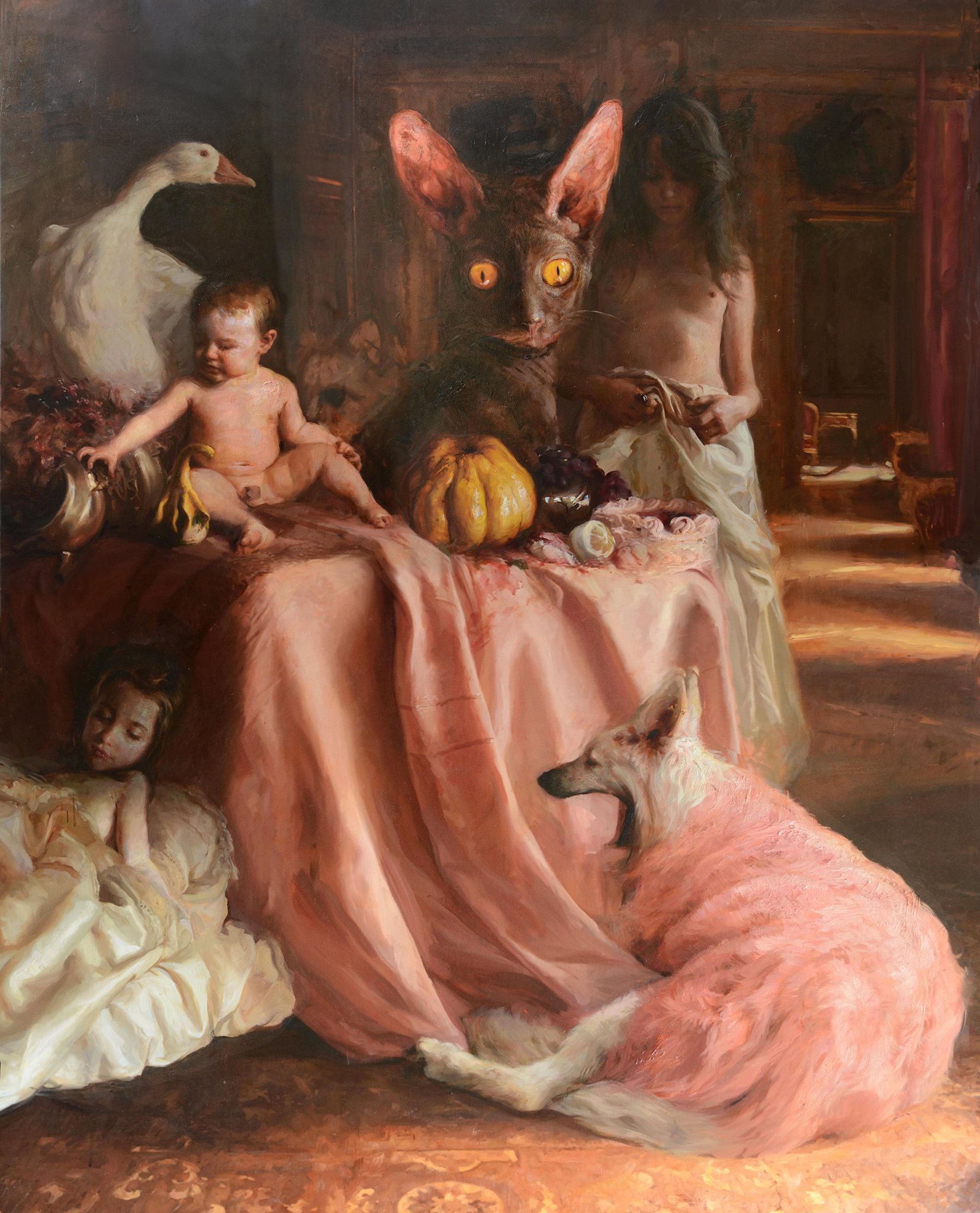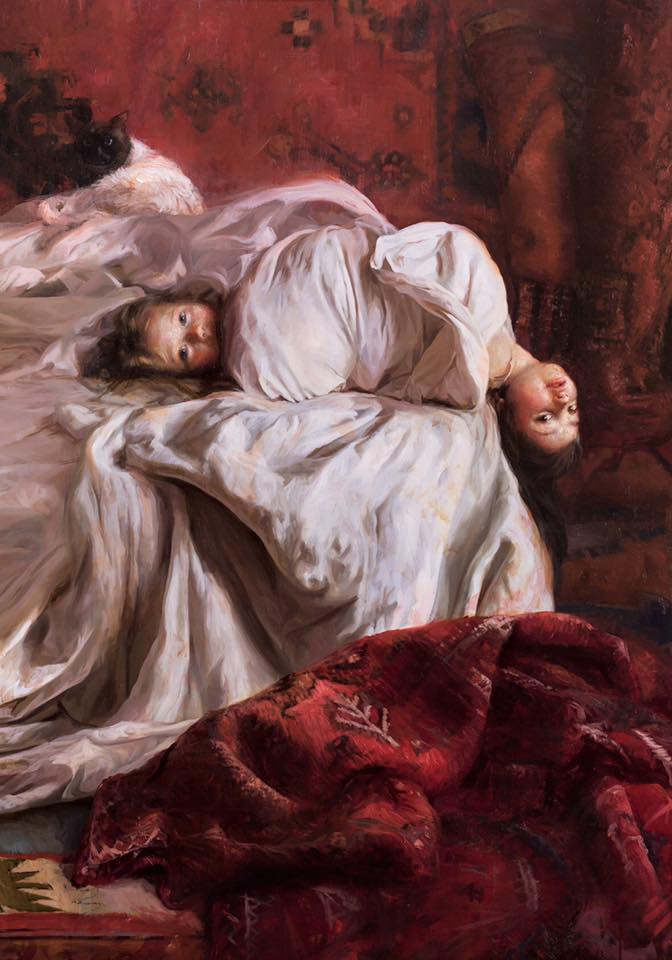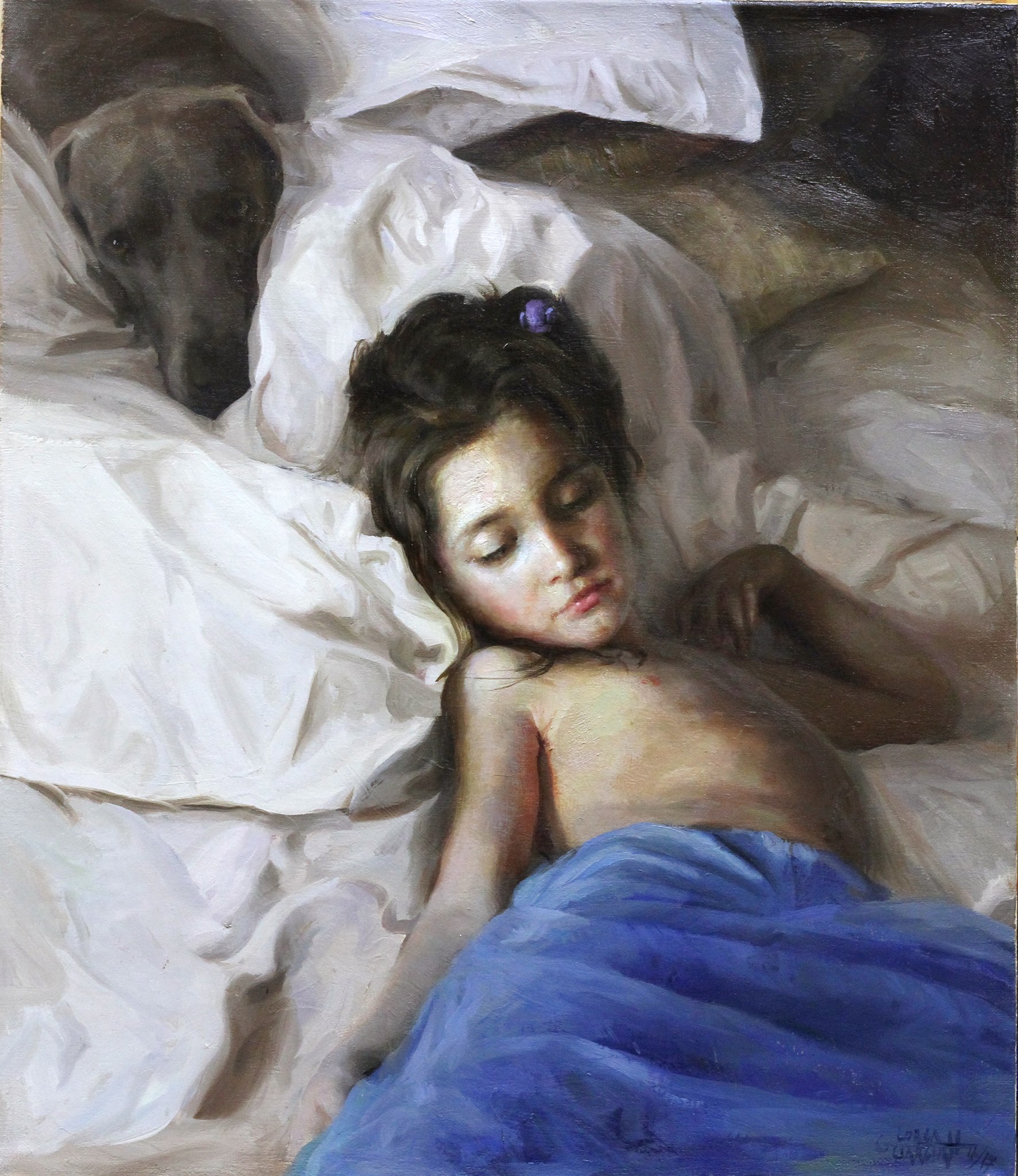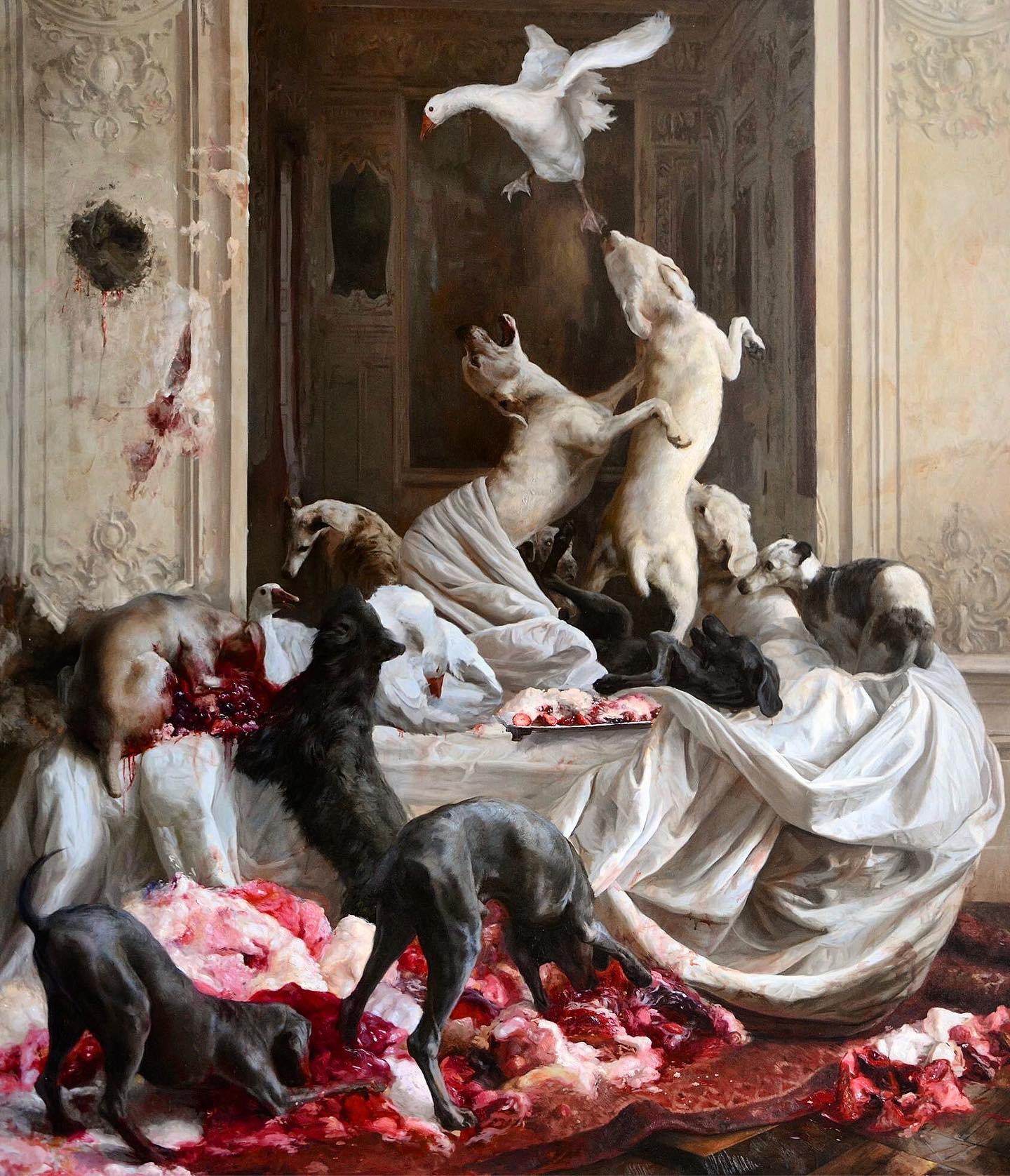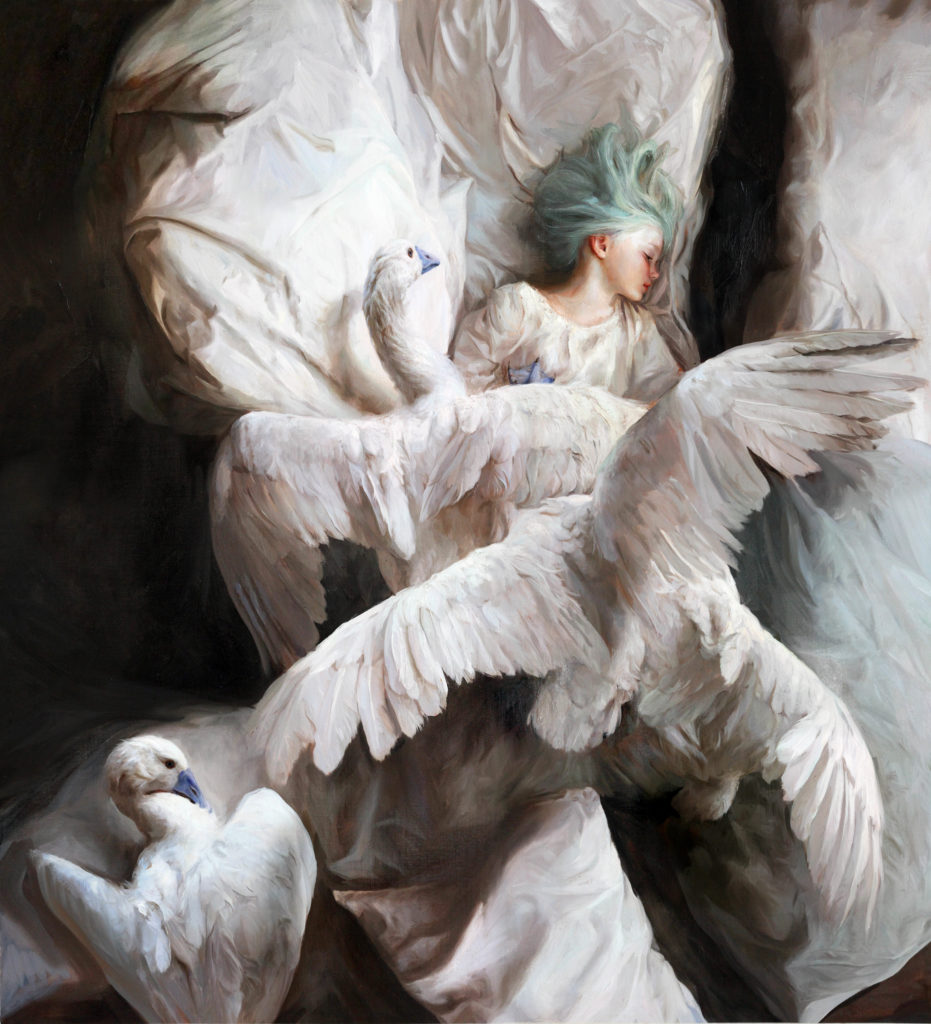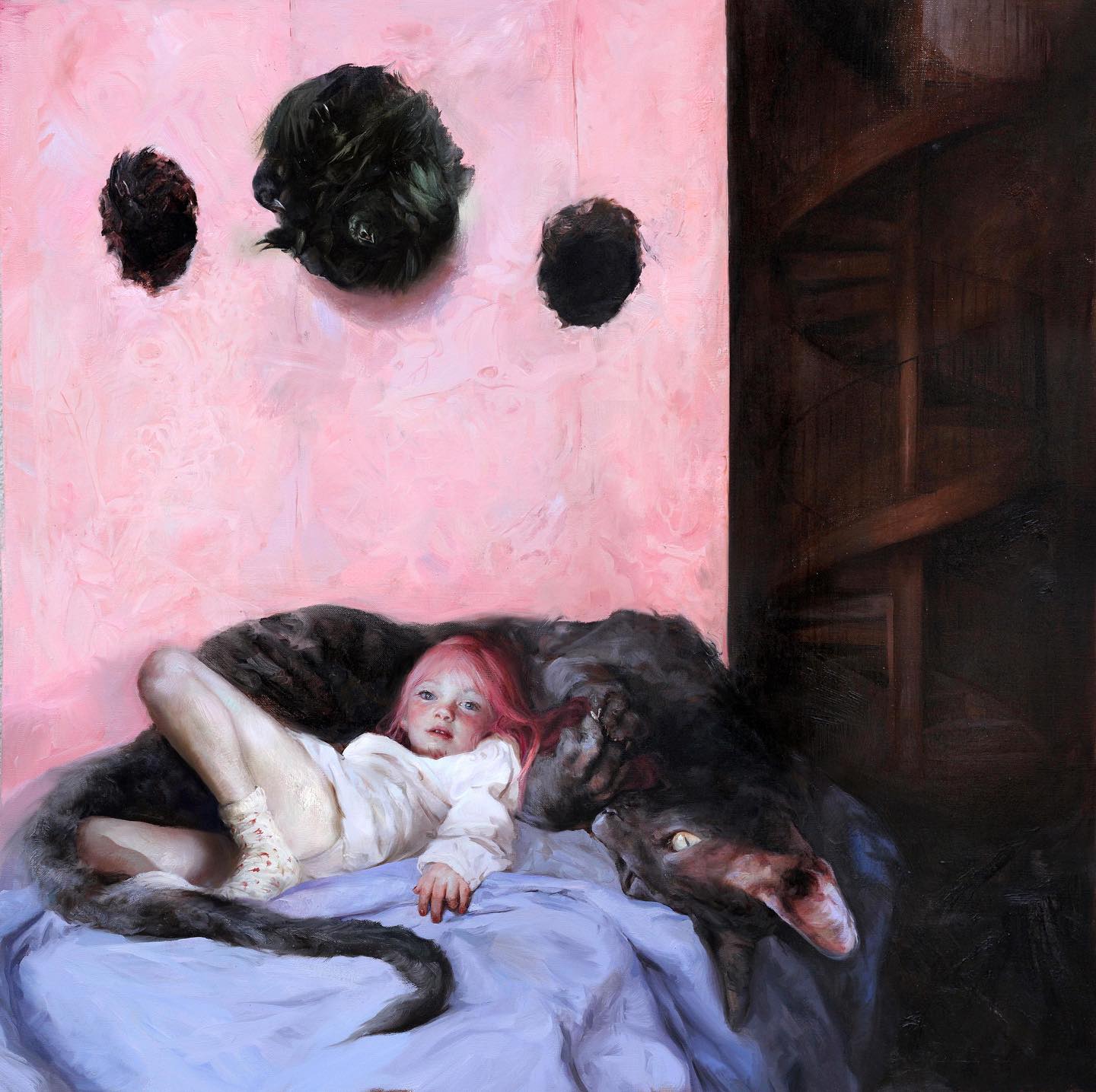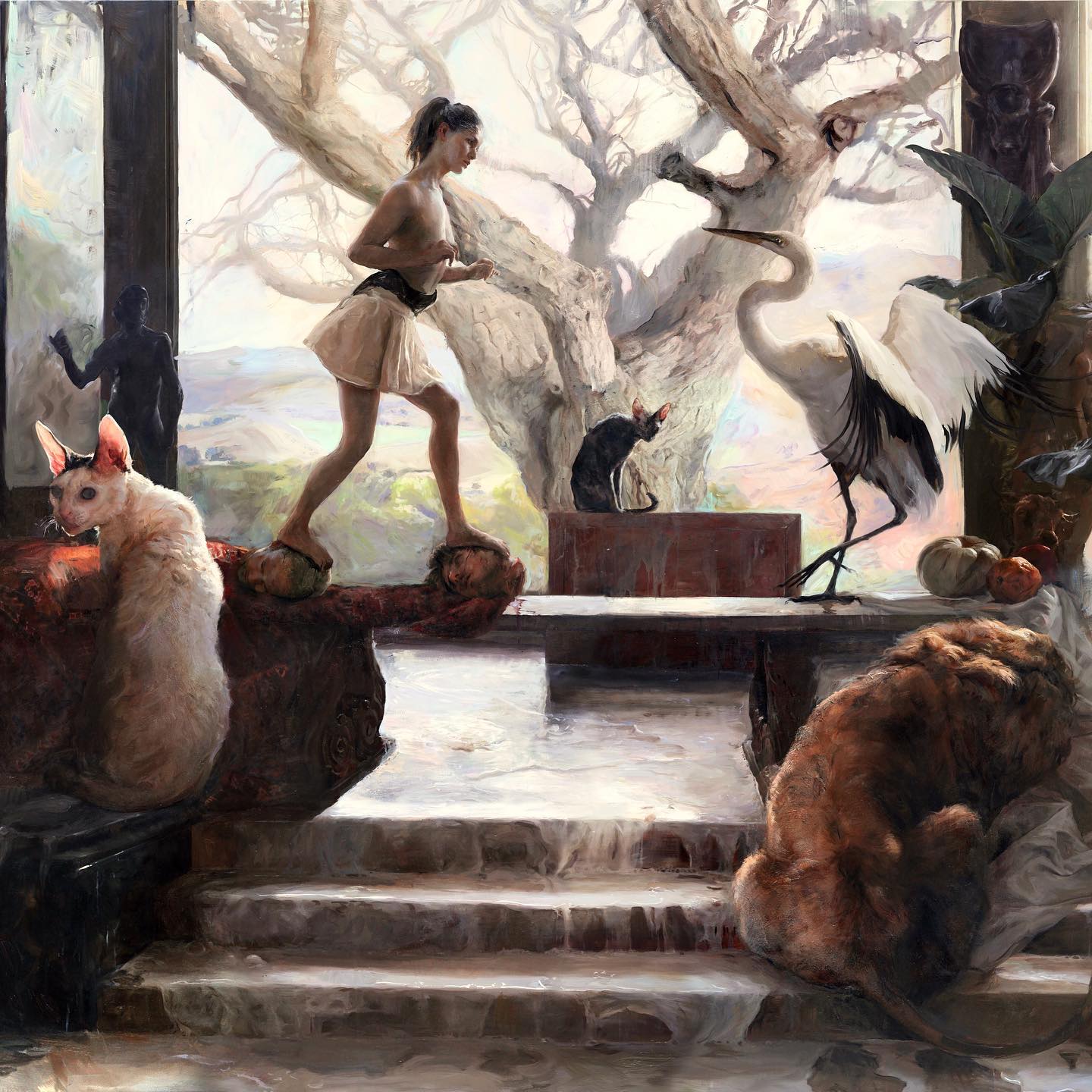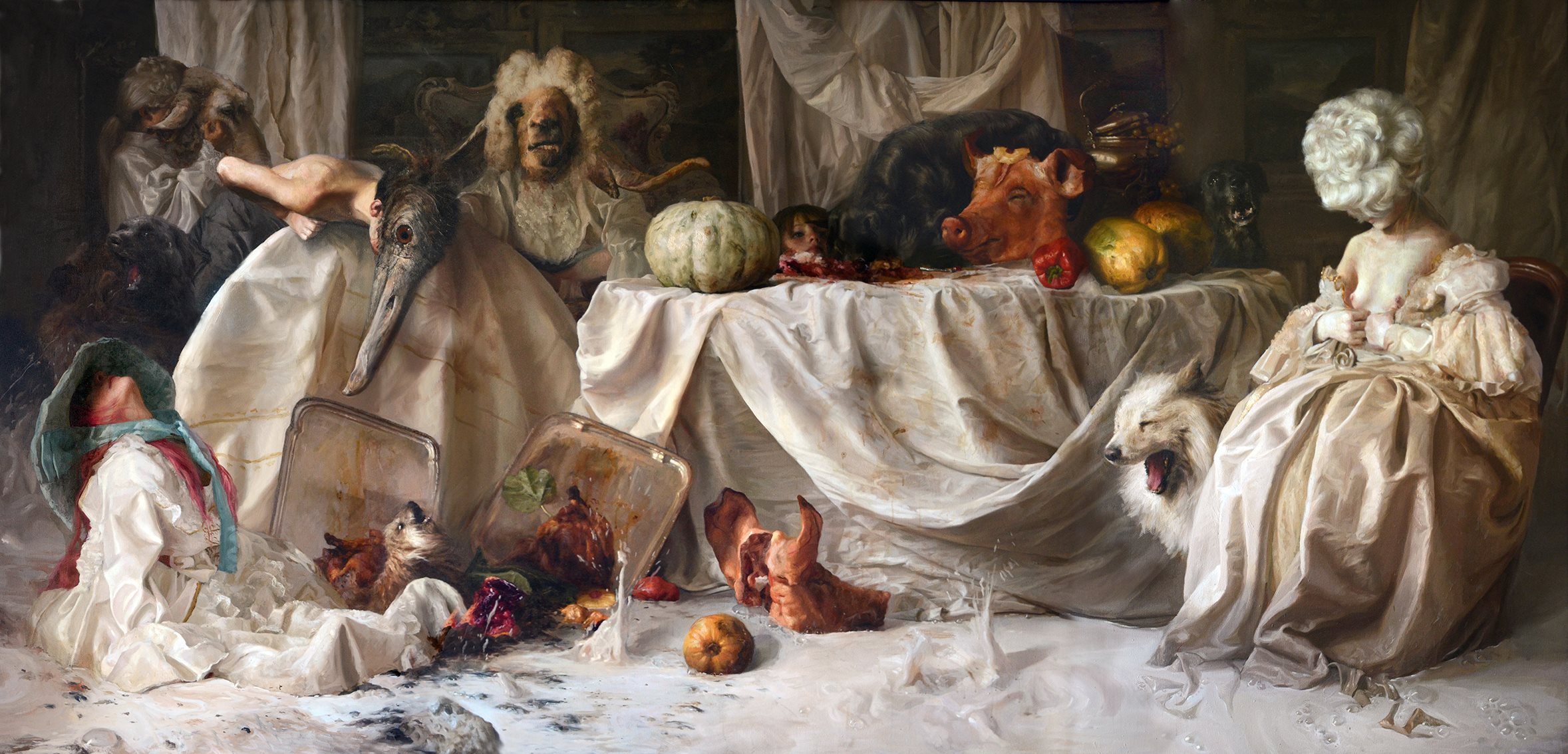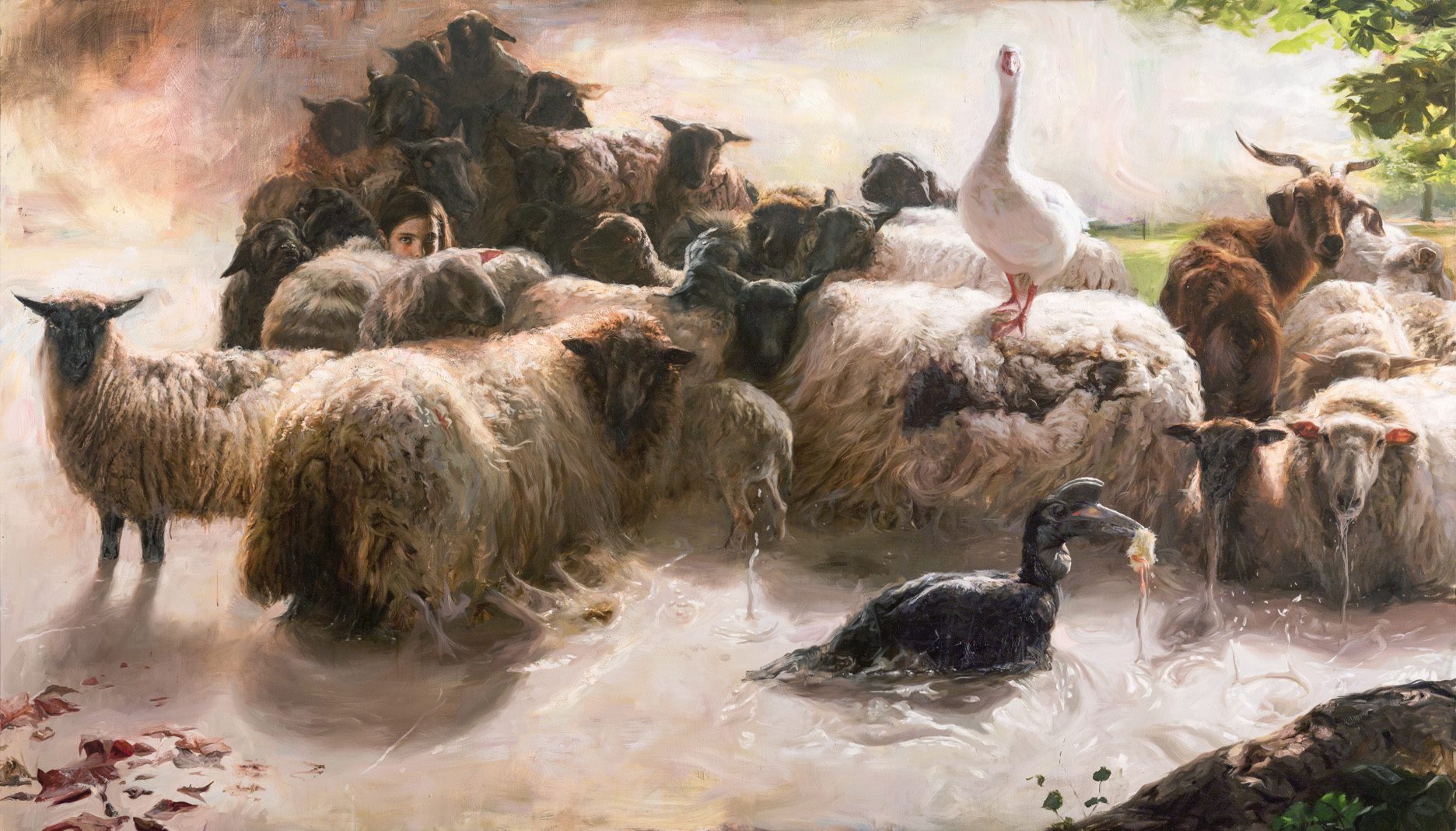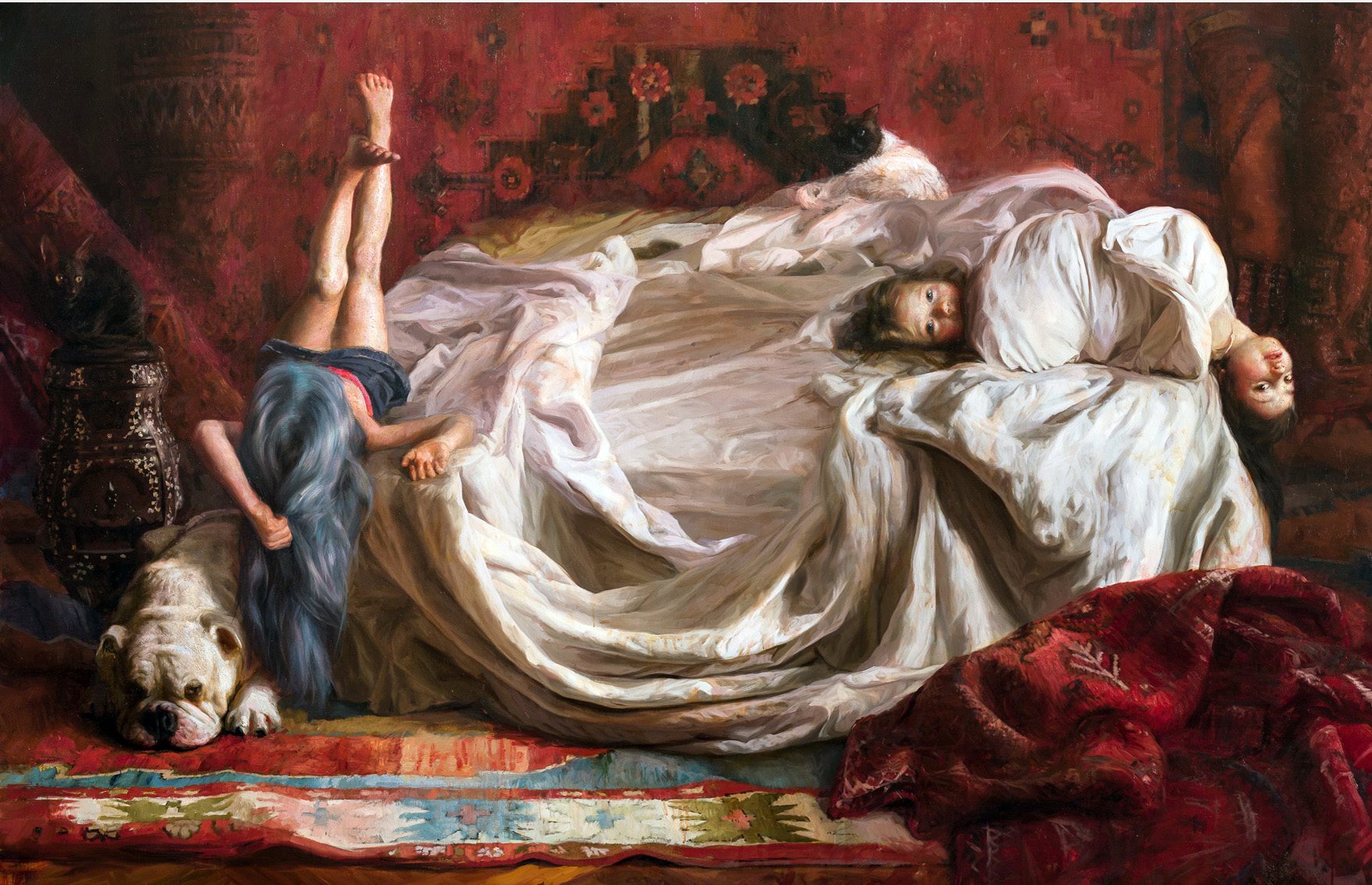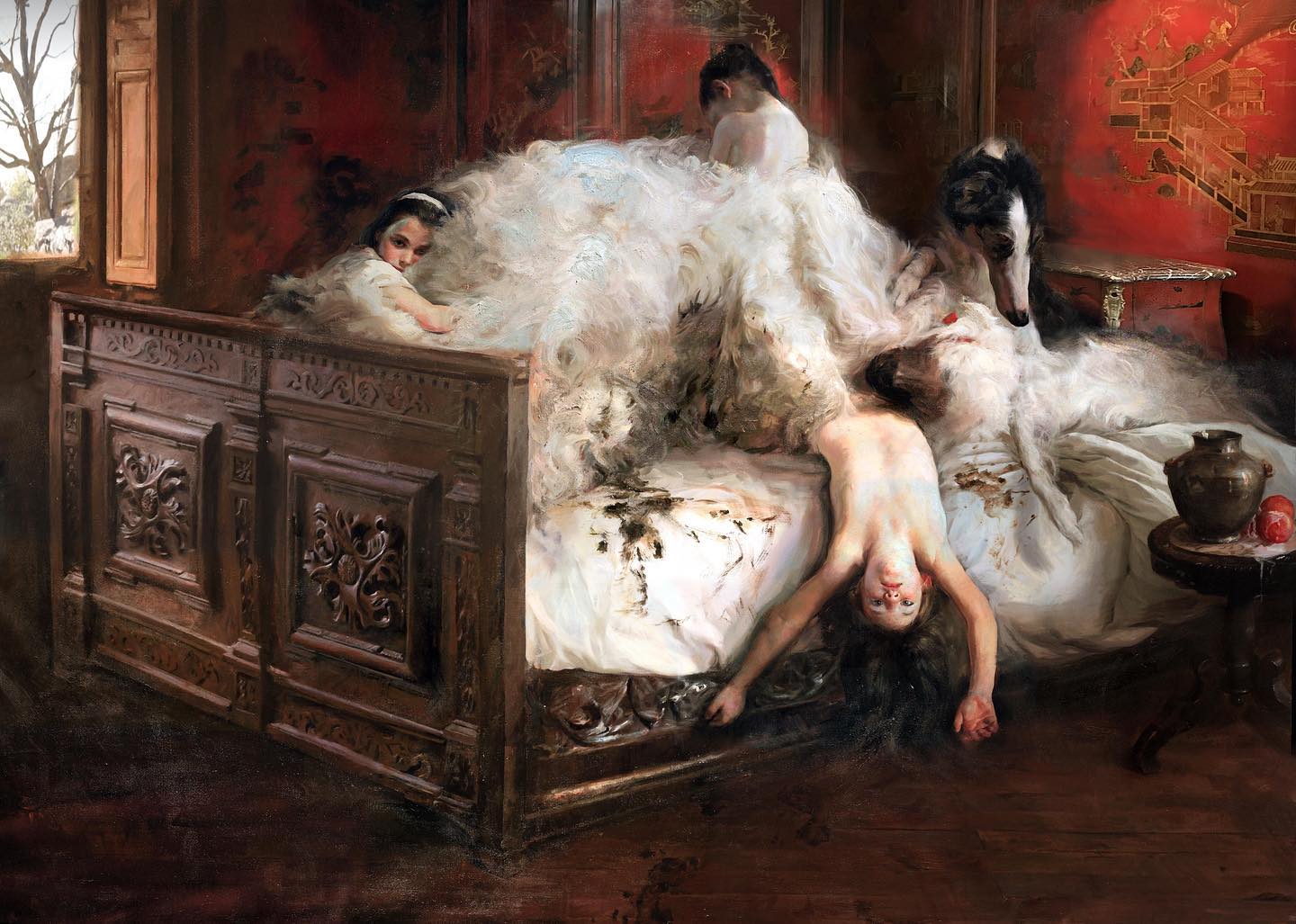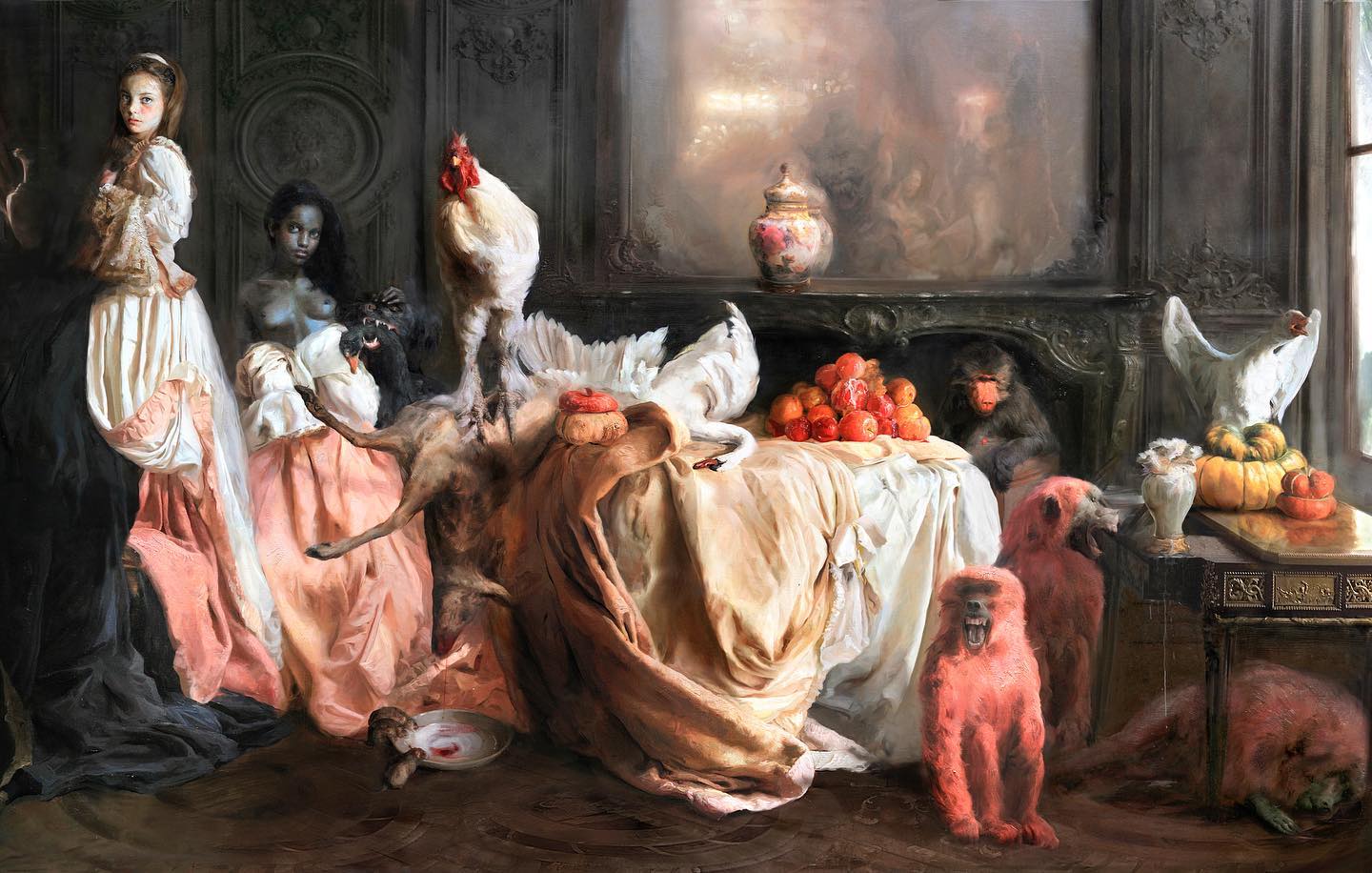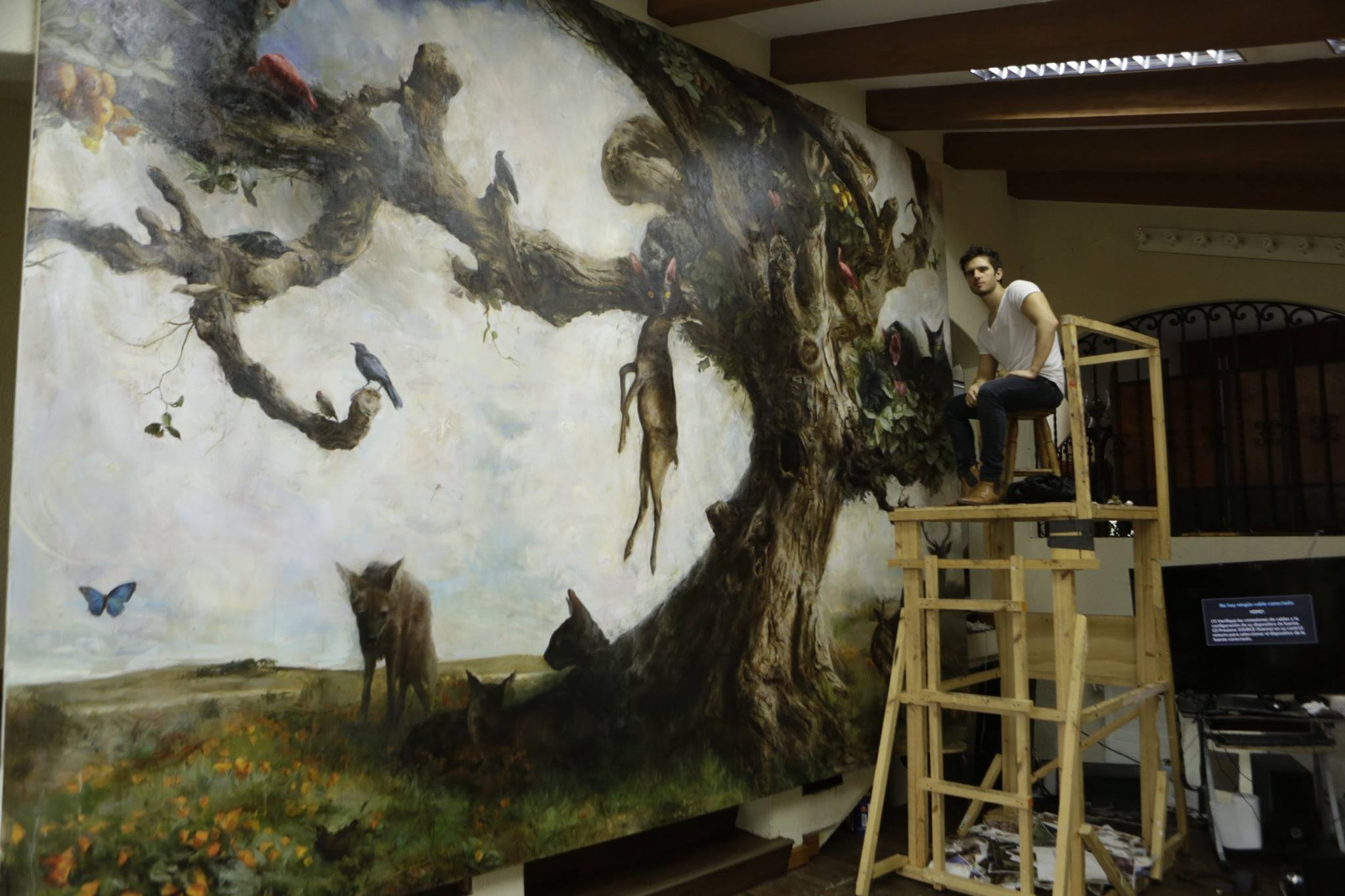 Photographize granted permission to feature photos by Guillermo Lorca Garcia