"Do we live in a surreal world? I don't think so although it happens that sometimes we perceive it in that way. The world is by no means what we see it and our tendency is to look for orders and rules."
Igor Morski is a Polish graphic designer, illustrator and set designer based in Palma Mallorca, Spain. At present, he is focused on mixed media graphic art, based manly on photo manipulation, drawing and 3D. His surreal works erase the frontiers between reality and imagination.
He graduated with honors from the Interior Architecture and Industrial Design Faculty at the State Higher School of Fine Art in Poznań (now the University of Arts). In the late 80's and early 90's he worked for the public broadcasting company Polish Television creating set designs for TV theatre, culture and commentary shows. In the early 90's he pursued a career in press illustration. He has received several prestigious awards, his work regularly appears in international magazines and his art has been commissioned from leading companies around the world.
Please briefly tell us about you.
I've been working as a graphic illustrator for more than 30 years. I mainly deal with photo manipulation, 3D and digital painting. Surrealism that you can see in many of my works came to me in some way by accident. It was the result of cooperation with one of the leading Polish weekly at that time. When I started that cooperation, the assumption of the magazine was to make photo manipulation a peculiar identification mark. At that time the awareness of the photoshop manipulation was low, so many of the effects of computer processing were taken by people seriously, which had its power by the way. The necessity of building a symbolic message has made the surrealistic value useful to the matter of realistic photo manipulation. With time, I liked this way of art and it became the feature of my illustrations. Because of what I do, I am also condemned to a certain stylistic variety. On the the one hand, cooperation with opinion weeklies pushes me towards narrative stories, and on the other hand working for magazines like Focus with scientific topics, forces me to have a certain view, and generate images not so much narrative as realistically reflecting various visions, objects, etc.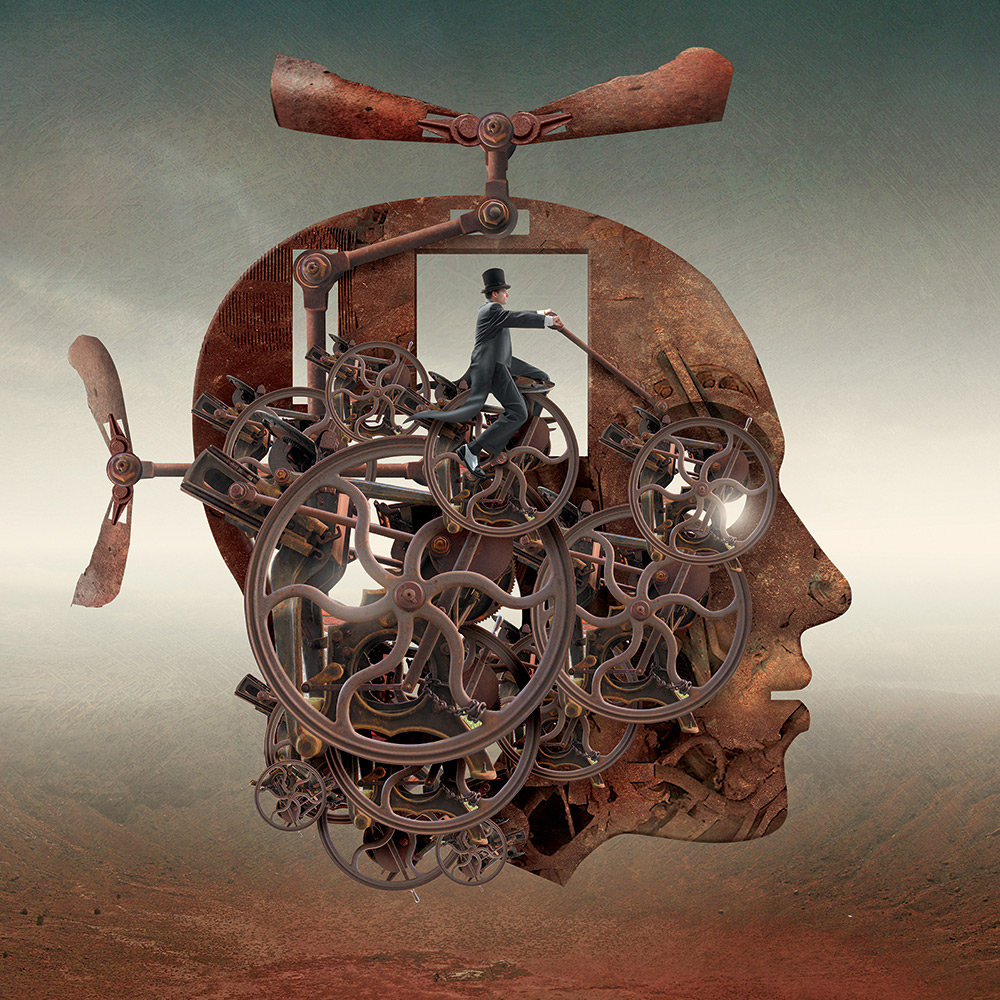 What originally made you want to become a graphic designer/illustrator?
Choosing my career path was accidental in a huge way. I graduated from university of design and by profession I am a interior designer, with a focus on exhibition. It had a certain professional effect for me, because during the first decade of my professional career I worked in as a scene designer in television and theatre. At the same time, however, I always dealt with graphics, making posters. The proposal for illustrating for the weekly was just a proposal made at one of the banquets at first but all in all, it had a great effect for me - of course in a positive way.
You create incredible digital artworks. Your work reflects our current reality, with a surreal sense of black humor, mixed with a provocative message. What does your works reflects? Is there a message you want to convey?
Well, yes, that's true. My works' character was determined by challenges I had to face. They were mostly related to the subject matter. The time of my greatest illustrative activity is the period of serious socioeconomic changes in Poland connected with systemic transformation, after the fall of communism. The time is extremely interesting as new ideas were formed. But it was also a time of serious tensions, mental changes, meeting the unknown. Commenting on political events often required a strong, earthy language, but also a dose of humor. In addition there's my imagination and many funny connotations.
In a previous interview you mentioned that your surrealism appeared a little bit by accident. Can you tell us more about this?
I mentioned about it before. I may only add that my first illustrations were made partly using traditional methods. It was drawing that was essential, not photography.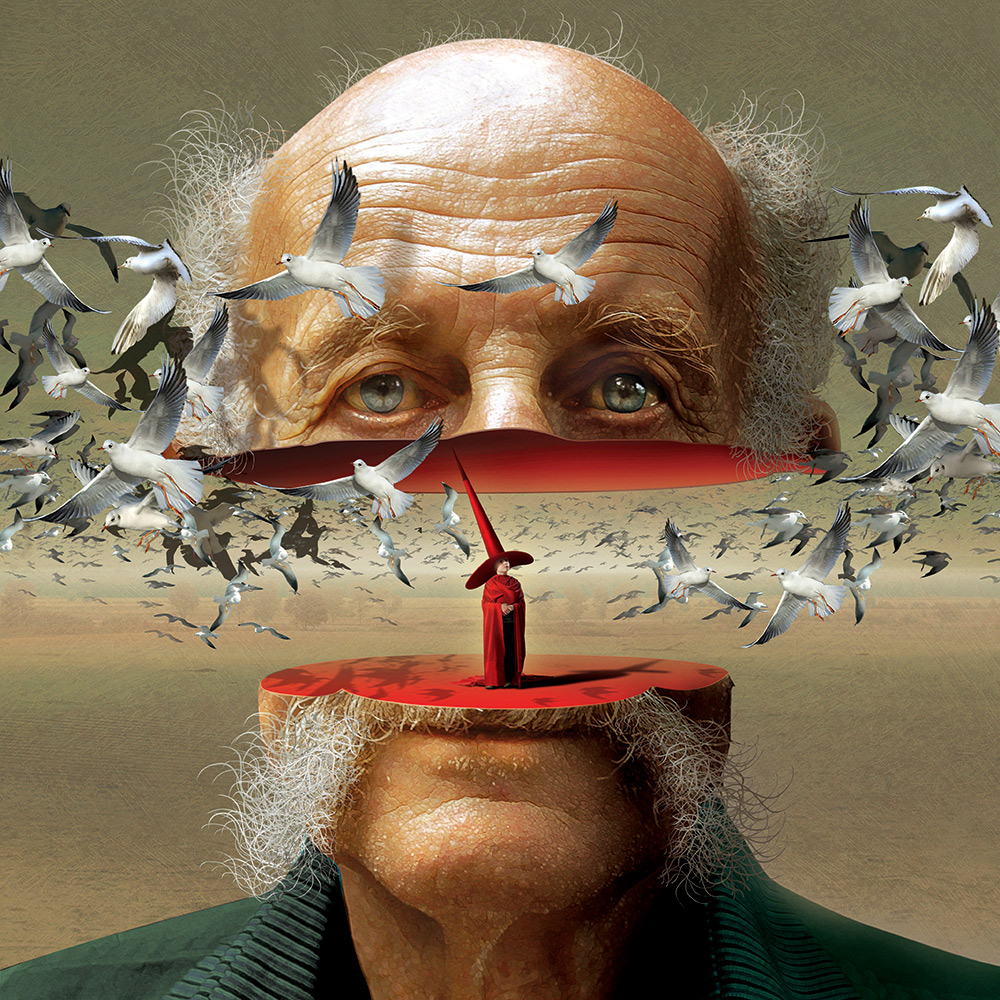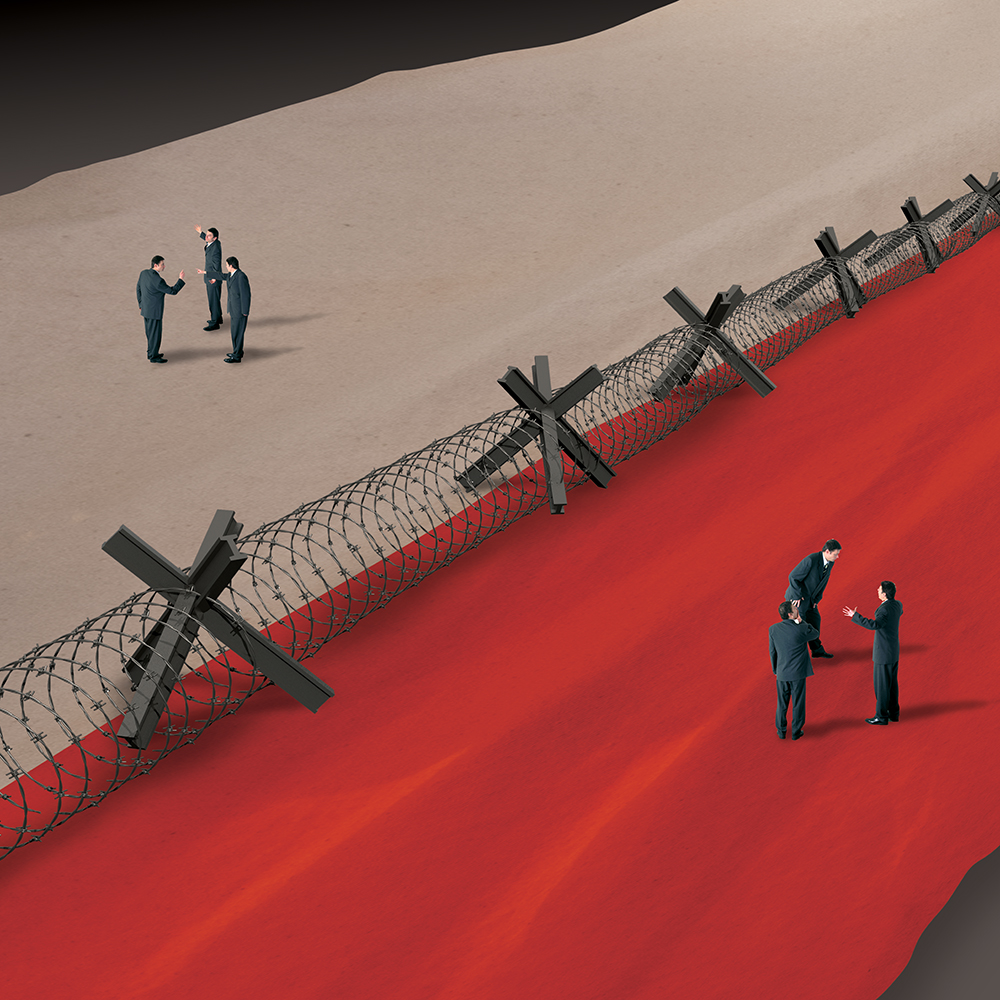 You have created digital works for many companies. Can you tell us what, if any, are the challenges of working in such an environment?
I try to be as much flexible as I can and adjust my skills to needs what makes it hard to define my own style. Sometimes it relates more to my intellectual sphere than imaging itself. But I must confess that I really like to identify with the message of the work and to a large extent I reject propositions which I disagree fundamentally with. Extreme reactions do not suit me, so I avoid the press presenting extreme views, regardless of its color. I am a man of the middle and my mind follows rationalism, descriptions of reality that are as true as possible. So I have a reluctant attitude to various religions.
You have created more than 1000 illustrations. Can you tell us which of your creation(s) you are most proud of or excited about?
It is hard to say because there are several different levels of satisfaction. One type is related to illustrating important content, where satisfaction is a derivative of the impact on people, another kind of satisfaction is in my case due to the fact that something has succeeded and I am pleased with it as a creator. Although I admit that it is not so frequent. I'm definitely more auto critical.
In your 3D artworks you expertly craft incredibly realistic details. Without revealing your secrets, can you describe the typical process? How long does it take?
Regardless of what I do, I rather work quickly. Years of work have trained me in the mechanism of estimating time needs. I can efficiently determine how much time I will take. And usually I'm not mistaken in it, although there are exceptions. It happens that the job that seemed to be simple to do surprises. Unfortunately, I can not afford slow carving, usually because I have short, or even very short terms. For a weekly opinion, usually no more than a day.
3D sometimes needs more time but it has one great feature that once created objects can be used virtually indefinitely, and the library of such objects is constantly growing.
When you are working on one of your illustrations—how much of it is instinctual versus planned?
For me, the idea usually arises very quickly, although there are difficult-to-illustrate themes, where it is difficult to build a readable symbol. Such topics are tiring. I have several ideas on one topic and then it is difficult to decide.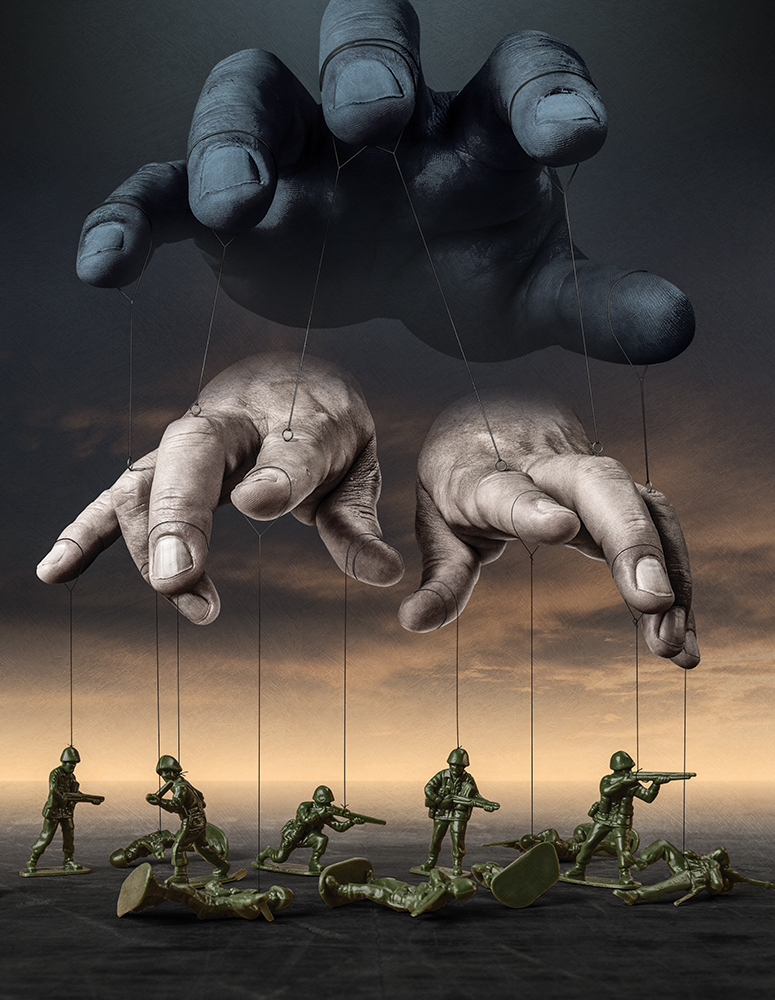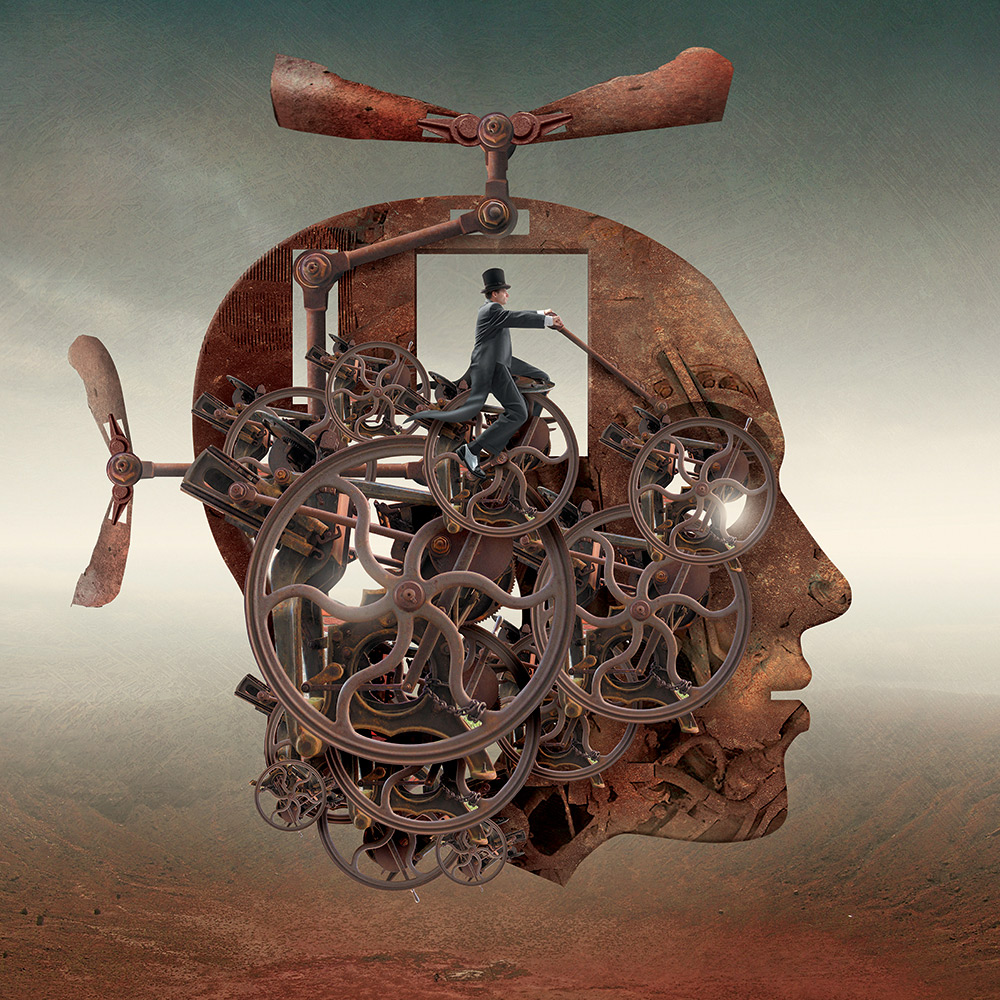 We admire the artworks you made for "Wprost" magazine, dedicated to social and economic issues. Do you believe we live in a surreal world? Does our current society affect art movements?
Do we live in a surreal world? I don't think so although it happens that sometimes we perceive it in that way. The world is by no means what we see it and our tendency is to look for orders and rules. For these, however, in practice the complexity is extremely difficult. We are subjected to various illusions concerning many things, and sometimes one moment makes them break like soap bubbles. For example, until recently I thought that the Polish society is attached to a set of values such as freedom. However, after experiencing the last few years, I do not think so. On the other hand, I saw a society that is not mature enough in terms of what democracy is. And what is most surprising, contrary to its own experience in history, extremely easy to manipulate. I can even say that well-conducted propaganda was able to remodel this society completely, even plow it, turning the proportions of views on various issues. Unfortunately, these are regressive changes.
What is the influence of societies on art? I think it's total. As in nature, specific environments generate specific beings.
We noticed that you are a fan of theoretical physics and cosmology. Modern physics is full of mind-blowing ideas that can certainly push our imagination to the limit: extra dimensions, the multiverse and a pervasive use of geometry, to name a few. Do any of these ideas make it to your works?
Yes. I am very fascinated by the phenomenon of the world, I am fascinated by nature in all its amazing complexity. Probably if not for my aversion to mathematics in school times, I would be a theoretical physicist today. I have a very deep awareness of our perceptual limitations, which are on the one hand a derivative of the receptor's limitedness, and, on the other hand, of the captivity of a specific cognitive anthropomorphism. I understand it as a limited ability to go beyond the point of view of my own experiences. I will use an example. We see the light and think that it is an objective state. The world is filled with brightness and its opposition is darkness. This has its specific implications, for example in beliefs. However, there is no light. That is, there is a specific wave phenomenon corpuscular, but it does not generate any brightness, because this is an interpretation of this phenomenon, which the brain does. Many species of bats are almost or completely blind to light, and they see reality using sonar. However, we have every right to believe that the reflected signals of the animal see in the image of the sun, that its brain, like ours, that interprets the wave so that this interpretation allows them to orient in the environment. Many scientists even suspect that the subtleties of textures can be seen by bats as colors. This, however, exceeds the imagination of the majority.
It is difficult for people to understand the implications of the relativity theory because they contradict our intuitions acquired on the shelf of Newtonian interactions and scales.
My imagination, supported by a certain knowledge, makes me imagine that in a world of hidden dimensions, bent spaces, a movement that can simultaneously take place in all directions, the relativism of space and matter time, the galaxy, remote for billions of years, may be contained in my little finger, along with an unimaginable amount of similar beings. Can you find these ideas in my works? Some yes.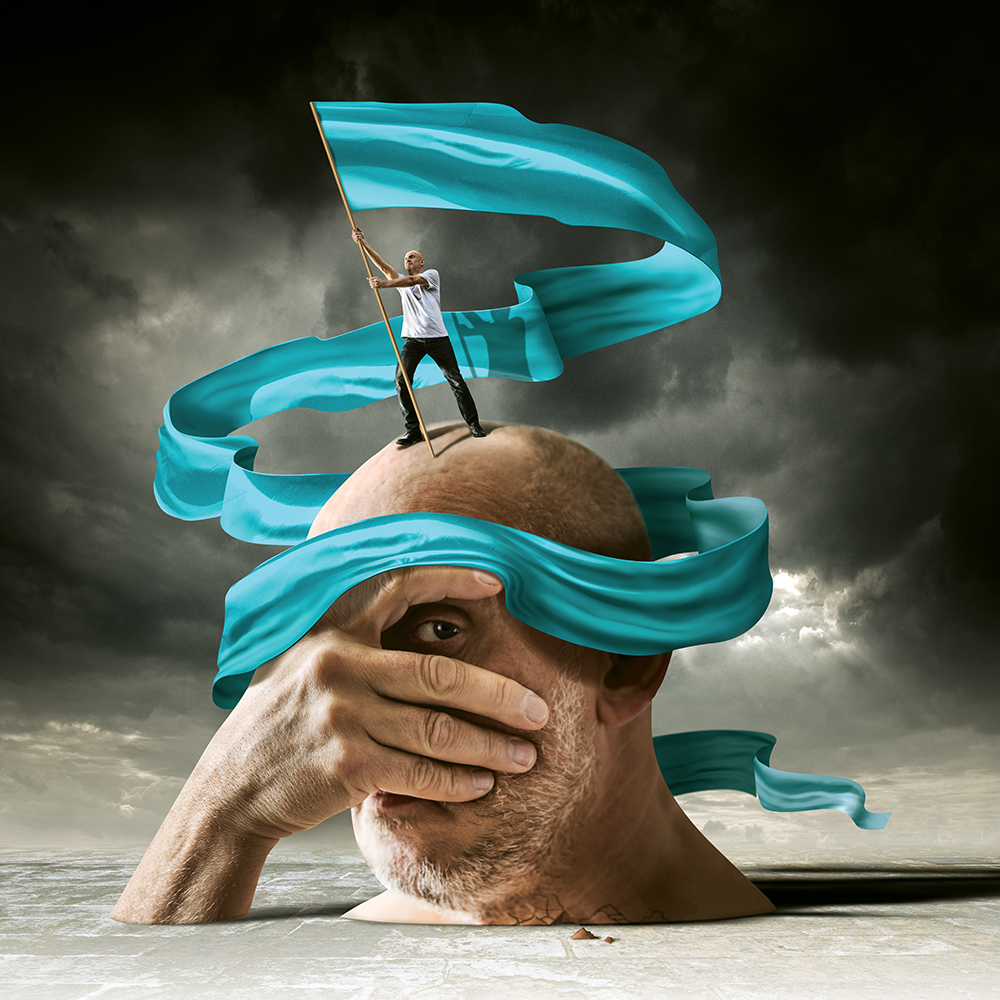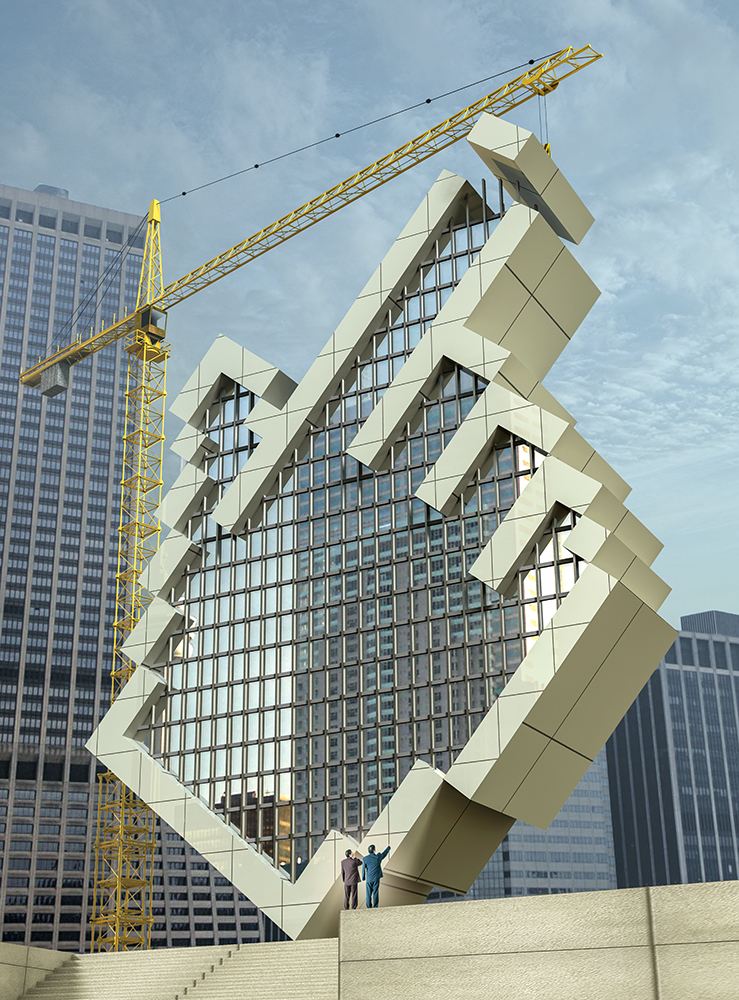 Can you tell us what are the greatest satisfactions you have encountered in your creative journey?
The easiest way is to tell about my dream. I would like to enter the lists, for example. So I am waiting for an invitation from, let' s say, New Yorker hahahah.
What advice would you give to a young artist?
I think that wise advice for young people is that they should follow their passions. This is, of course, a truism, but in my life the happiest people I've ever met are those who have been passionate throughout their lives. Those who could make passion in their professions, or set them on very important places in life.
Are there any future projects you would like to share with us?
Exactly. ;)