JOHANNES VERMEER
Delft, Netherlands, 1632 - 1675
Johannes Vermeer was a Dutch Baroque Period painter (Delft, Netherlands, 1632 - 1675). Despite he was not a famous painter in his time, Vermeer is now considered the great figure of the Dutch seventeenth century, after Rembrandt. His remarkable paintings evoke light with subtle effects that speak to our visual experience, creating a sense of physical immediacy.
At the time the cultural and artistic life was in full bloom, this time was baptized by historians as the Dutch Golden Age. Vermeer was a painter who made his works more than of his own free will; by commissions for patrons. Therefore, his known work is limited. Approximately 34 works of him are known, while many of his contemporaries completed hundreds. On the other hand, many of his works were lost or deteriorated.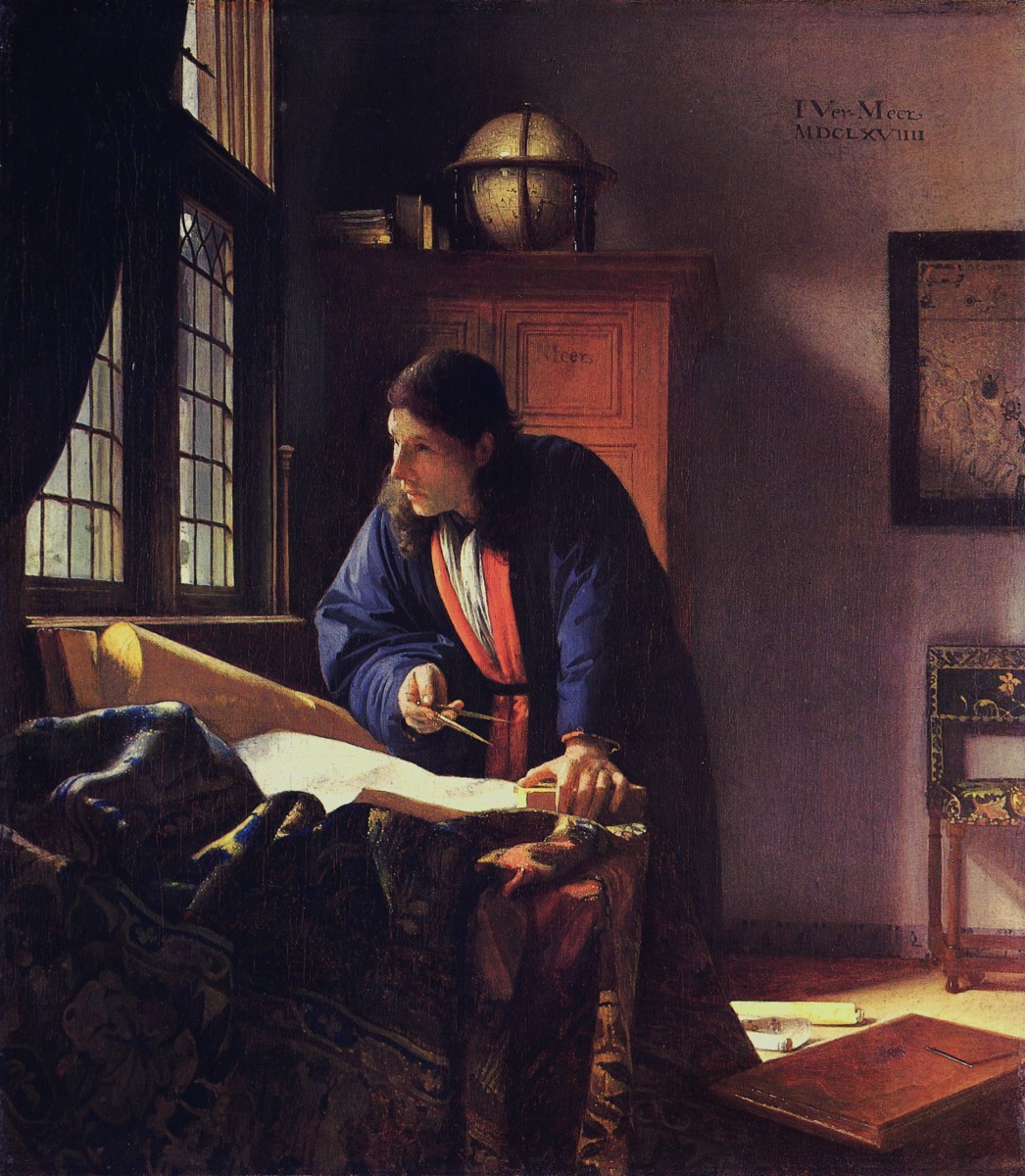 The Geographer
c. 1668–1669
Oil on canvas
53 x 46.6 cm. (20 7/8 x 18 1/4 in.)
Städelsches Kunstinstitut, Frankfurt am Main, Germany
Life
It is actually said that the life of this painter was very miserable and even unsuccessful. Vermeer spent his entire life in Delft. There he belonged to the painters' guild, which he led twice. It is believed, that he never took up painting professionally, but rather he ran the inn and the art dealer business inherited from his father. He married a Catholic woman named Catherina Bolnes, his family never agreed to this union, and the children they had died at an early age. Furthermore, his life span was short.
Thanks to his relationship with Catherina and her rich family, Vermeer was able to interact with important figures in public life. For this reason, in 1672 he was called to The Hague to curate a collection of paintings sold by an Amsterdam merchant to the Elector of Brandenburg. In short, his mother-in-law constantly supported him financially, but his debts never ceased to burden him. His production consisted of domestic interiors, these were characterized by being very bright. The characters portrayed were usually doing activities such as reading, writing, playing a musical instrument, or doing some domestic chore.
In Dutch history, the year 1672 was termed "The Year of Disaster," owing to the invasion of the Dutch Republic by the French, German, and British armies. This led to a dramatic economic crash for the once prosperous, middle-class country. The art market plummeted, and Vermeer could barely afford to keep himself, his wife, her mother, and his eleven children. He took on increasing amounts of debt, borrowing thousands of guilders, and was even caught pocketing his mother-in-law's money.
Vermeer died on December 16, 1675, having fallen into a fit of madness and depression. In the court records, his wife stated that "...during the ruinous war with France he not only was unable to sell any of his art but also, to his great detriment, was left sitting with the paintings of other masters that he was dealing in. As a result and owing to the great burden of his children having no means of his own, he lapsed into such decay and decadence, which he had so taken to heart that, as if he had fallen into a frenzy in a day and a half he went from being healthy to being dead."
Woman with a Pearl Necklace
c. 1662–1665
Oil on canvas, 55 x 45 cm. (21 5/8 x 17 3/4 in.)
Staatliche Museen Preußischer Kulturbesitz, Gemäldegalerie, Berlin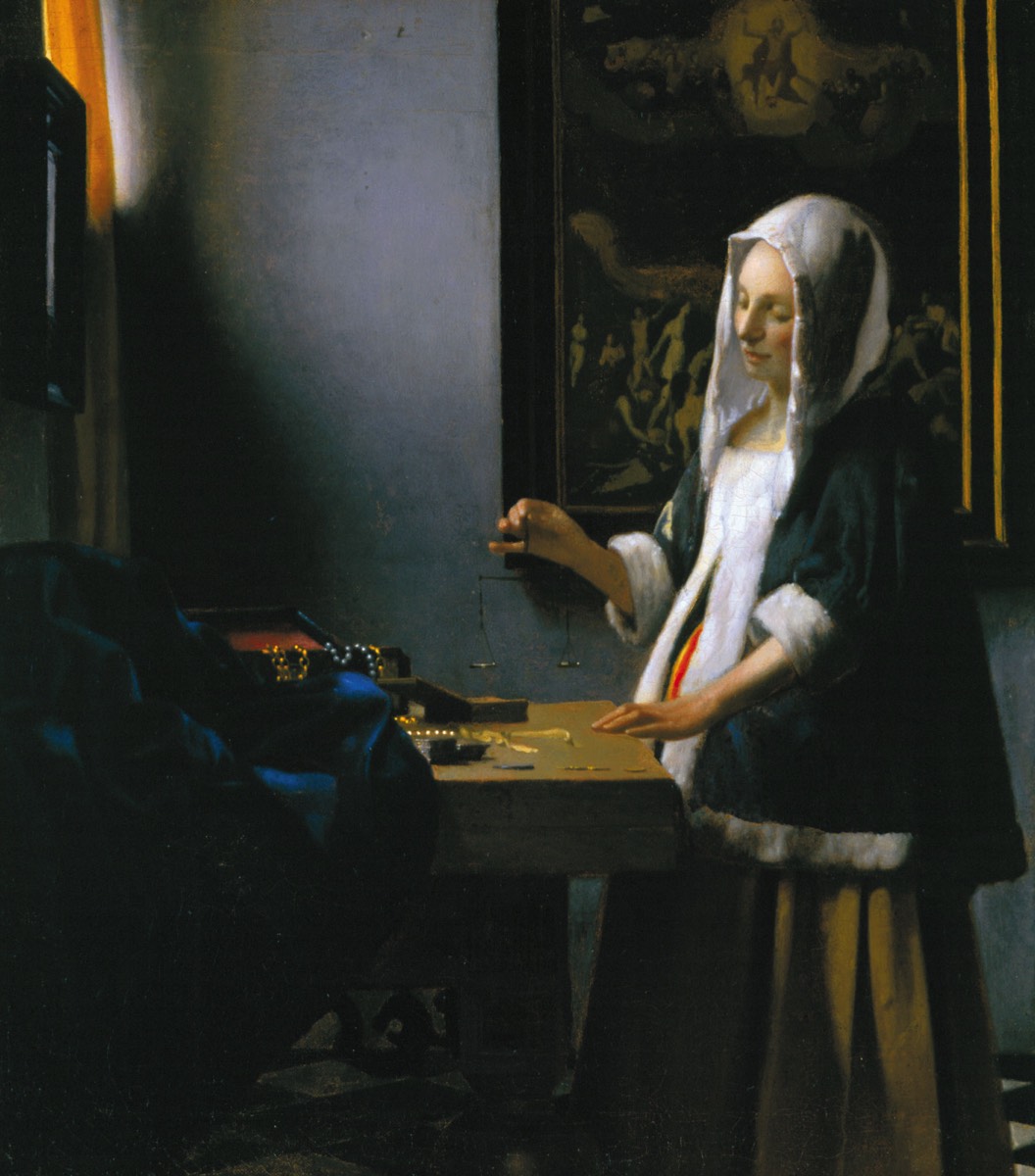 Woman Holding a Balance
c. 1662–1665
Oil on canvas, 42.5 x 38 cm. (16 3/4 x 15 in.)
National Gallery of Art, Washington D.C.
Works
Vermeer frequently began his paintings with a monochrome sketch. He used the sketch to establish the play of light as a central element of his composition from the beginning, representing the shadows with larger areas of brown paint and leaving the background color light for the bright areas. An unfinished painting by the Le Nain brothers shows a sketch painted in this way. Because Vermeer's sketched lines are delicate, they are usually hidden under his final painting. Often he would mix his paint to smooth the edges between the shapes, but sometimes he would leave an almost imperceptible gap. Due to the rigor of perspective and reflections, it has been suggested that he was able to use a camera obscura to produce his works. Layers of dark paint (including sketch) below the surface played an important role in Vermeer's luminous paintings. The artist took advantage of these background layers by varying the thickness of his final painting.
Girl with a Pearl Earring is Vermeer's most famous painting. It depicts an imaginary young woman in an exotic dress and a very large pearl earring. The work permanently resides in the Mauritshuis Museum in The Hague. It represents a young woman in a dark shallow space, an intimate setting that draws the viewer's attention exclusively to her. She wears a blue and gold turban, the titular pearl earring, and a gold jacket with a visible white collar beneath. Unlike many of Vermeer's subjects, she is not concentrating on a daily chore and unaware of her viewer. Instead, caught in a fleeting moment, she turns her head over her shoulder, meeting the viewer's gaze with her eyes wide and lips parted as if about to speak. A young woman might have sat for Vermeer, but the painting is not meant to portray her or any specific individual. Vermeer's subject is a generic young woman in exotic dress, a study in facial expression and costume. The work attests to Vermeer's technical expertise and interest in representing light. The soft modeling of the subject's face reveals his mastery of using light rather than line to create a form, while the reflection on her lips and on the earring show his concern for representing the effect of light on different surfaces.
The Girl with a Pearl Earring became one of Vermeer's more famous pieces only around the turn of the 21st century, with the 1995 blockbuster exhibition at the National Gallery of Art in Washington, D.C., and the publication of the best-selling novel Girl with a Pearl Earring by Tracy Chevalier in 1999. The book fashioned the painting's subject into a housemaid named Griet who works in Vermeer's home and becomes his paint mixer. It was adapted into an Oscar-nominated film in 2003 starring Scarlett Johansson as the fictional Griet and Colin Firth as Vermeer.
As the Mauritshuis building underwent renovation in 2012, Girl with the Pearl Earring traveled to Japan, Italy, and the United States. It drew crowds in each location, attesting to its now firm place in audience regard. When The Girl with a Pearl Earring returned to the Netherlands in 2014, the Mauritshuis announced it would no longer lend out the painting, assuring visitors that the museum's main attraction would always be in its home.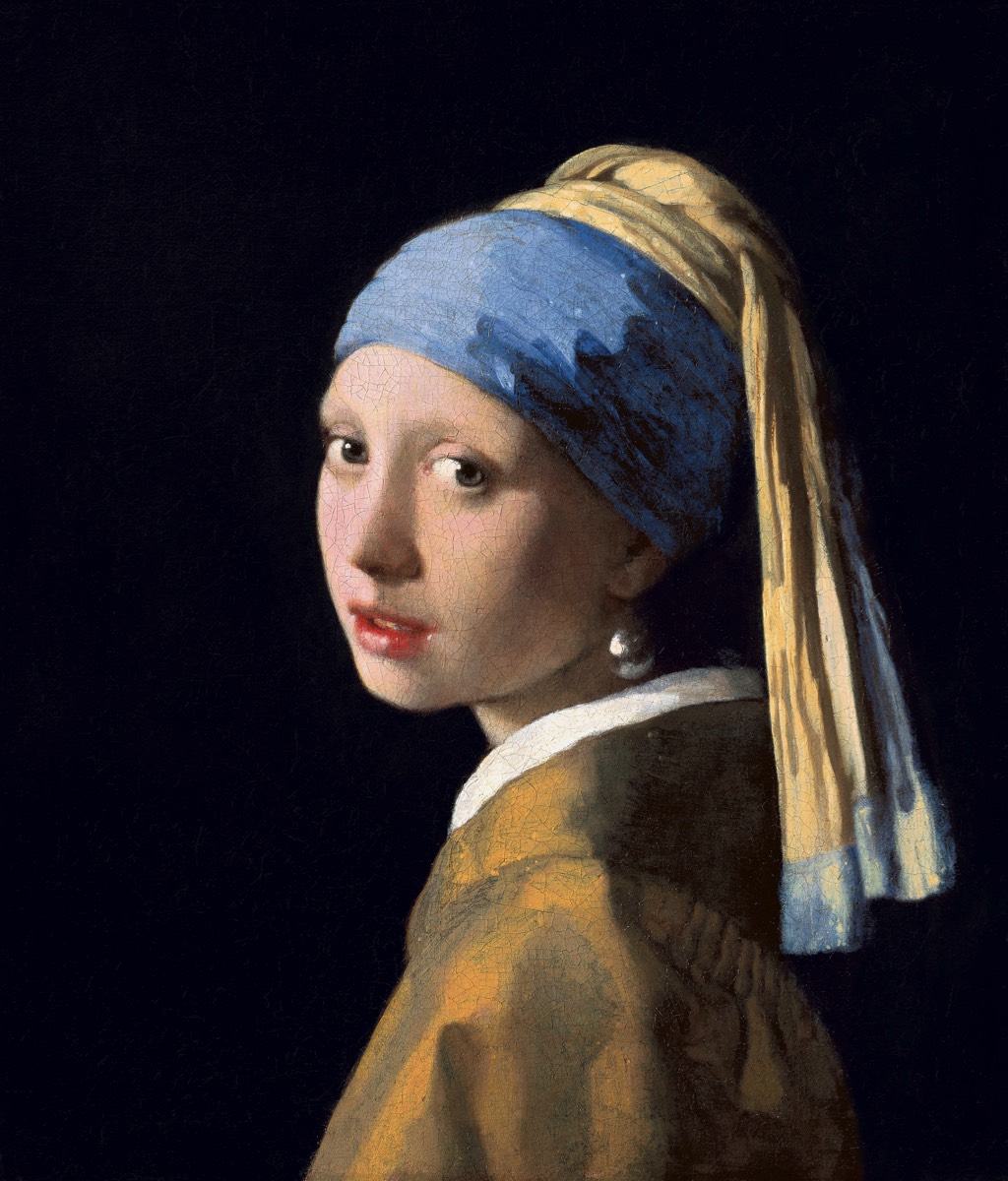 Girl with a Pearl Earring
c. 1665–1667
Oil on canvas, 46.5 x 40 cm. (18 1/4 x 15 1/4 in.)
Mauritshuis, The Hague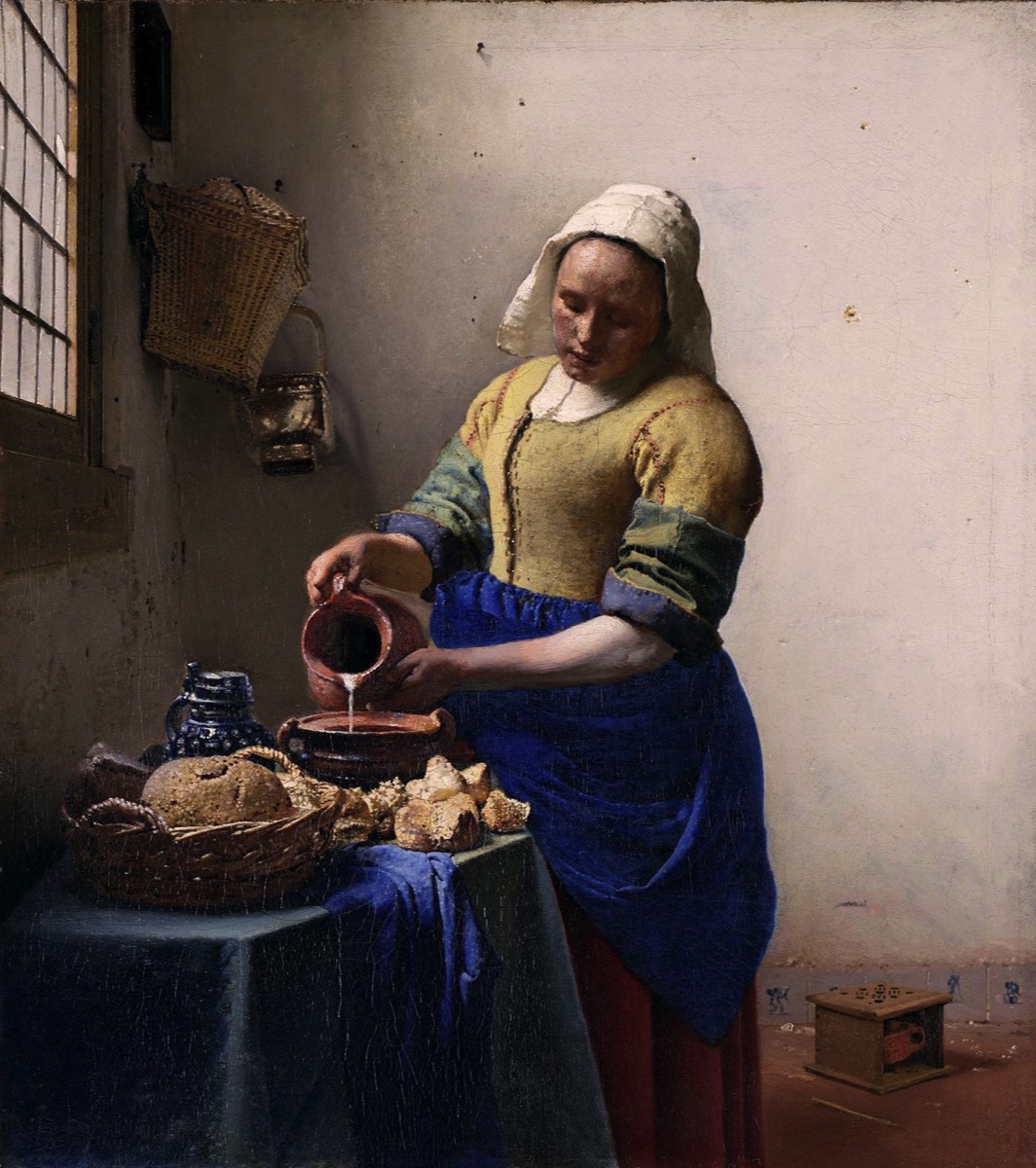 The Milkmaid
c. 1657–1661
Oil on canvas, 17 7/8 x 16 1/8 in. (45.5 x 41 cm.)
The Rijksmuseum, Amsterdam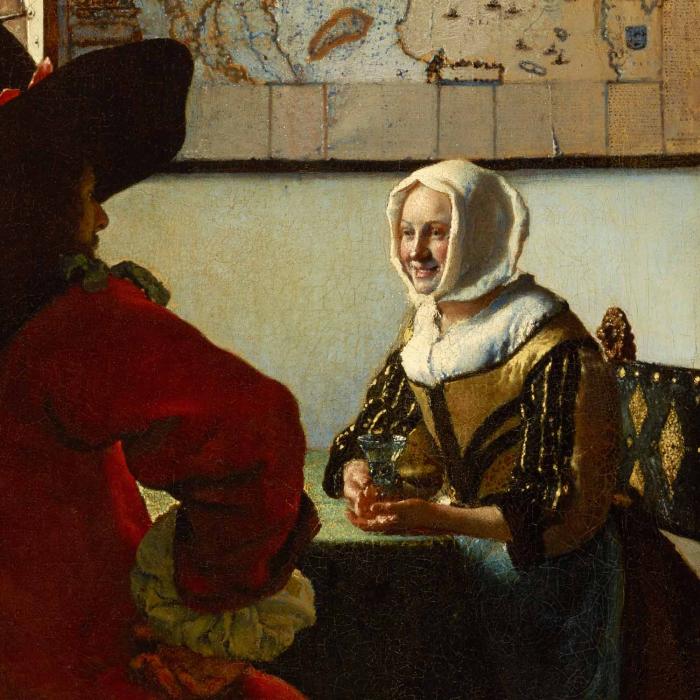 Officer and Laughing Girl
c. 1655–1660
Oil on canvas, 50.5 x 46 cm. (19 7/8 x 18 1/8 in.)
Frick Collection, New York