STEEVEN SALVAT
Clockwork Origins
"I create artworks with a hatching technique, using black ink, Rotring pens, a lot of lines and hundreds of hours."
The patience of a saint, the steady hand of a master-crafts person and the creativity of a remarkable artist. A fitting few lines to describe this incredibly self-taught French artist. Steeven Salvat has been drawing ever since he was a child, he has always had a passion for the art-form, growing up in the city of Menton in the south of France he now resides in Paris. Steeven was not always striving for his art to become his work, more following the shear love of creating but this has begun change for the artist as he embarks on more projects and commissions with his work.
It can come as no real surprise that Steeven Salvat's artwork has begun to bring him commissions and parties interested in work with him. His pieces are truly beautiful, the skill and dedication to the work are apparent in every line and brushstroke. Primarily working with a mix of watercolour and rotring pens Salvat creates astonishingly detailed and life-like studies. Some focus solely on the fine line work with pen and ink which are inspired by the style created from etching prints. Others use a base of delicate watercolours to add just the right hint of colour, followed by the intricate penmanship over the top. This leads to stunning outcomes that thoroughly capture the subjects and objects which the artist depicts.
Antiquities feature heavily within the artists' work often being seen alongside creatures as we see in his series, "Perchés". This wonderful series studies birds of all shapes and sizes perched atop antique and vintage objects. There is an overwhelming air of the Victorian era about this series, and that isn't simply because of the period of antiques, the meticulous illustrations with their high level of both aesthetic and anatomical detail call to mind the studies of the explorers who would often have artists document the flora and fauna they encountered. These ornithological and botanical prints would be printed in scientific journals and encyclopedias to give the rest of the world the chance to glimpse the spectacular world outside of their reach. This style of artwork has seen a resurgence of interest recently with prints becoming popular interior decoration or being used for increasingly within design fields for logos and illustration. We can see this directly in the commissions that Steeven Salvat has produced, including his work for Brasserie Mira with illustration for their gin and illustrations for Chateau Belleville's coffee.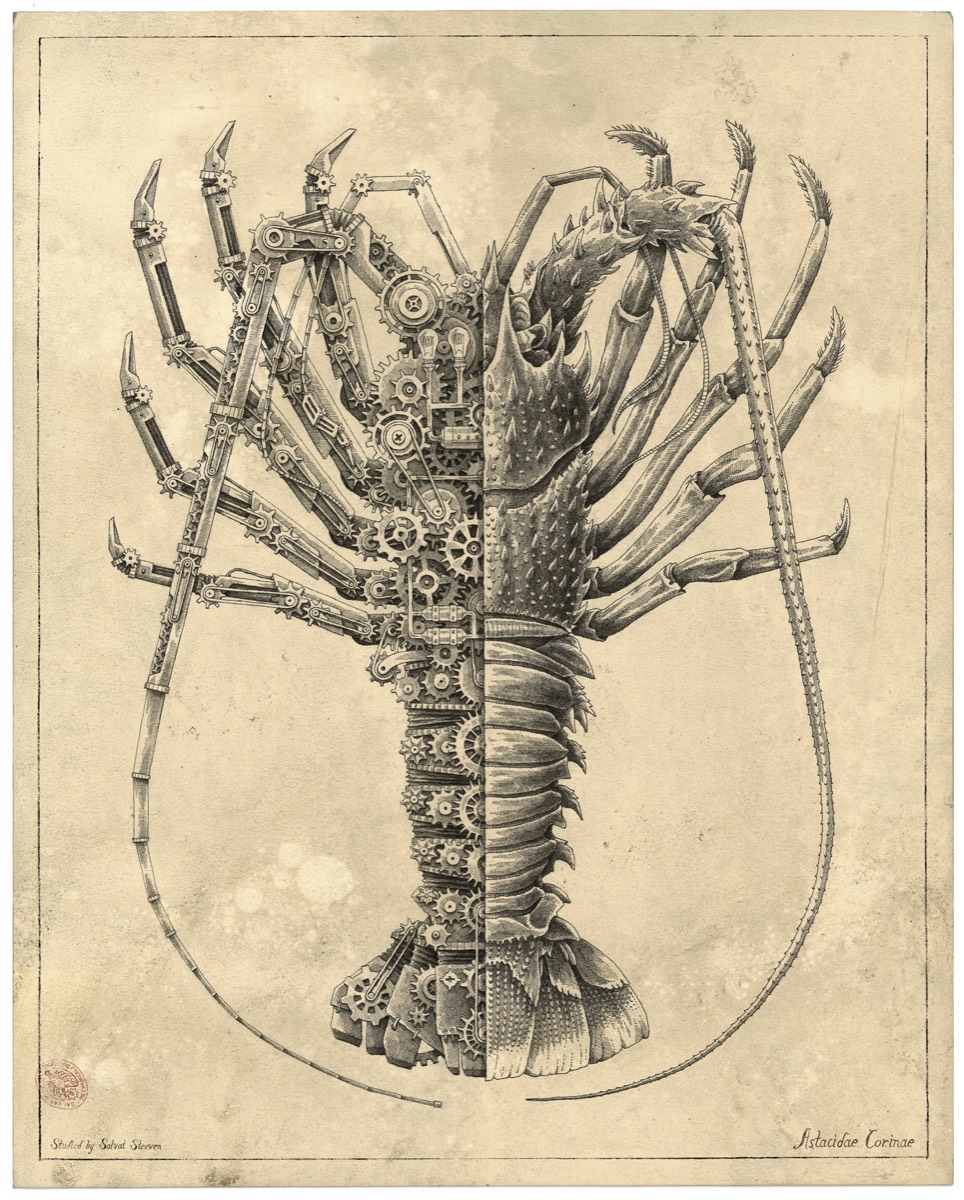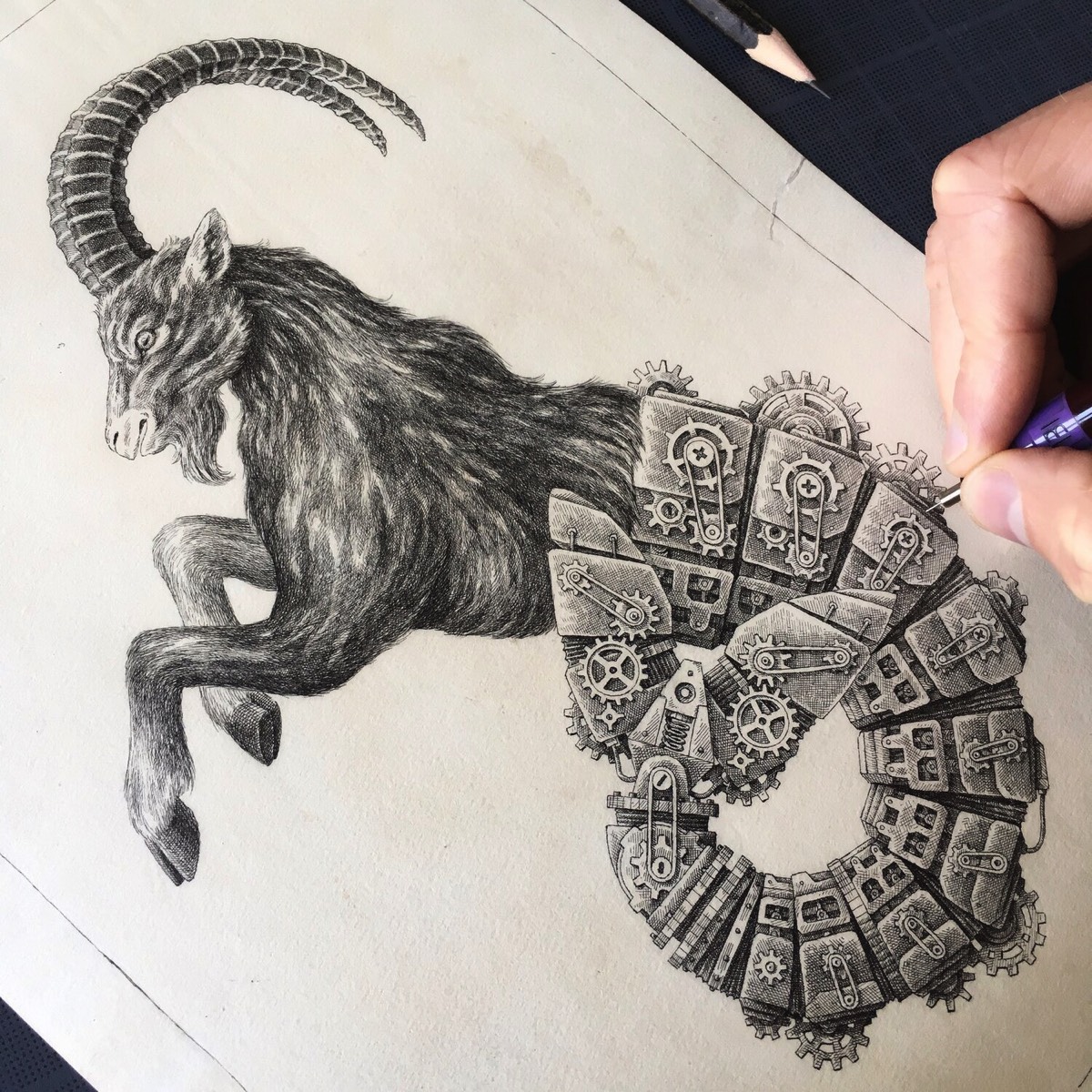 We see antiques again in the series, "War Beasts" in which the artist draws on inspiration from 16th-century french helmets with their incredibly ornate designs. The complex metalwork which so valued at the time play perfectly to Salvat's strengths as an artist, allowing him to flaunt his talent for capturing the smallest minutia of detail. It is somewhat confusing to see these helmets adorning the heads of a dog, a bear, and a bamboon as they don't seem to have any tangible connection to the antiques. They do however lend a certain charm to the pieces, transforming them from what could be, although a technically beautiful drawing, quite lifeless pieces. The animals add some comedic relief and make for an extra eye-catching work. Perhaps there is something to be said for the line, "who's the real animal".
One of the artist's most recent series is entitled, "Mechanical/Biological" and sees Salvat taking a rather in-depth look into the structure of crustaceans. Again we see a very unmistakable resemblance to the biological etching studies of the 1800's by artists such as Félix Dujardin, even down to the bordered paper and the Latin names calligraphed beside the drawings. These are simple copies mind you, Steeven Salvat has again added his own brand of artistic interest and intrigue into the drawing by bisecting the crustaceans to show mechanical workings within the creatures. With the period of inspiration, it would be easy to jump to see these drawings as a dabble into the weird and wonderful world of the steampunk. The subculture of Neo-Victorian science fantasy which works around the concept of retro-futuristic inventions with costumes and artwork often contains a multitude of gears, cogs, and pipework. Salvat's drawing certainly would appeal to this element of our culture with the mix of period atmosphere and style alongside carefully working ink drawing. These studies certainly highlight the artist's expertise of cross-hatching, drawing only with a series of short straight marks built up across each other Salvat is able to attain a sophisticated level of detail whilst adding brilliant depth and tone to the work, giving the animal 3D form and a comprehensible sense of anatomy and movement.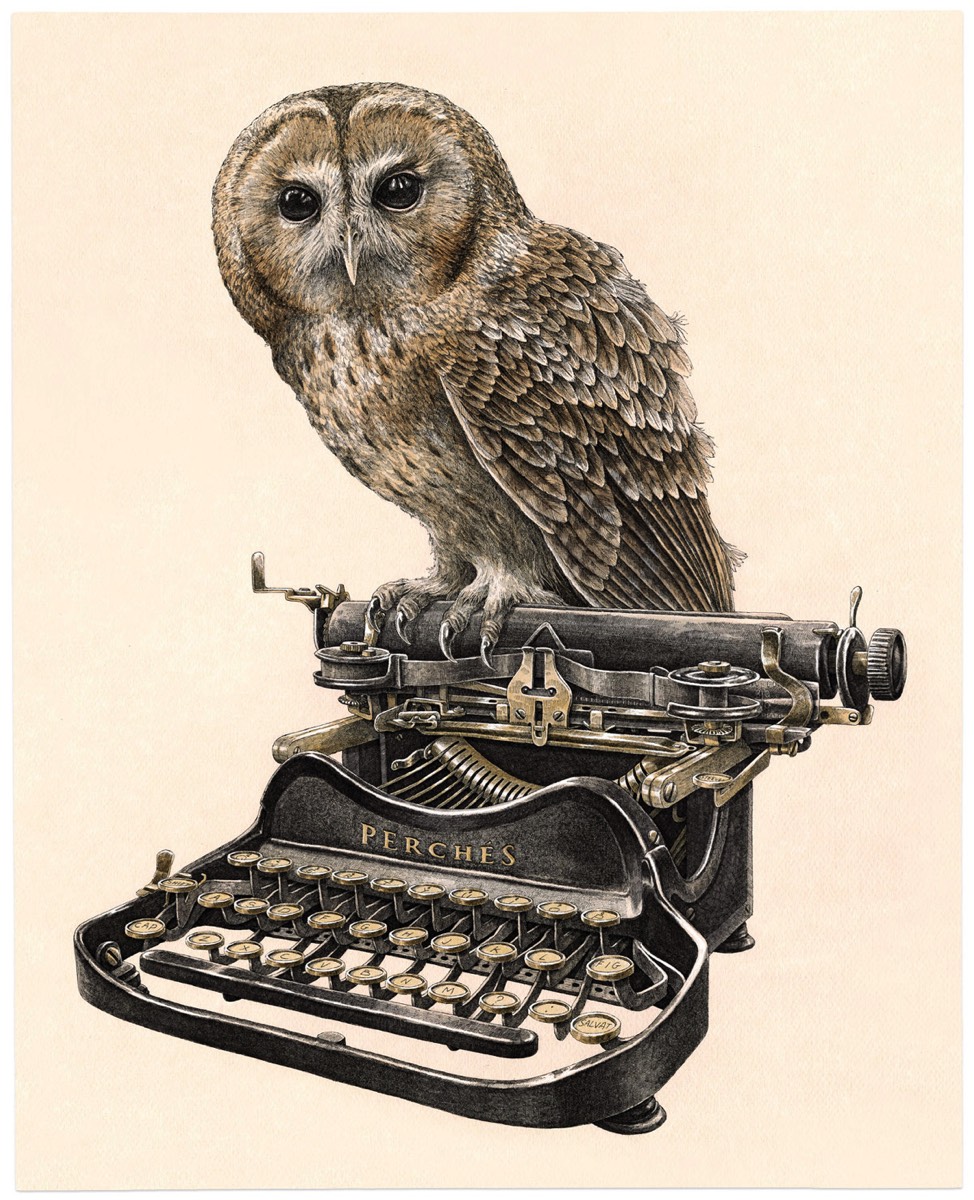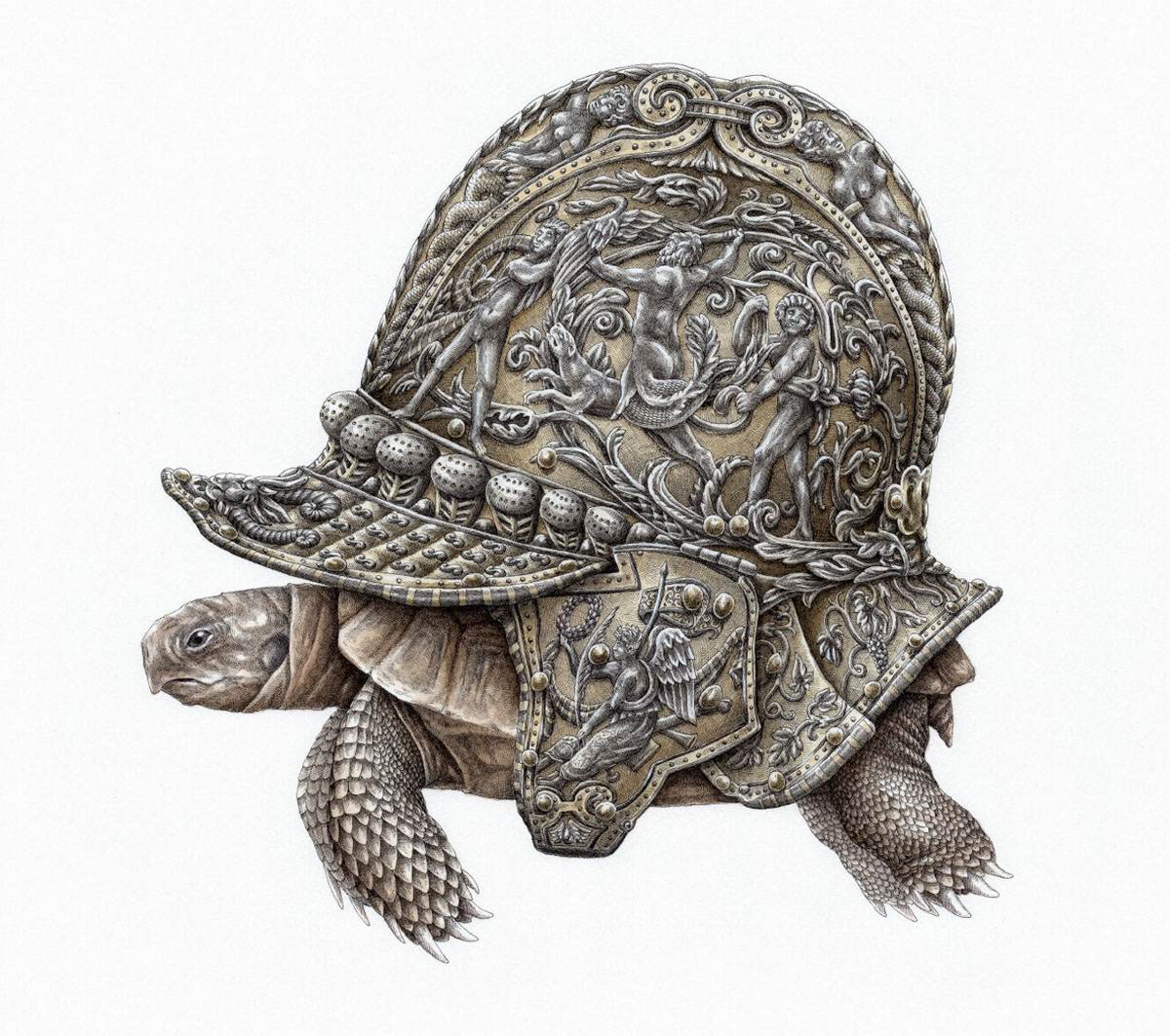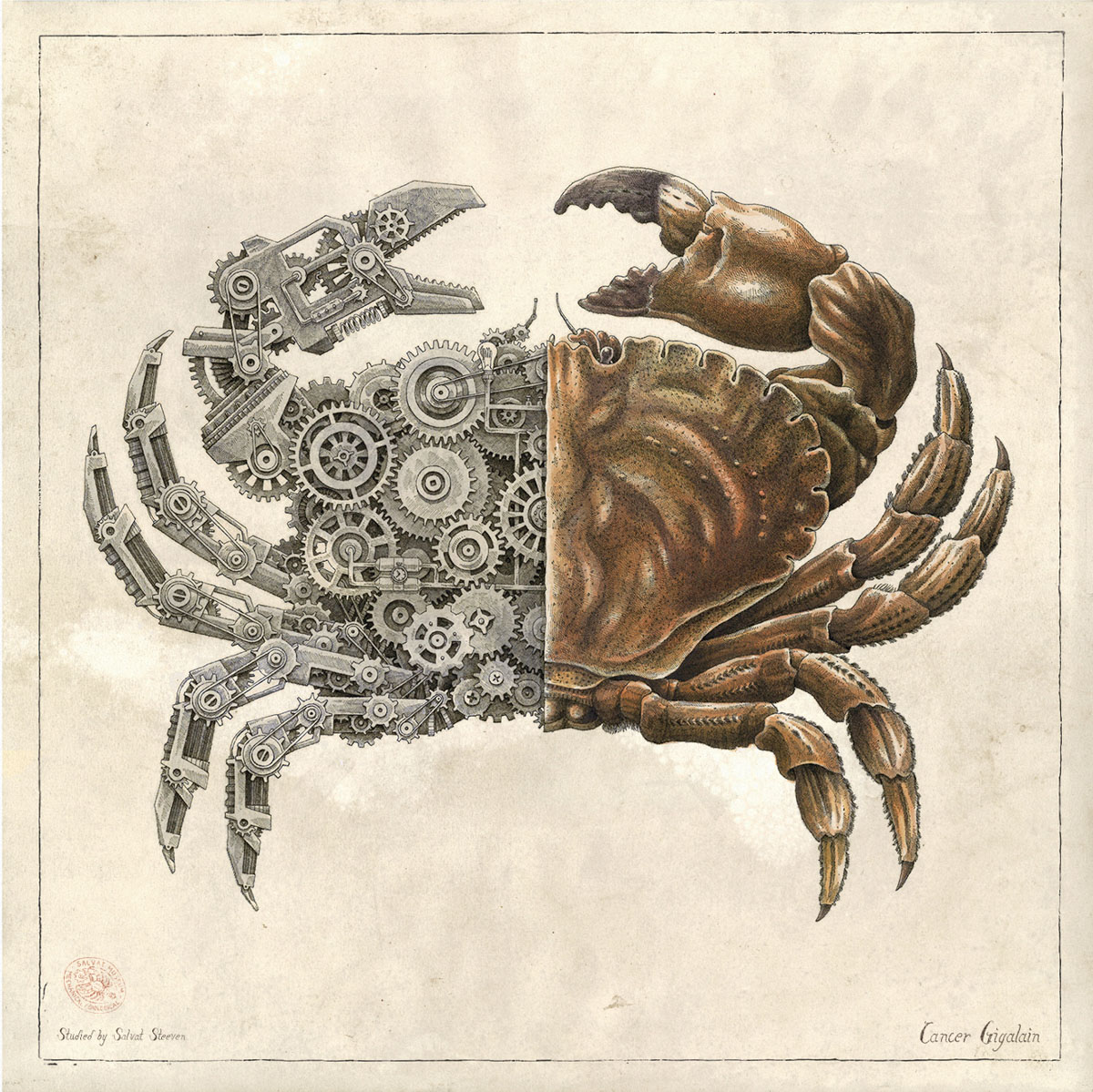 What is so refreshing to see in Steeven Salvat as an artist is an individual solely driven by his passion and desire to create drawings. There is no hidden meaning behind his personal projects, he simply takes something that has always fascinated him and commits it to paper through his incredible use of pen, ink, and paint. It is a talent that one would hate to see wasted and it is fantastic to see Salvat expanding into the world of commissions and paid artwork it is a skill truly deserving of recognition and praise. I feel confident though that if styles change and Steeven Salvat's work becomes less consumable it will not stop him continuing to pursue his life long passion of drawing and I think that is something that all artists should strive for.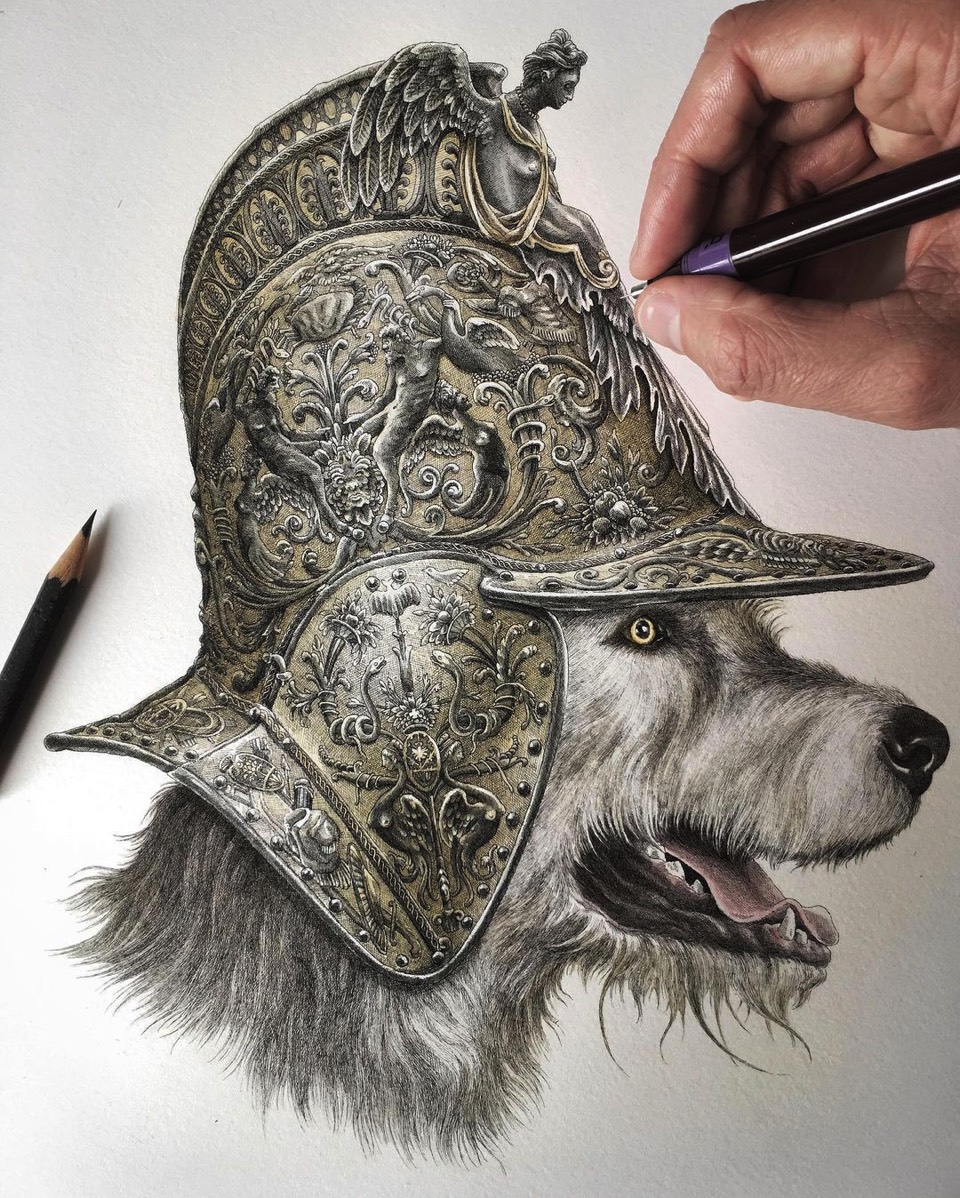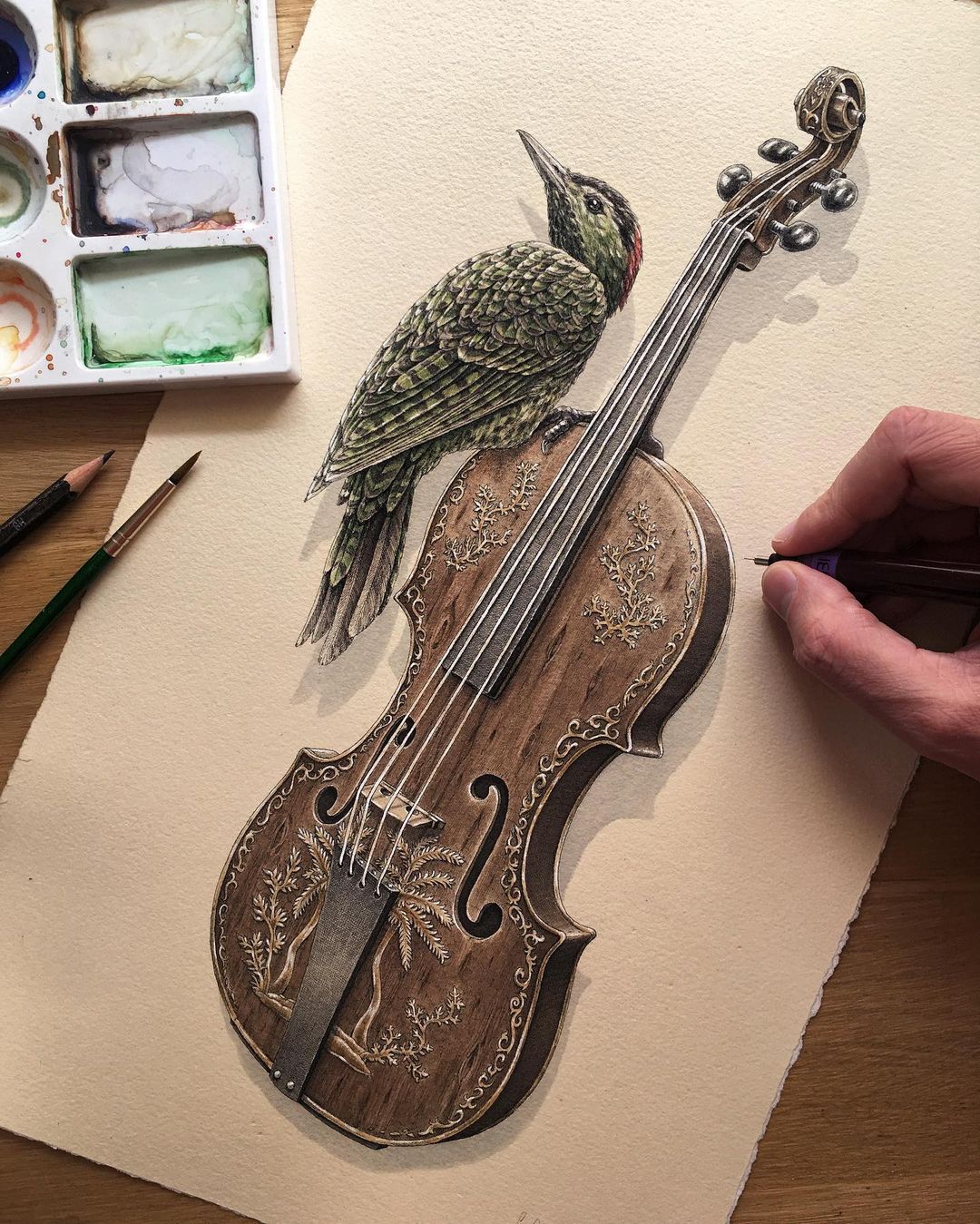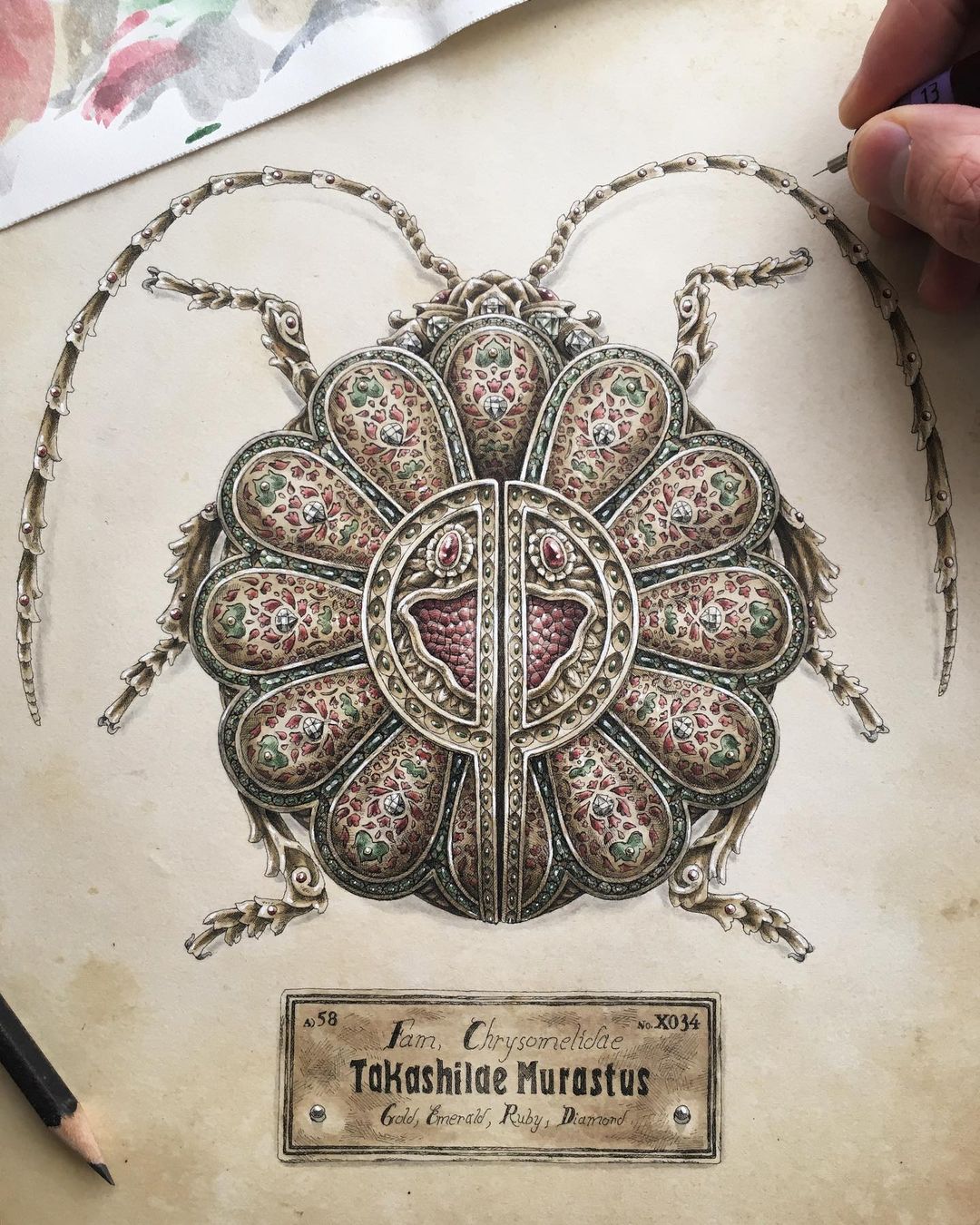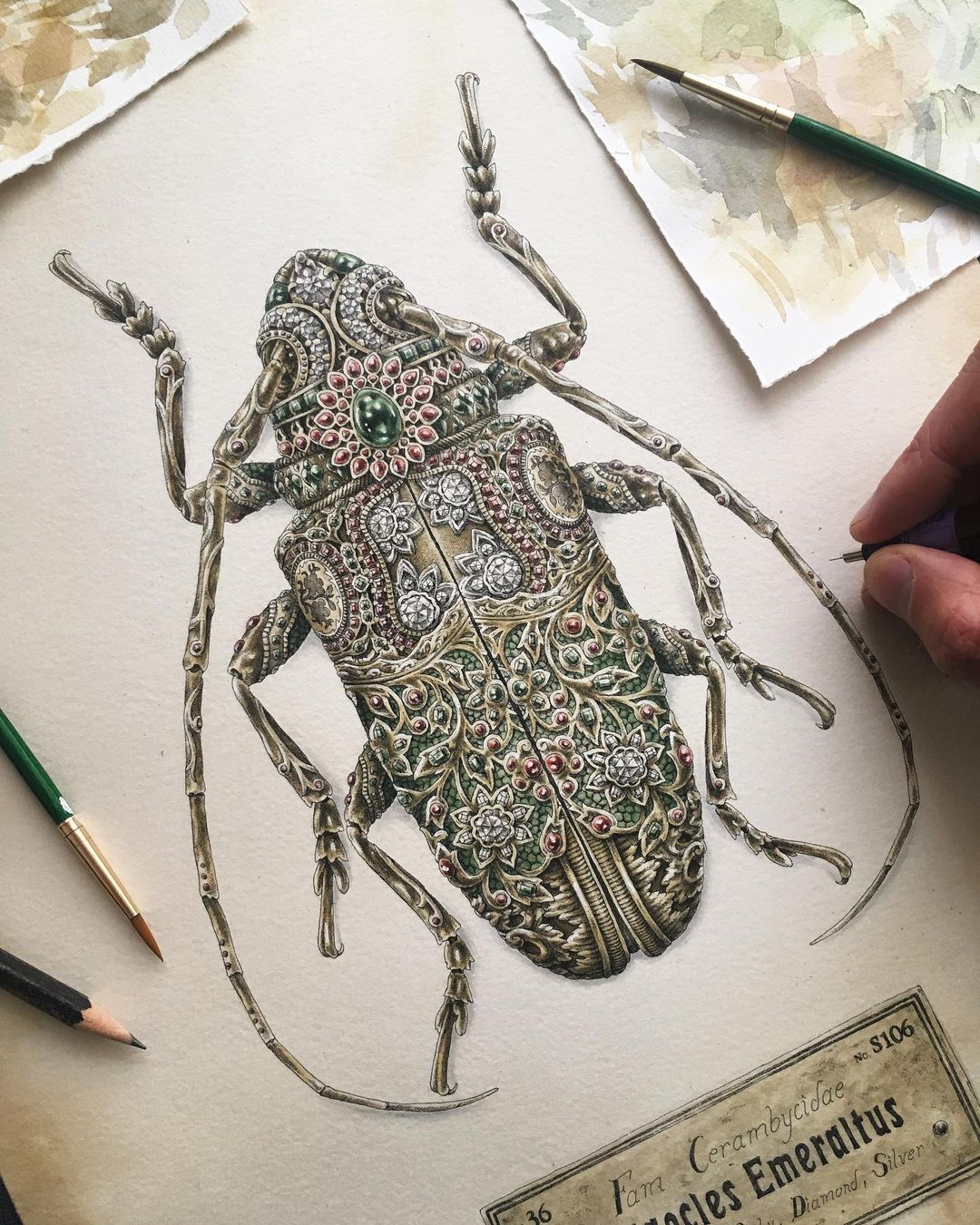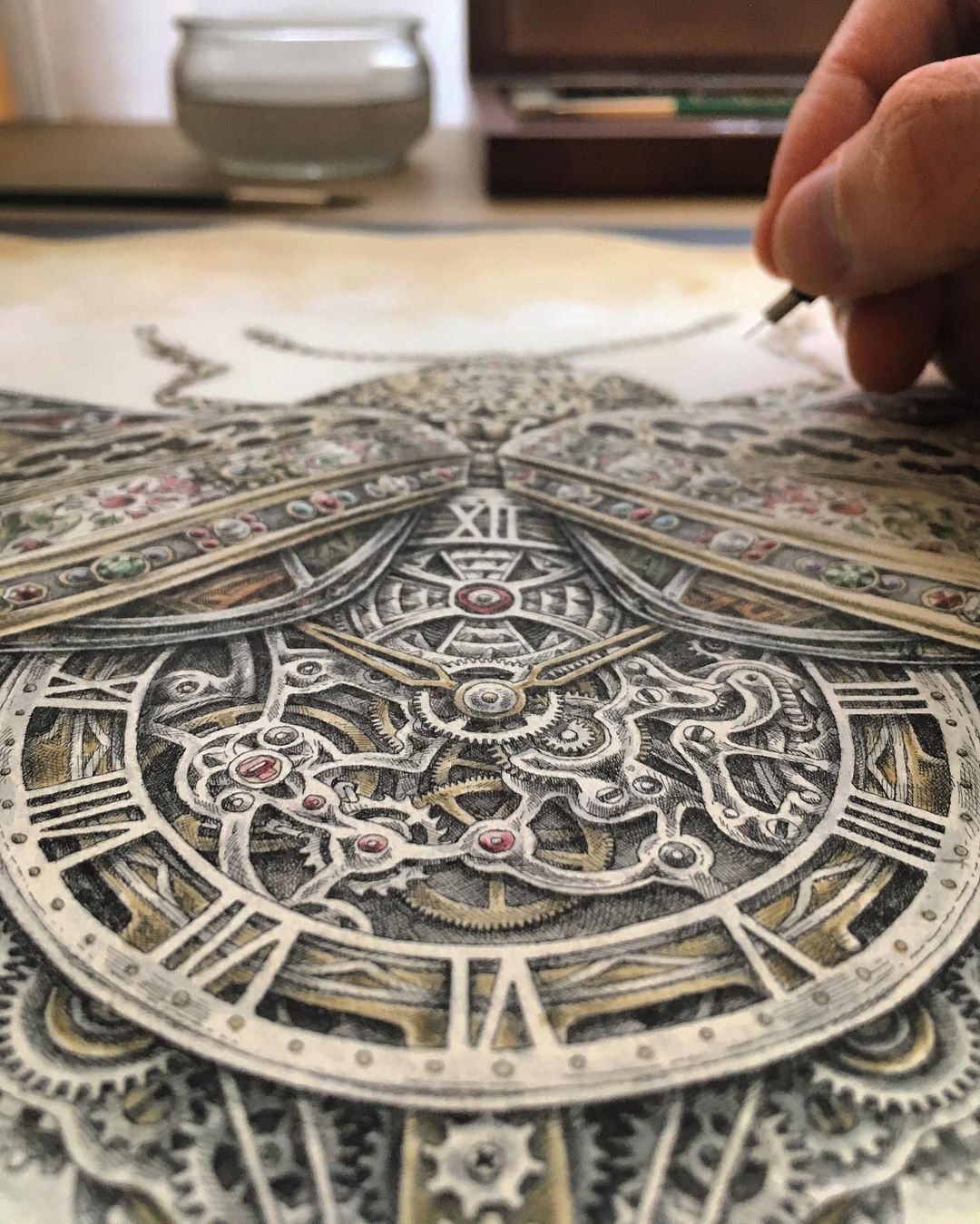 Photographize granted permission to feature photos by Steeven Salvat