PEJAC
Powerful and poetic paintings
By:
Thomas Jukes
"Both melancholy and humour are the locomotive of my works. They create a poetic language whose essence doesn't rely on simple beauty, but on the hidden side of everything"
The artist behind the popular Instagram pseudonym Pejac is Silvestre Santiago. A Spanish painter originally from Barcelona. The artist has become incredibly well known for his masterful use of paint in seemingly any environment. From paper and traditional canvas to the back streets and public spaces all across Europe and the wider world including Moscow, Hong Kong, Turkey, and the United States. Pejac's work is usually not simply a canvas for a beautiful painting but also a talking point for heavyweight social and environmental concerns.
This background developed through Santiagos' continued fine art studies in Italy at the Accademia di Belle Arti di Milano. Milan Academy of Fine Art has a distinguished history and lineage going back 120 years. It was at this academy that Santiago was struck by the continued elitist nature of fine art through his teachers. This was the turning point for what would become 'Pejac' in 2000, it was art for everybody and not to be confined to stuffy institutions.
Since then Pejac has grown more and more, now boasting a large number of dedicated followers. It comes as no surprise when you observe Santiagos pieces. They are both beautiful and haunting at the same time, whether it's his small scale silhouetted figures or his large scale public works his talent for painting never diminishes. The artist manages to capture an incredible atmosphere within his indoor paintings. Light and shadow play within the pieces conveying the environment of the painting, deep cold depths in the sea or smog-filled toxic clouds. His technique juxtaposes detail and accuracy with a tactile surface of wonderful brushstrokes that give the paintings a real aesthetic depth.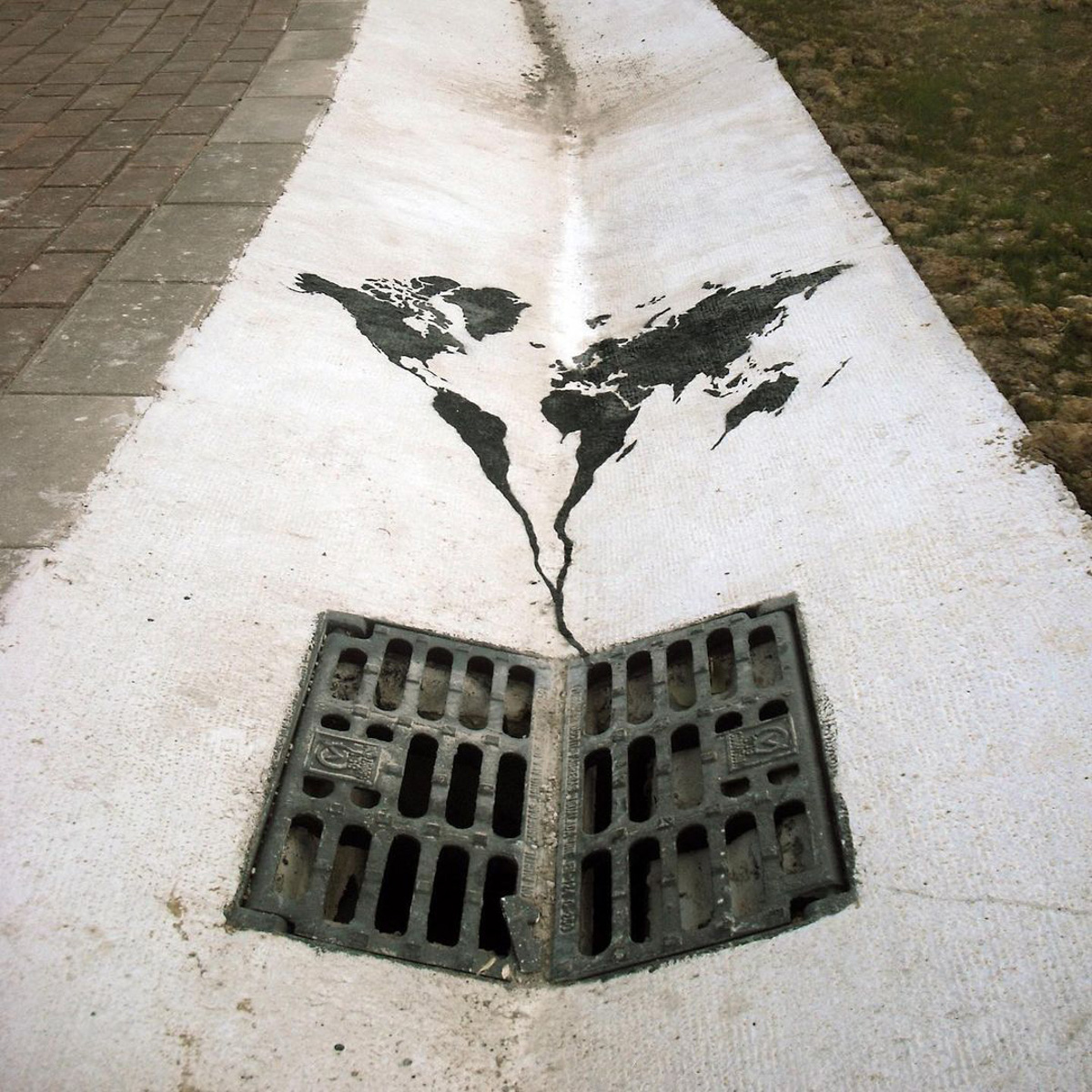 Whilst we can appreciate the rich charm and style of the artist's paintings it is that very charm that also gives the viewer a peculiar feeling in the pit of the stomach. For the very reason that these paintings should not make for pleasing viewing. They hold within them intrinsic questions of the world we are creating and destroying simultaneously. Haunting visions of a world that may yet come to pass or the violent and polluted environments that we already live within. Pejac really draws our attention to these issues by using the media of art. A form of human expression that has been used for generations as both something of pure aesthetic value but also incredible power to move and shape revolutionary change.
Pejac's message is focused on humanity and the environment. As our planet faces a climate crisis, creativity is one of our most powerful tools to raise awareness and instil a sense of the severity of the issue at hand. The artist's paintings convey a world both natural and manmade that is seeing seemingly irreparable damage from our existence. An oily stain of the world map trickles down a drain, a lonely fisher sits in a wave of dead fish and perhaps most poignant of all a forest of humanoid trees butcher themselves with axes. It is this last painting that so effectively conveys the madness of our system. Rainforests and ancient woodlands are cut down for agriculture and human development at an alarming rate. As humans on this planet, we are closely linked to trees and are co-dependent on them for essentials to life. To cut down trees we slowly doom ourselves. Pejac creates a dense and almost oppressive air in this painting, dark silhouetted tree figures vanish into the distance enveloped by a persistent fog. Each one is furiously hacking at their own truck, filling the murky air with splintered wood. It shows a tipping point. The viewer can easily see the senseless nature of these beings who would fall with a few more strokes. A stark reminder that we seem ourselves to be lost in this empty mist with only self-destruction as a goal.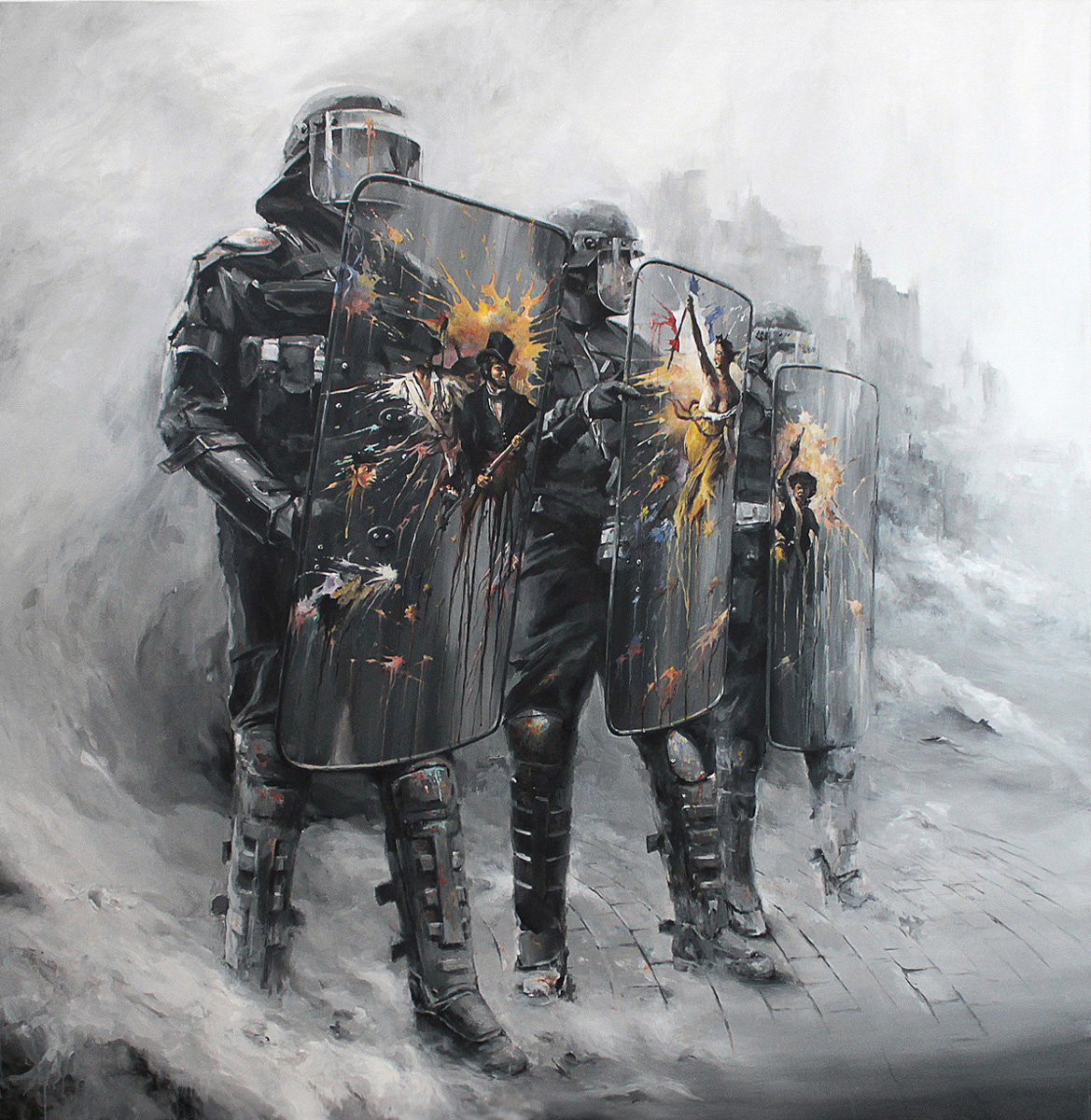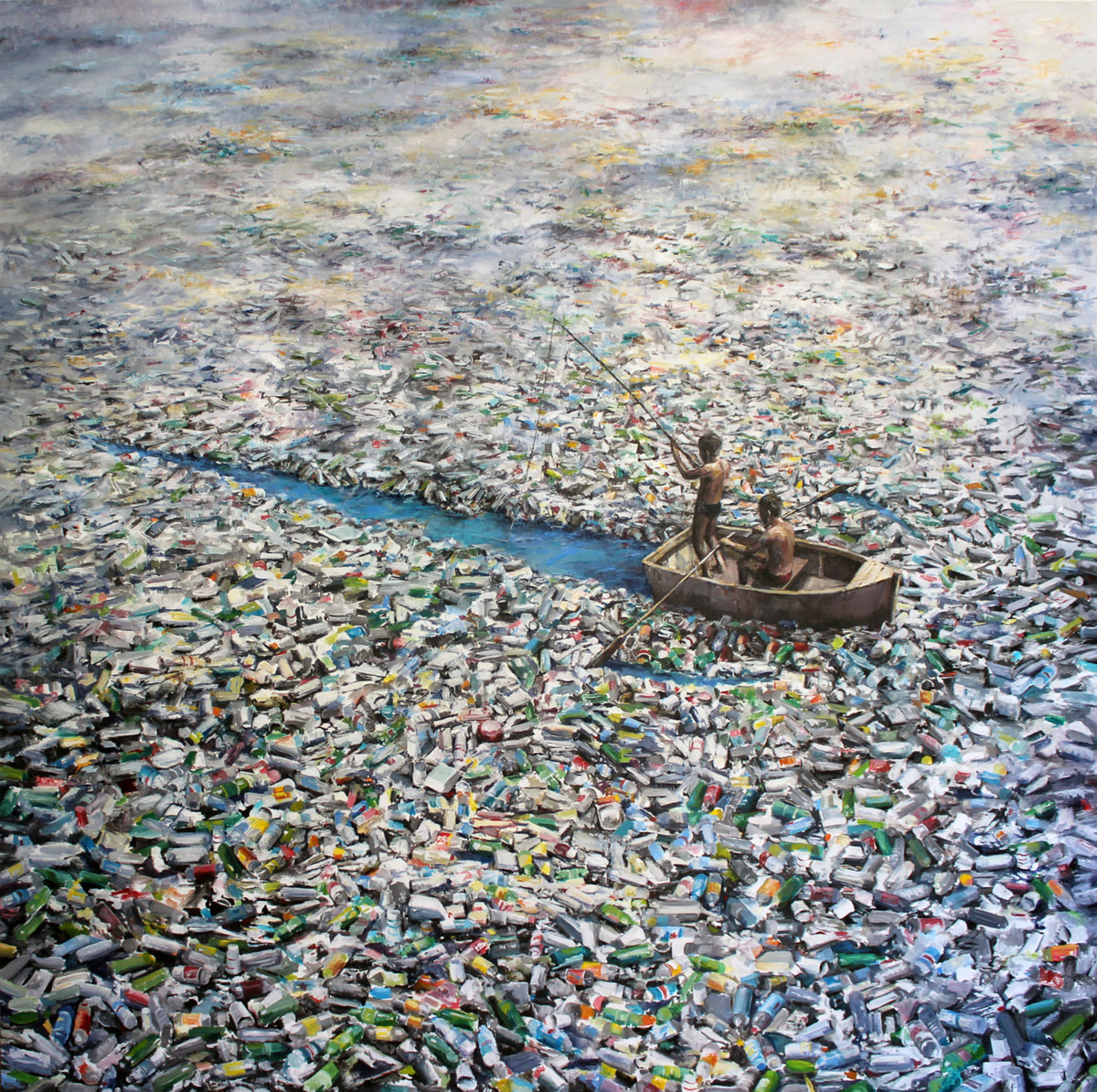 However, Pejac has used his wonderful talent recently during the coronavirus pandemic to bring a sense of creative hope and compassion back into the world. His 'Strength' project has seen the artist creating outdoor works at the University Hospital Marqués de Valdecilla in his hometown of Santander. Using his incredible talent for reproducing works by the old masters he has shown the light and compassion that exists behind the darkness of this pandemic. 'Caress' depicts the two sides of workers, their silhouettes are masked and must not touch but their shadows are holding hands. A very dramatic interpretation of the restrictions and the underlying need and want for human contact again. Pejac uses a recreation of Claude Monet's water lilies within the shadows to bring colour and a sense of peacefulness to the action.
The artist's first work of this project is 'Overcoming', which depicts a young child propped up by a wheelchair creating an incredibly vibrant rendition of Van Gogh's, 'Wheat Field with Cypresses'. Small handprints emerge from the painting all around the piece to give the impression that it has been made by the child's handprints alone. It conveys a remarkable sense of wonder and beauty from despair. An idea that the artist is keen for society to embrace through this crisis. We should take this dark experience and use it to grow and push ourselves forward into a brighter future.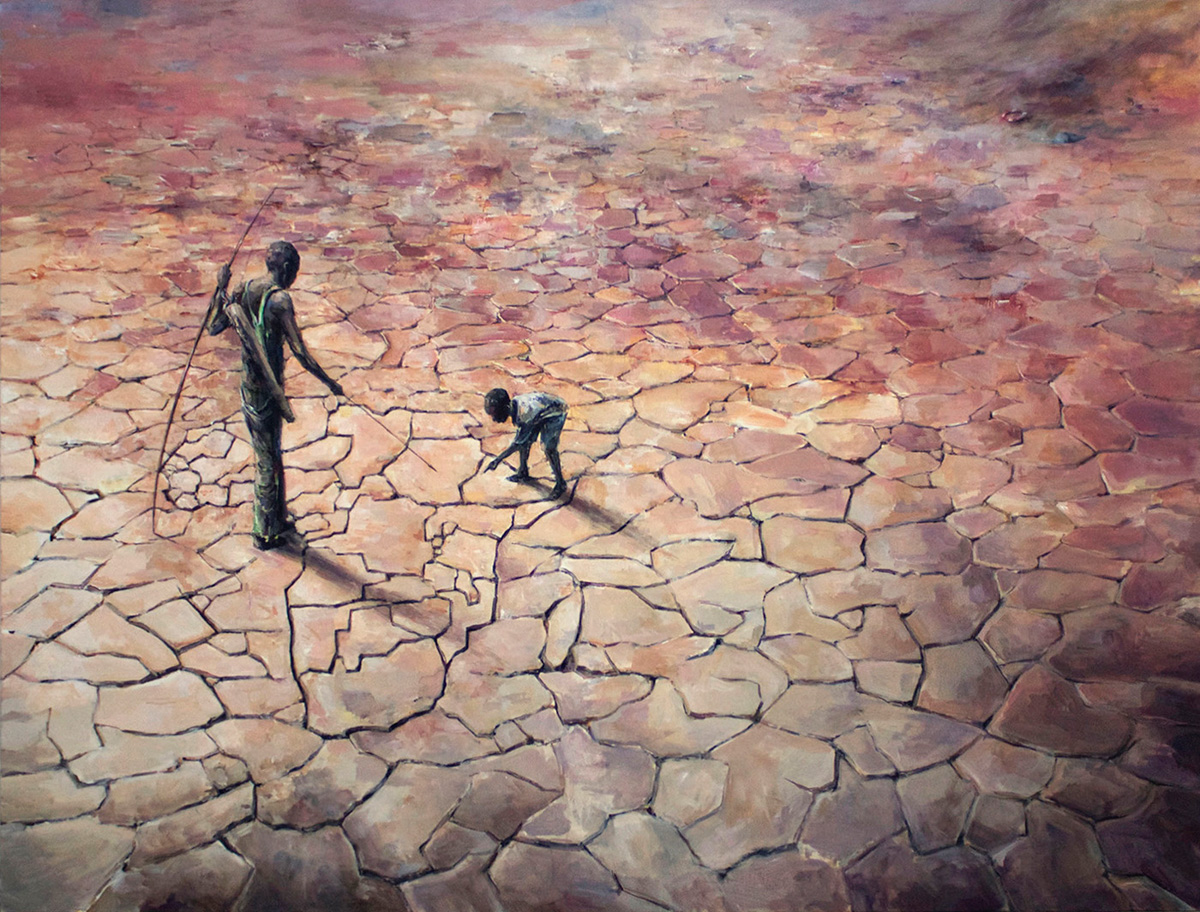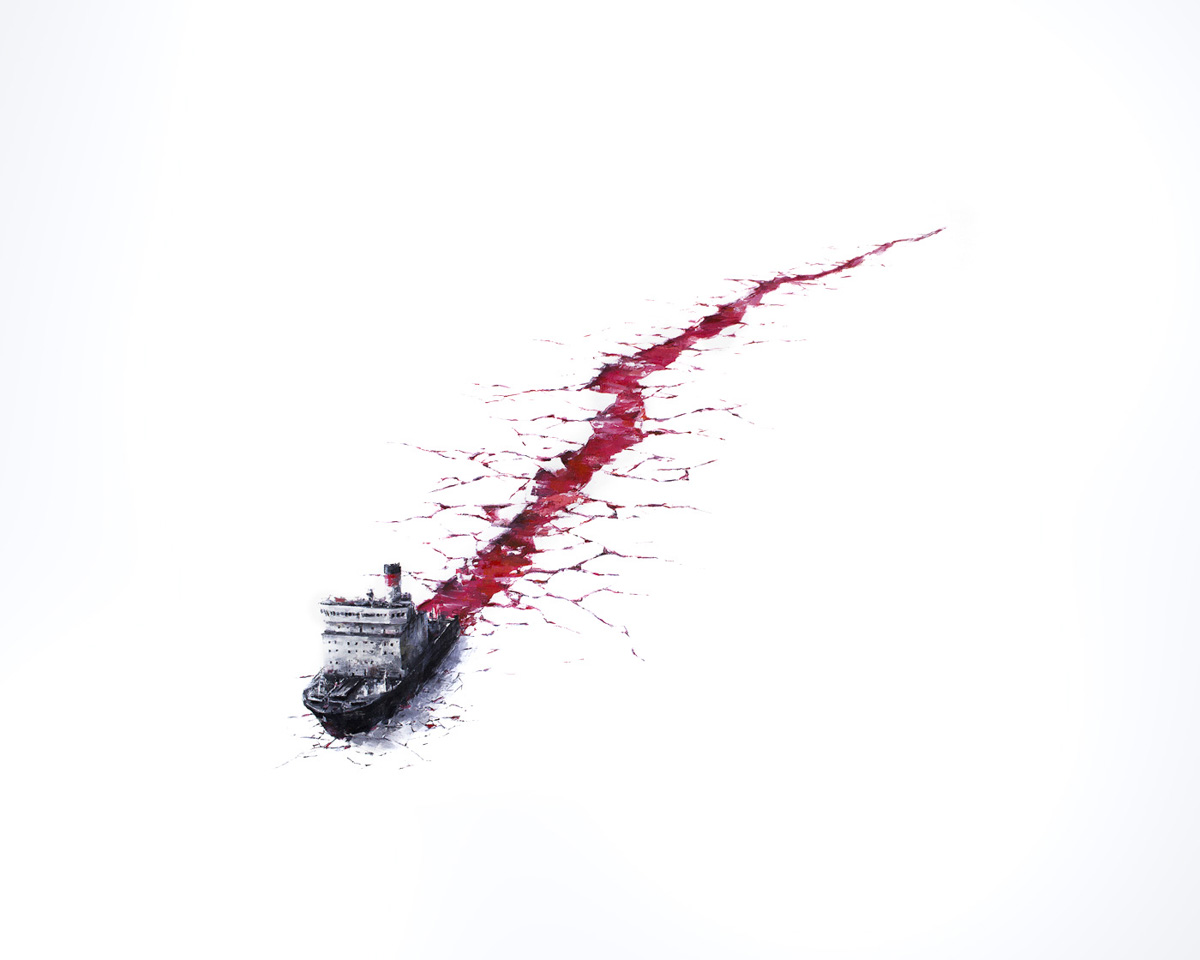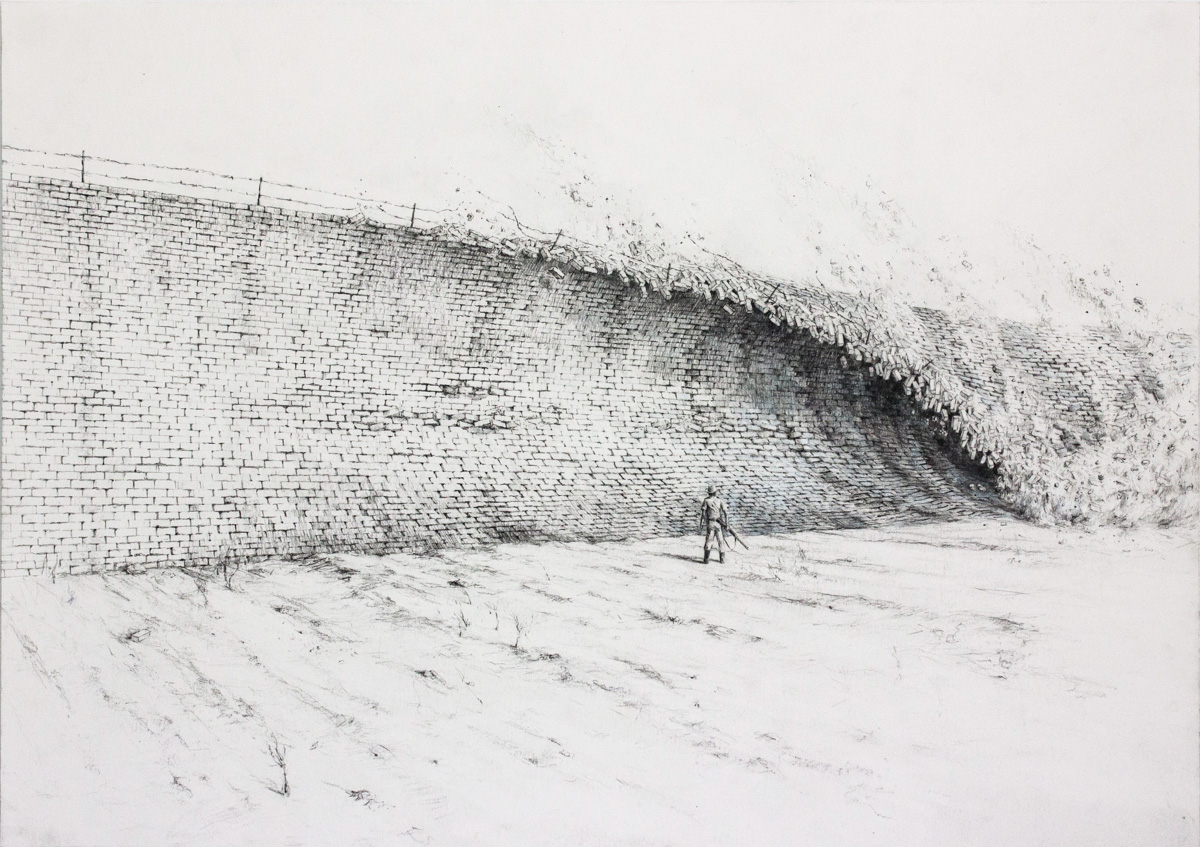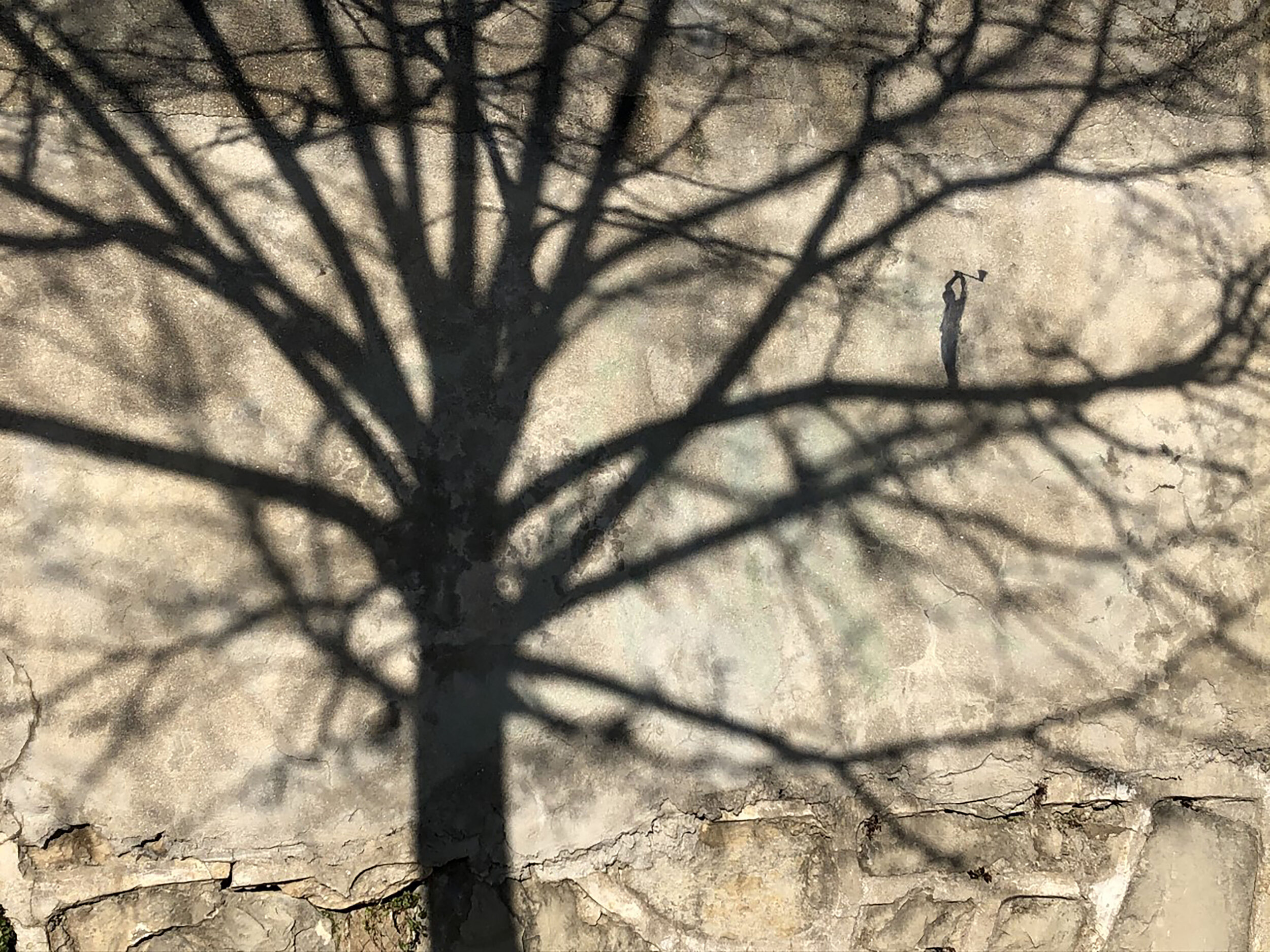 Photographize granted permission to feature photos by Pejac