Lo, Chan Peng 羅 展鵬
Detailed and Hyper Realistic Paintings
It has been quite a few years since my last attempt on working with different series. It has been in the making for many years, but the imaginations on creating had only come together unexpectedly at the right time. I had not created in series after "Ashen Face", for it is almost like binding myself with an unseen lock. However, I can still put some of my latest works into a few categories: my favoured female portraits in the style of "Ashen Face" with new techniques and changed style, "Lumière", "Syrian Children" and "Historical Figures". The transformation from "Strawberry Generation" to "Ashen Face" is an extended study on a similar subject. The "Strawberry Generation" focuses on the understanding of one's nationality, the political environment and one's own culture. "Because we have failed to find our own cultural uniqueness, our generation would like to establish our own, and what is unique about our culture is that there is nothing distinguishing about it (or a mixed character)." The "Strawberry Generation" series was roughly developed on such principles, and the later "Strawberry Generation – The Night Marching" series aims to explore the phycological side of this particular generation and their uneasiness towards the society and politics.
The "Ashen Face" series not only speaks of one's confusion over nationalism, culture and politics, but also the disorderly border between one's mind and the gateway to the world; from the paintings are building up towards this direction, with shared feelings about the generation and the desire to clarify one's inner world among chaos. Such feelings are no longer hidden. If I were to review the year 2019 from the future, we would undoubtedly agree that it is a low point for a generation, or even say that it is a time of anxiety and wanton. However, when the "Ashen Face" series were created around 2010, such feelings were not yet clarified and compared to the earlier "Strawberry Generation" series, the topics "Ashen Face" focuses on are much more extensive.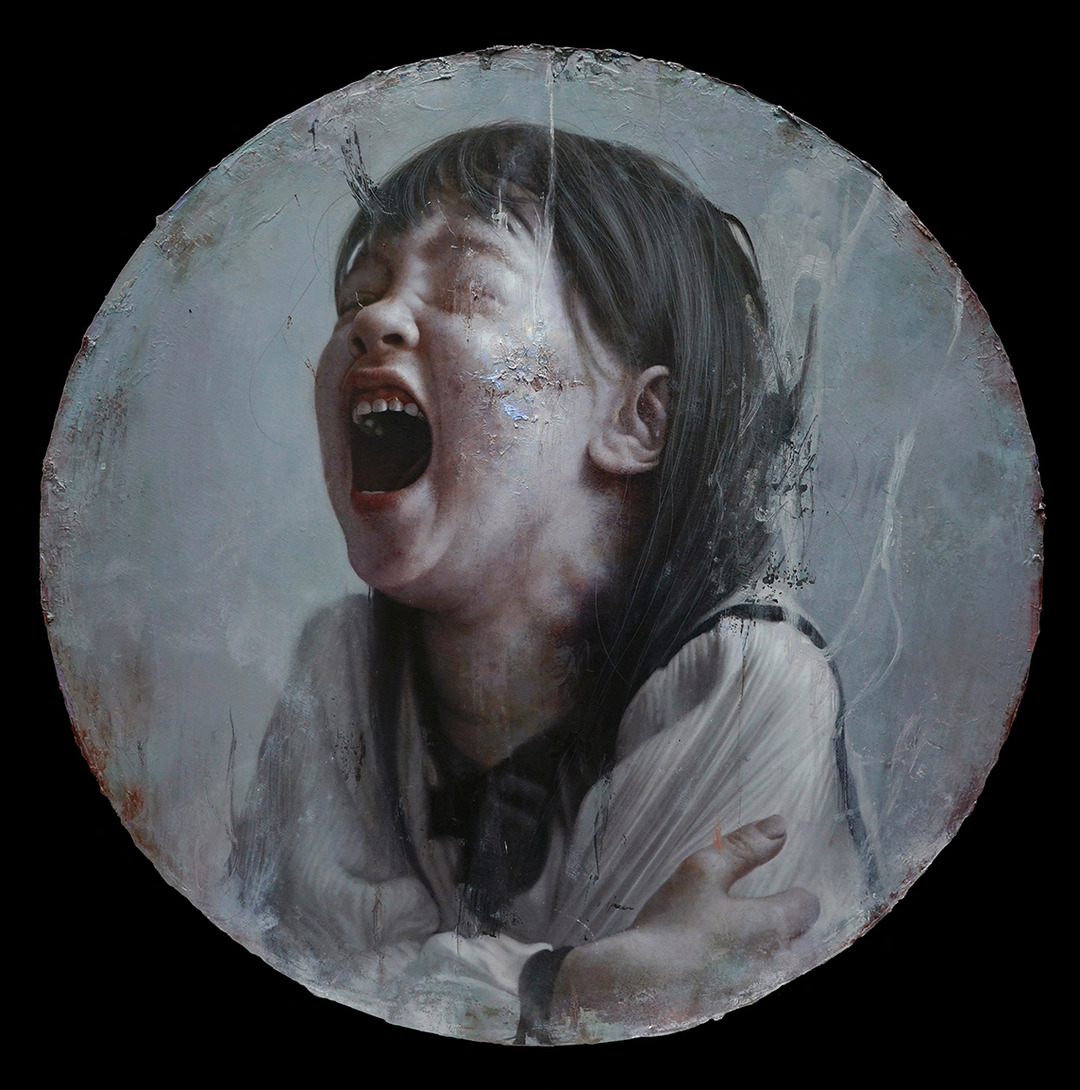 Skrik, Oil on canvas, 68cm d. 2019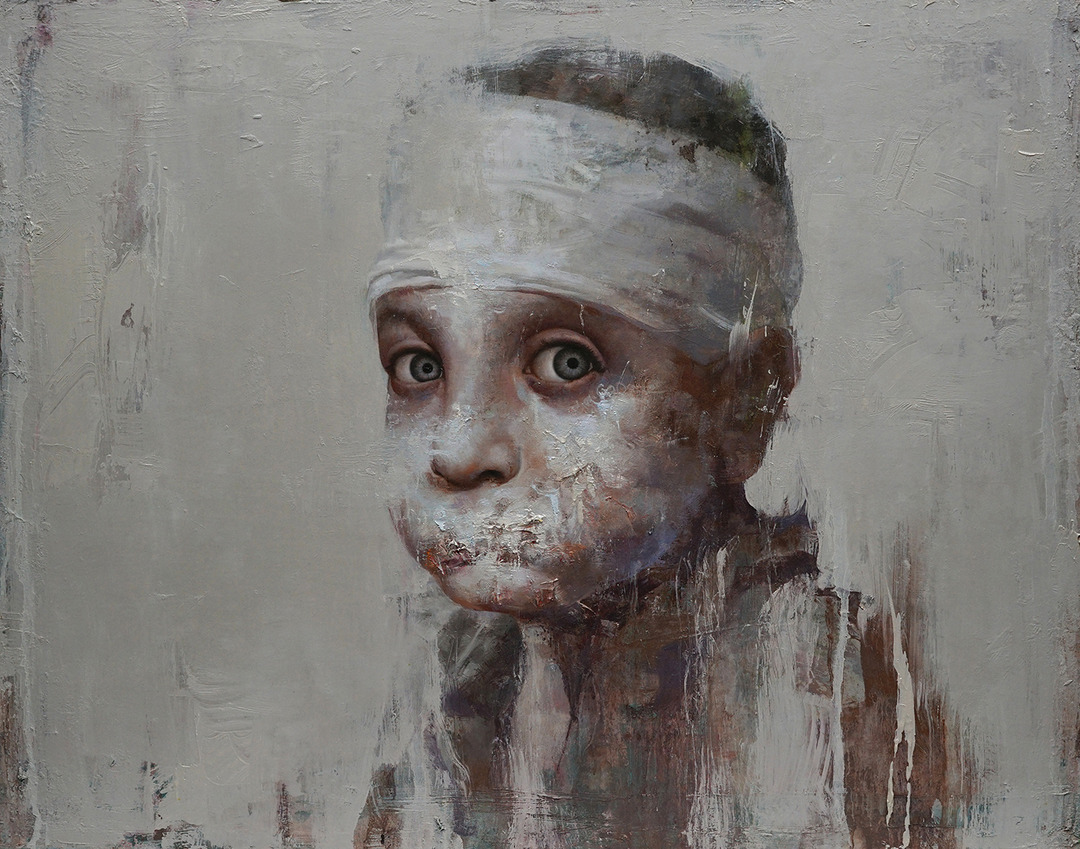 Syrian Boy, Oil on canvas, 91x72.5cm, 2019
After "Ashen Face" and years of exploration (even until now), I have found four new categories that I am keen to explore – "female portraits as an extension to "Ashen Face", "Lumière", "Syrian Children" and "Historic Figures". These new works are no longer the reiteration of one's inner insecurity and confusion, for I have become more interested in the study of faith, death and life, pain, love, consciousness, wisdom and representations of this new generation.
I have kept the purest elements in the "Female Portraits", with plants, mist and an air of haziness…the uncertainly and holiness of lives are beautiful yet does not indicate that fate is without danger.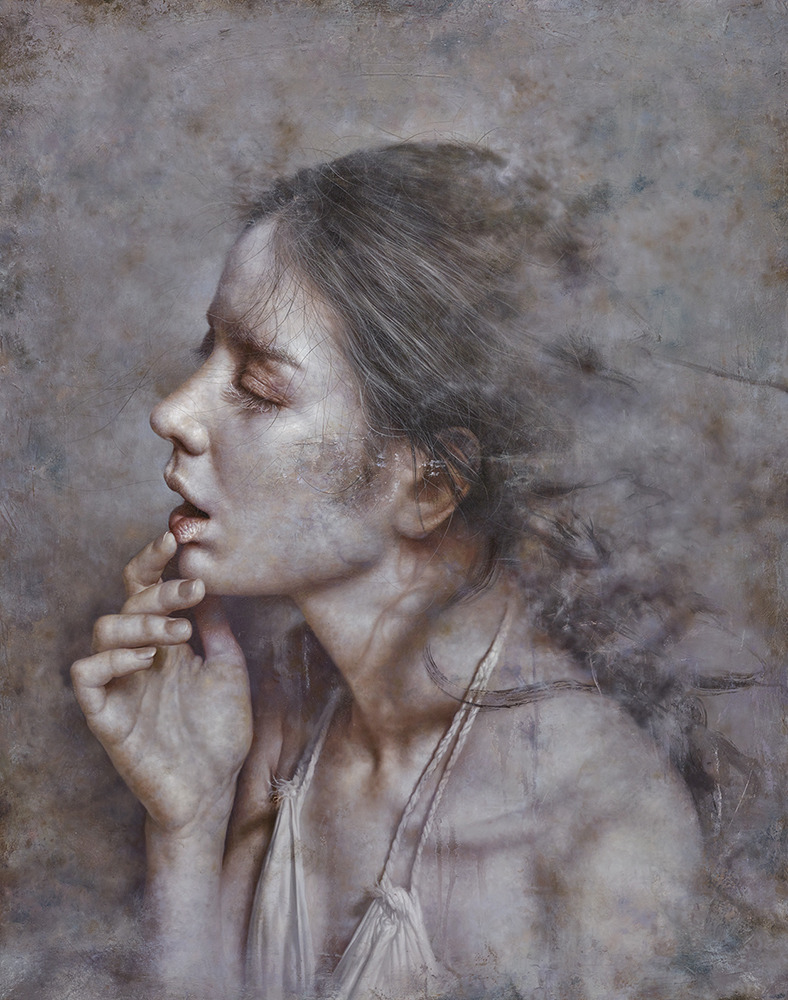 The Breeze from the other shore
Oil on canvas, 91X116cm 2019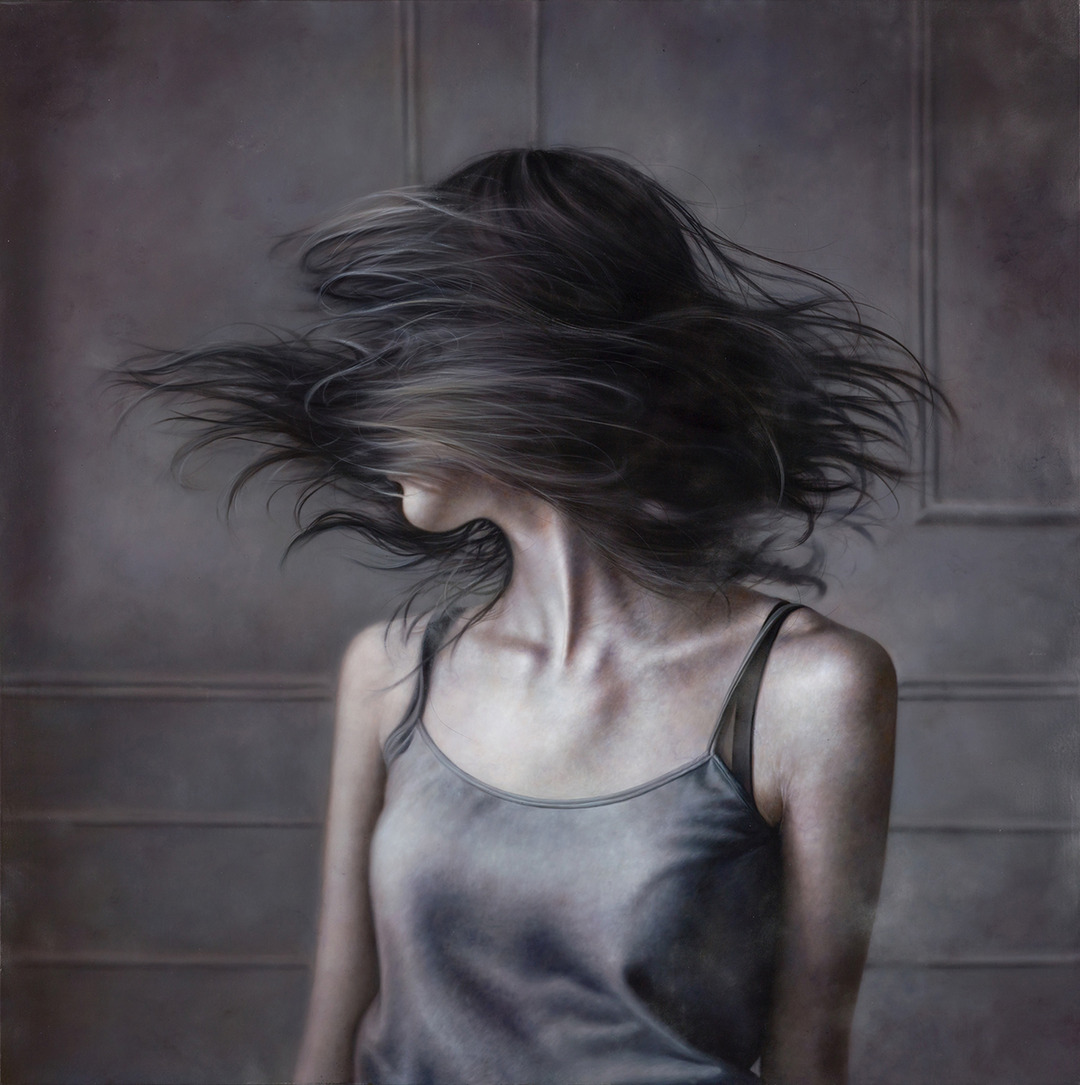 Dim Shadows, 145X145cm, Oil on canvas, 2017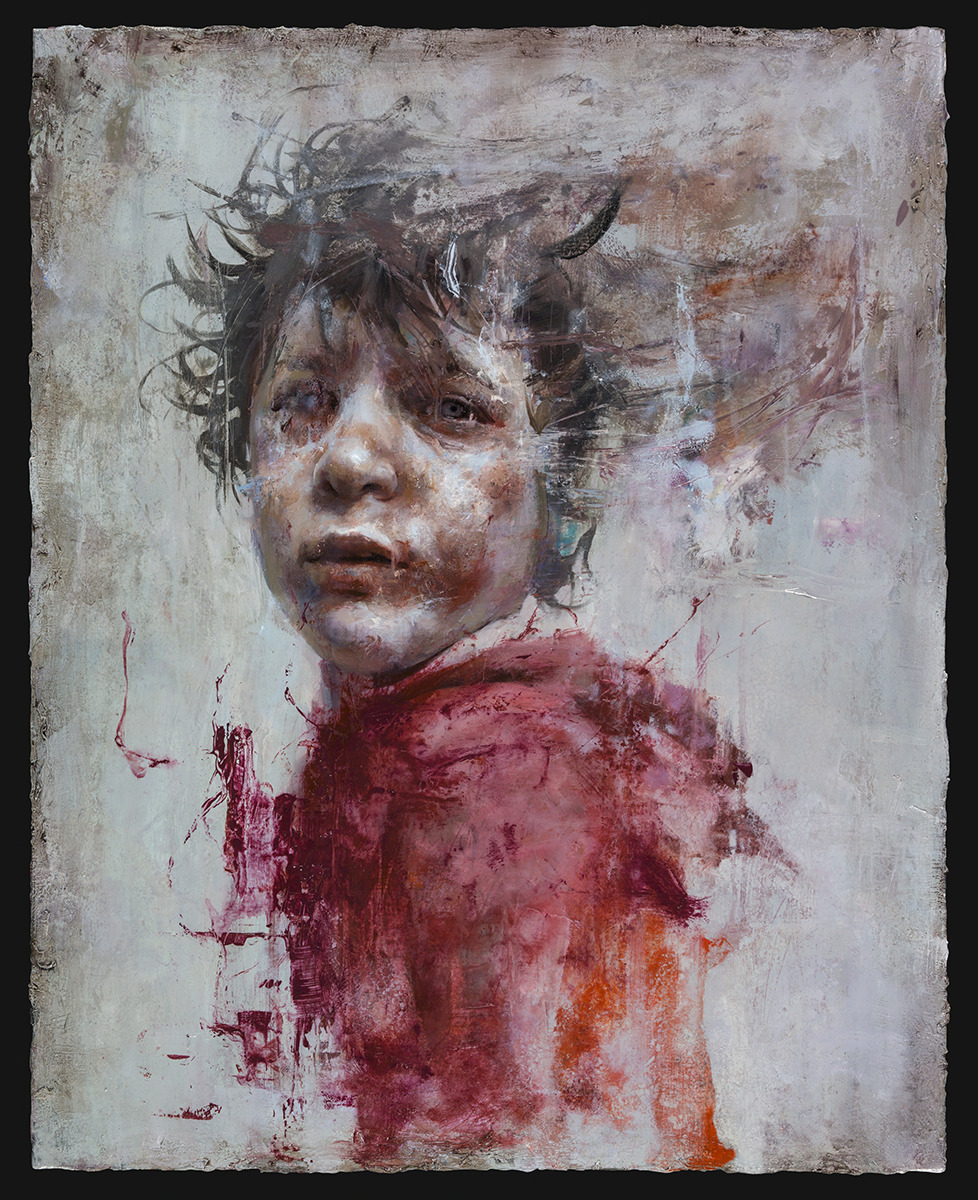 Red Boy from Syria 91X72.5cm Oil on canvas 2018
For the "Lumière" series, I would like to maintain a pure, solemn, somber and tranquil air, which are the languages of god, all else is a poor translation. The inspiration for this painting came from a wall in my studio in Sanzhi. I was going through a major change in life and for a period of three months I did nothing but read in front of this wall, and it was all I saw when I lifted my eyes from the pages I was reading. I was inspired by a sense of holiness from this everyday scene, as if anyone who immerses oneself in this infinite love between the wall and myself would be enlightened. At such a moment, life and death, chaos and order, faith and wanton, liberty and confinement, the uncrossable gap between here and the other shore are all merged into one. My art is a mysterious game between the two shores.
I saw a heart-breaking international report on Syrian Children in 2016, and I came to a conclusion that any significant experiences one goes through would remain in one's eyes, in a manner of some kind of sparkle, but is exceptionally dark at the same time. I believe that one's soul would shine in certain circumstances, and in that light, that spark I want to capture. Many things are based on fictions, such as the concept of a nation, money and religion, or one could say that we are all living and busing ourselves in this world for unrealistic goals. However, one would never doubt one's existence when one is suffering, for it is the only thing that is real.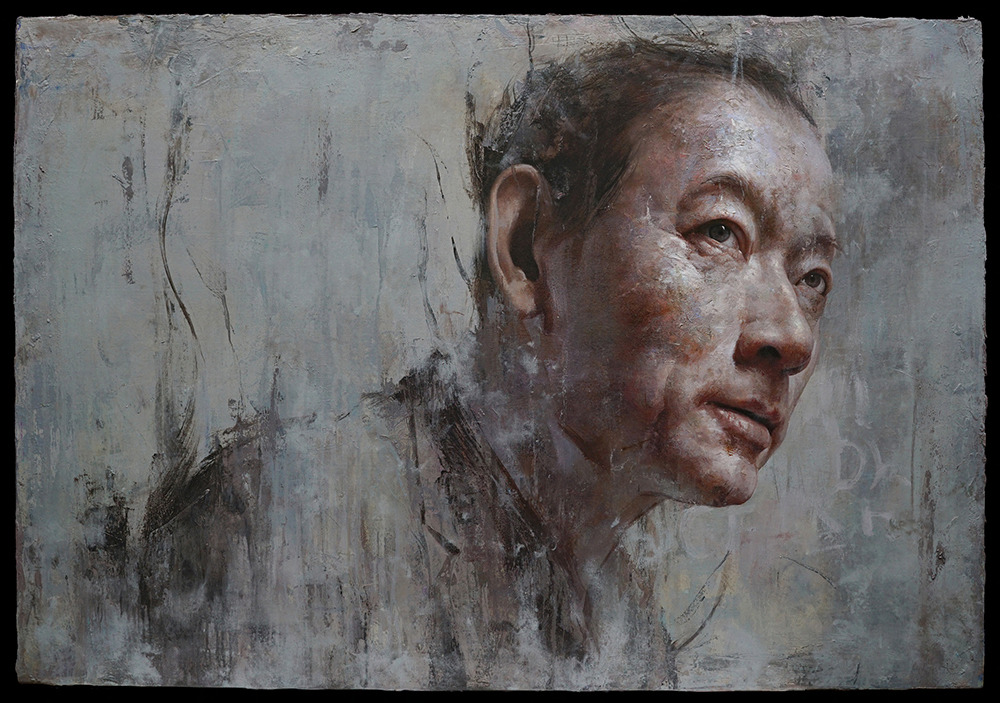 Portrait of Dr Chen, Oil on canvas, 117x80cm 2019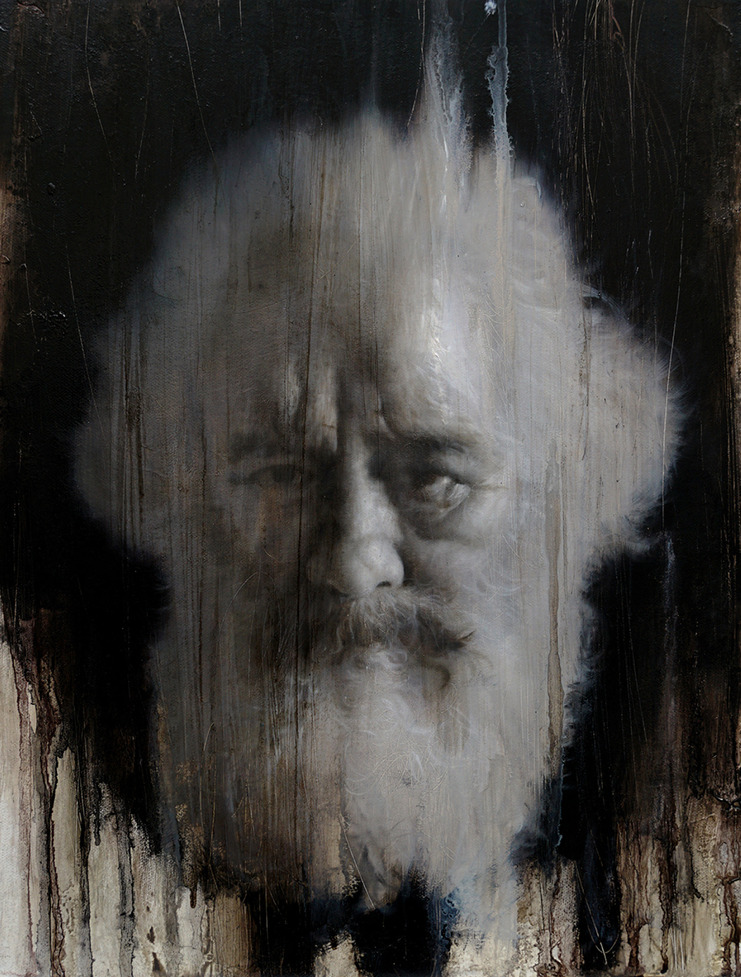 Karl Marx, 41x31.5cm, Oil on canvas, 2019
The "Historic Figures" are inspired by Leonardo da Vinci's drawings. I could almost see the light of wisdom in the lines on the drawings, and they have encouraged my interests in calligraphy. I also took my inspiration from a library where black and white photographic works are hung above the bookshelves. One may be able to sense that the air in a library is different from the air outside, whilst the air in a library with a long history is particularly different, for the breaths of generations of philosophers still linger, and I know they are still present. On the contrary, one cannot help but wonder "What have we been doing?" in our generation. It is as if I'm not painting portraits of historical figures, but paining the remains of wisdom, the ghost of great thoughts. The relationship between these historical figures and us is not defined by their life or death, but our understanding of them. Their existence may fade into thin air depending on how we remember them.
My painting techniques have changed through these past few years' explorations. If one sees hype realistic painting as a path and the change of style as the finishing line to this path, then one could certainly reach a higher ground before the change of style, yet staying within the same path. Just like the wise Leonardo da Vinci whom I had mentioned earlier, his accomplishment had extended beyond visual art, breaking away from the path to a vast plain. There are only borders to the plain, but there is no order. I have been trying to navigate where I am, and where I should head to in these past few years, meaning that I have been slowly moving away from hyper realistic paintings. At the moment I quite enjoy the art of calligraphy, and this is where I would like to steer toward. Looking at the current art world, more and more paintings are included in the exhibitions, with influences from the Renaissance to modernism and contemporary art philosophy. One could see it in the pioneers such as Gerhard Richter, Luc Tuymans, Michaël Borremans, Peter Doig, Jenny Saville and Adrian Ghenie. These inspirational artists' works are reflective of the reinterpretation of photography as reflected in figurative paintings, they also light up the path where I am heading to.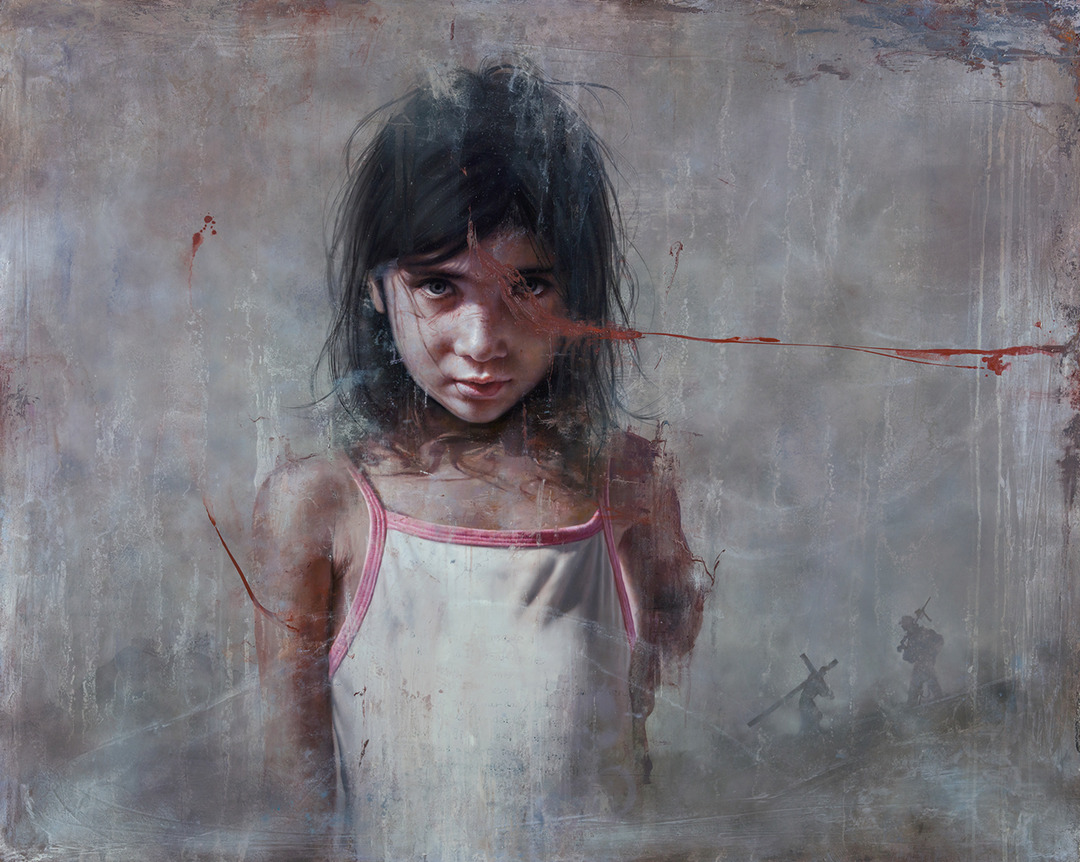 He said it has been finished, 162x130cm, oil on canvas, 2018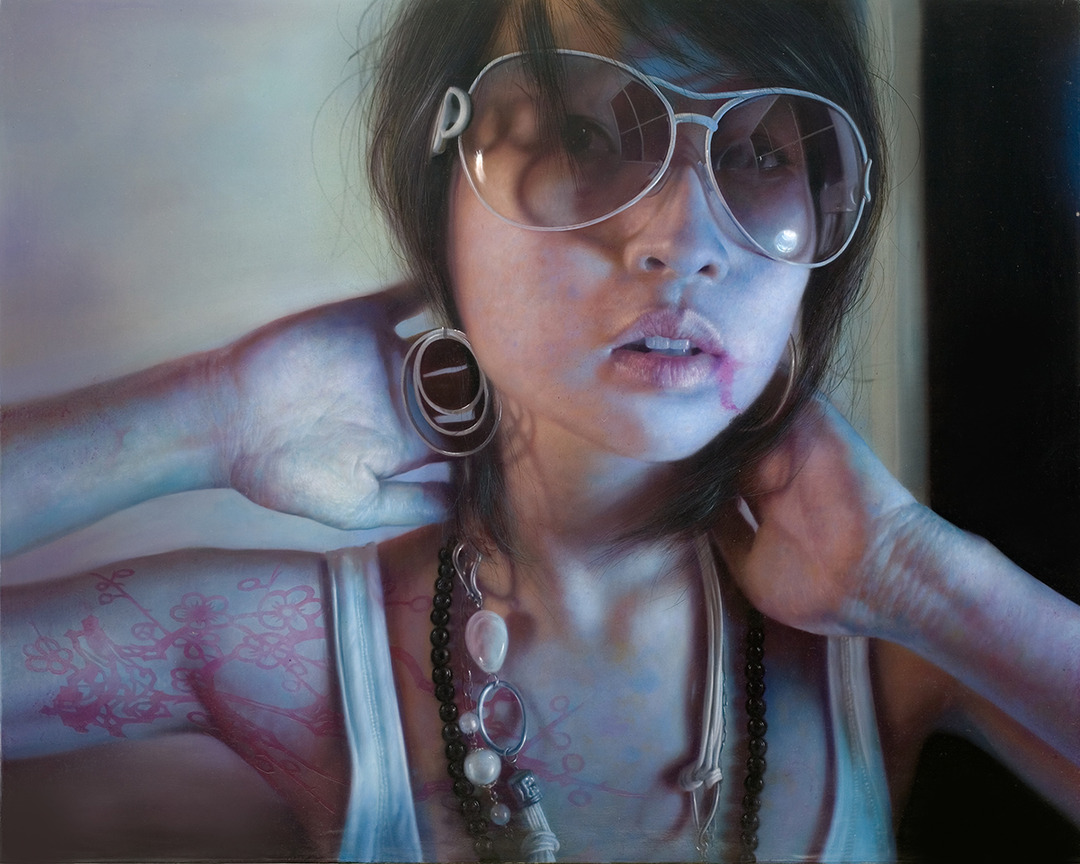 Journal of Strawberry Generation24, 91.0×72.5cm, oil on canvas, 2009
Photographize granted permission to feature photos by Lo, Chan Peng 羅 展鵬